An Investigation: Bristol's Catering Sector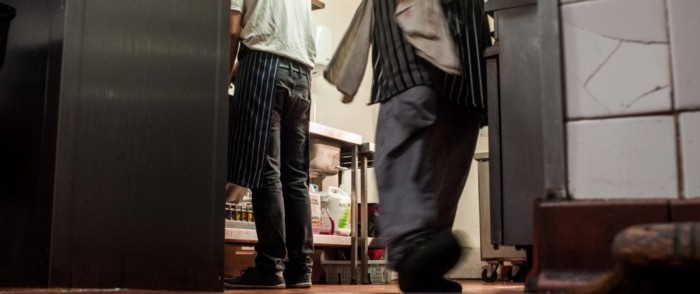 Coordinated by Adam Cantwell-Corn. Contributions by Alon Aviram, Alec Saelens, Ricardo Grande and Rebecca Miller. Photography: Alfie Lake. Graphic design: Laurence Ware.
Many people have worked in the sector, and most of us have eaten out in one way or another. Yet, as The Cable's investigation shows, not everyone is having a nice evening.
Note: The people appearing in photos online and in the print edition are not related to the opinions and results published in this investigation.
We decided to investigate this topic not to discover public corruption or gross corporate malpractice, but because 14,500 Bristolians work in the sector. Conducted mainly by Cable members who work in the industry, we surveyed 102 people across the city in all job roles in over 35 establishments. Using different tactics we surveyed staff in both kitchens and front of house, often dodging suspicious managers. From spreading the online survey on social media, to sneaking around the Marriott Hotel, playing the naive students conducting research on 'Tourism and Hospitality,' to passing QR codes for the survey to workers on breaks.
No matter the place the same stories came out, from chains to independents– no legal breaks, zero hour contracts or no contracts at all, partial payment of service charge and, most shockingly, the huge amount of unpaid hours.
While we also came across positive stories, we encountered a number of individual stories of alleged abuse, below minimum wage payments, and general disrespect.
Tellingly, only 20% of respondents said 'Yes' when asked if they thought working conditions were fair. However, many expressed the sentiment, "that's just the way it is".
Despite its normality, does that mean it's ok?
The results speak for themselves, we leave it to you to decide what to make of them. Full results and method here.
Read on for survey breakdowns, stories of people doing things differently, information on your legal rights at work and what Mayor Ferguson has to say about not paying employees the living wage at his businesses.
"We're now at a point where we have over 80 contacts and workers coming to us with issues at work."
A group in Brighton certainly doesn't think conditions are fair. The Cable spoke to Richard from the Brighton Hospitality Workers' Network. The BHW campaign on issues of "wage theft, non-payment of holiday entitlement and hiring and firing at will", as well as bullying and harassment. With access to legal justice increasingly difficult, the BHW use letters and pickets as methods of collective direct action. They have faced much antagonism, including in the latest case where the owner "assaulted several picketers and hired 'heavies' to incite and harass us." Despite this, in the 7 disputes the BHW has undertook, all have been resolved in favour of the employee, with the recovery of "£7,500 in stolen wages and holiday pay."
---
In Bristol, can alternative business structures be a route to fairer and more enjoyable workplaces?
The Cable spoke to Laurence from Café Kino, a workers' co-op in Stokes Croft. He tells us "a workers' co-op empowers members to run their working environment in ways which are democratic and for the benefit of all its members, not just for the business owners or shareholders." Of course not without difficulties, collective decision making and ownership creates "an exciting and diverse place to work", with the knowledge that "the better you can all make the co-op run, the more you each will benefit."
---
Kentucky Fried Chicken and Pizza Hut, McDonalds, McDonalds..
When The Bristol Cable spoke to Stu, a former KFC employee in Bristol, he described issues that ran deeper than stories about individual exploitative employers. The crux of the problem is the "complete anonymity when it comes to the big decisions that truly affect people on the shop floor", created by the vast nature of corporate structures.
The Fight For 15 campaign in the USA are addressing these issues in the $200 billion a year fast industry. Supported by the Service Employees International Union, thousands of low income workers have been walking out, sitting in, striking and facing arrest in over 100 cities in the campaign for $15 per hour. The pressure built to such a stage that in March 2014 McDonald's stated that the "increasing public focus on matters of income inequality" might lead to an inevitable wage rise.
---
Throughout this investigation The Cable has come across specific stories of illegal working conditions, stretching far beyond unfair practices.
Confirming that these issues are not unusual, Will Stone, employment solicitor at Avon and Bristol Law Centre told The Cable "that we regularly deal with wages and working conditions for migrant workers" and that in his experience "the catering industry features heavily in minimum wage complaints."
We are committed to investigating these issues further and promoting employment rights. Please get in touch if you have anything you would like to share with us.
 Your legal rights at work:
The right to be told in writing how much and when we'll get paid.
The right to at least 5.6 weeks' paid holiday per year full-time, equivalent for part-time.
The right to breaks of at least 20 full minutes every after each 6 hours of work.
The right to refuse to work more than 48 hours a week (unless previously consented to).
The right to sick pay.
The right to maternity/ paternity leave when we have children.
The right to be free from all harassment.
The right to enforce our rights and organise collectively.
The right to refuse work that is unsafe or where proper training is not given.
Note that these are basic summaries of employment rights that often have added considerations.
Many thanks to The Solidarity Federation.
Hmm…