Back to the kitchen!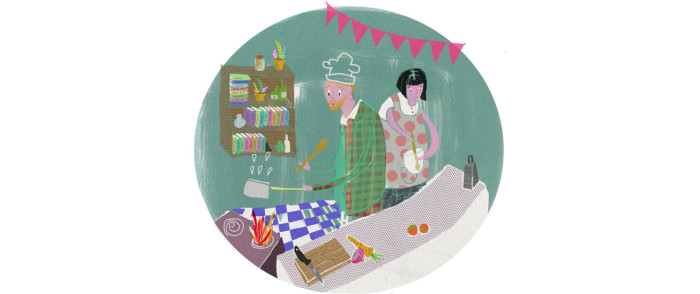 Ari Cantwell, co-founder of the Coexist Community Kitchen, writes of the importance of food and free time. (Illustration: Sophie Filomena, www.sophiefilomena.com)
Globally, eating is a central part of human life. Food and customs may differ, but the coming together of people to share their time with each other is fundamental in traditional and contemporary celebrations.
However, when families and individuals are forced into poverty, food as enjoyment and health begins to fall low on the priority list. Instead, it becomes a necessary fuel for survival. At a time when Oxfam has reported that UK food prices have risen 30.5 percent while the minimum wage has risen only 12.5 percent, the result is that many of the incredibly important aspects of food are shelved.
As a country in which people work the longest hours in Europe, the reality in the UK is that many are either time-poor, money-poor or both. These conditions have led to, on a societal scale, the propping up of a culture of readymade food and the processed food industry. With The Trade Union Congress estimating 5.26 million of us work unpaid overtime in long weeks, the importance of cooking and sharing food with others is diminishing, in favour of ease and convenience. The impacts of this trend stretch far beyond physical health.
Part of the problem is having the time, energy and confidence needed to cook. As with any skill, even the idea of cooking the things you like to eat can become a daunting consideration without the right resources. However, with some patience these barriers can be shifted and cookery can turn quite quickly into an exciting and relaxing activity.
I run a not-for-profit cookery school where we collaborate with Bristol based organisations that work with vulnerable communities in the city. We facilitate sessions for adults with a range of different ability levels in cookery, but who often share a sense of self-doubt, built up over years of being looked down upon by society or difficult family relationships. However, cooking soon builds back this confidence, as skills and opportunities to engage with other people increase. Within a couple of hours on a course, you might have made a simple soup and baked some bread; you have tried and liked it, someone else confirmed that it tasted good and you have done something you thought you couldn't do. Of course, the changes in your confidence are not necessarily permanent, but bit by bit they build, as slowly the fruits of your labour can be seen and new skills applied to other areas of your life. Other things that seemed daunting now might seem more possible.
In Bristol, where more than 22,000 children live in deprivation, cookery classes are not enough to address the food issues caused by poverty. However, a shift is needed – so that quality food is a priority in people's lives, not just a luxury of the middle and upper classes. It will take a radical change for us to be able to tackle income inequality, over-work and the difficulty of getting access to free time and a nutritious diet.
However, the slow but sure baby-steps of increased food education working for access to low-budget quality food should be recognised, as the adding of ingredients to a whole recipe for change. Quality food and free time should not be seen as an unnecessary luxury, but rather as cornerstones of building cohesive communities and strong individuals.