Fifth Capital's Carriageworks redevelopment: "a degree smoke and mirrors."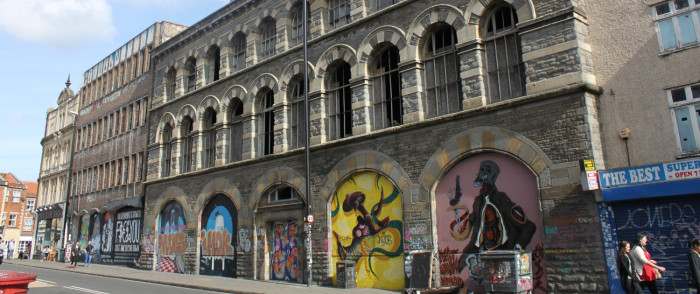 A planning proposal to be submitted this autumn by property developer Fifth Capital could kick-start the redevelopment of the long derelict Westmoreland House and Carriageworks buildings on Stokes Croft.
An August headline of the Bristol Post stated "Carriageworks revamp? Just get on with it, say Bristol residents". However, local residents still express serious concerns about the redevelopment.
In fact it was Marc Pennick, director of London based Fifth Capital who, according to the Post, spoke for the community when he said "the message from people who came to our exhibition was 'just get on with it'".
"Things that make it viable do not stack up".
Despite Mr Pennick's assertions, parrotted by the Post, Fifth Capital still falls short of convincing some of the local community after the latest exhibition of its planning proposals on the 26th and 27th of September.
Back in 2012, 1600 people who live, work or regularly pass through the areas impacted by the site's dereliction were consulted about redeveloping the site by Carriageworks Action Group (CAG). CAG is an alliance of local residents, business owners and organisations whose role, as stated on their website, "is to maintain contact with the local community, local stakeholders, the site owners, the City Council, and anyone else with an interest in the site." Support for the redevelopment of the buildings was overwhelming, and CAG developed a Community Vision for the site that sets out the principles which should underpin any development of the site. It has been accepted by the Council as a core document that informs development.
To this day, concerns about Fifth Capital's proposals have been raised, including uncertainties regarding levels of affordable housing and site permeability- will there be through routes from Ashley and Hepburn Roads to Stokes Croft? Partners of Fifth Capital at the exhibitions said the issue of housing affordability was still under negotiation with the Council.
Addressing the basics of the redevelopment plan a local resident, who wished to remain anonymous, claimed there were gaps in the scheme regarding parking space, interior design plans, fire engine access and refuse collection among others. "It does appear to be a drawing exercise as opposed to a really serious plan. Things that make it viable do not stack up".
In a July leaflet, Fifth Capital stated, "we want to make a positive contribution to … a buzzing and vibrant place with a strong culture and active local community." Organising events in Stokes Croft's Hamilton House and the Malcolm X centre in St Paul's seemed to reflect this good intention.
What's the deal with Fifth Capital?
CAG's 2012 consultation process was initiated on the back of the Council's decision to seek the Compulsory Purchase of the site in March 2010. Eventually, the Council appointed Knightstone, a housing association, as preferred developer in December 2013.
Fifth Capital appeared around the same time with a different proposal for the redevelopment, claiming to have been granted a 'controlling interest' over the property by the current owners, Comer Homes. With such an agreement Fifth Capital would be able to acquire the site if planning permission were approved. While the actual value of this deal has not been revealed, CAG states on its website that it is rumoured to reach up to £5m.
Despite Fifth Capital's claim that total cost will be £15-20 million, their 2013/14 annual financial report show £69,224 in the bank, up from just £5,983 in 2012/13. At a public exhibition, it was stated that over £400,000 was being spent on the project. With such costs and small assets it remains unclear how Fifth Capital is financing itself.
During a meeting CAG in April 2014 meeting, Marc Pennick, presented himself as an agent developer, referring to three previous schemes. However, evidence of this development portfolio is scarce. Fifth Capital's website is a holding page and none of the service providers listed as partners on the Carriageworks development scheme exhibition boards mention Fifth Capital on their websites.
For example, Assael Architecture, responsible for drawing up the plans for the scheme, makes no reference to Fifth Capital in its comprehensive list of clients. There is no apparent links between the two companies except for another development project which Fifth Capital credited itself for in Hammersmith, London – for which a record cannot be found. On the basis of this shaky track record Prue Hardwick, a local resident, has pointed out that "nothing actually ensures development of the [Carriageworks]."
Fifth Capital's range of contracts for this scheme has involved a large number of London-based consultants and service providers. The latest was Future City, a self proclaimed "leading culture and placemaking consultancy". "As if Bristol didn't have its very own creative ideas and capacity to propose this", lamented Prue Harwick.
In line with Bristol's history of socially contesting redevelopment, Chris Chalkley of the local group the People's Republic of Stokes Croft, is adamant "the Carriageworks is the most significant building in terms of defining the future direction of our society. Handing it over to developer would be the worst outcome."
Perhaps an appropriate challenge to Fifth Capital's parachuted-in proposals would be a vision for redevelopment based upon creating local employment and a construction skills sharing platform. Simon Lewis, a local building consultant, said "it's not only about what we build, it's how we build it".
Reflecting on the communication method of Fifth Capital and partners, Lori Streich of CAG said, "they are telling us what they are doing but are not giving clear answers to our questions." Future City and Fifth Capital were absent during the latest exhibitions, instead represented by PR firm Four Communications, casting doubt on their commitment to a genuine community consultation.
After 25 years of dereliction and three years of laying the foundations for a Compulsory Purchase Order, it is, in first instance, down to the Council to decide who redevelops the buildings.
With the planning proposal due this autumn, questions remain regarding Fifth Capital's redevelopment scheme. Who finances the scheme and has interest in it? What is the value of redevelopment, including the acquisition of the site? Will Fifth Capital provide the affordable housing and open space called for in the 2012 consultation? When contacted by The Bristol Cable, Four Communications declined to answer all of these questions.
When will Fifth Capital be transparent about their plans? We say 'just get on with it.'