The Glorious Dead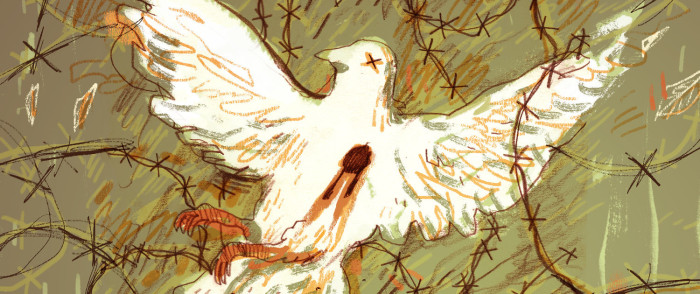 In this article we take a look at some of Bristol's pacifists, objectors and mutineers and the struggles they faced during World War 1.
A narrative of national unity and noble sacrifice is being pushed by the mainstream media as we mark the centenary of WW1 this year. Whilst it is only right to remember those who gave their lives, the stories of ordinary people who opposed the war have been written out of history.
Listen here to Bristolians read 'Dead Man's Dump' by Issac Rosenburg, Bristolian Soldier Poet, killed at the Somme 1918.
A City Divided.
On 2nd August 1914 – at the height of the national debate about whether Britain should join the war – the Bristol Dockers Union met in public to discuss whether to support the drive to war or not. Two leading trade unionists, Ernie Bevin and Ben Tillett, addressed a crowd of hundreds of workers. Bevin told the crowd "This is not our war. This is not a war for the workers. This is a war for profit, land and booty." He said such a war could only lead to "the slaughter of the working-class; English, French, Russian or German and Austrian alike."1 To cheers and applause from the workers and heckling from assembled 'patriots', Tillett called for a general strike in case of war. The meeting unanimously passed a motion "to call upon the Government to immediately declare its neutrality in connection with the European war" and for the Unions and Labour Party "to call a national conference to discuss ways and means of preventing this country from being involved in 'hostilities'."
The Bristol Docker's views reflected those of the wider Labour movement, which called for Britain to remain neutral right up until the outbreak of War. On 4th August 1914 a full page advert from the Neutrality League ran on the front pages of the left-leaning press: "Britons! Do your duty: Keep your country out of a wicked and stupid war."2 Sadly it was too little too late. The rapidly escalating events in the Balkans took unions across Europe by surprise. Despite peace protests by hundreds of thousands of workers across the continent during the last weeks of July, on the 4th of August Britain declared war on Germany.
Despite the current narrative there was not a sudden wave of 'war enthusiasm' that washed away all objections3 and the decision of union bosses to support the war caused a major rift between them and many of their members.4 Once war broke out Tillett, like many union leaders of the time, changed his mind calling the war "a fight for world freedom"5. The climate of Nationalism whipped up by the government after the outbreak of war made opposing it in public increasingly risky.
Objector.
Walter Ayles, Bristol councillor and spokesman for the Independent Labour Party (ILP) was vehemently opposed to the war and paid a heavy price for sticking to his principals. On 9th November 1915 Bristol City Council passed a resolution giving its "wholehearted support" to the government's conduct of the war. Only Walter Ayles objected. One month later Ben Tillett, a once ardent campaigner against the war, "described his 'Bristol pacifist friends' as canting humbugs who, if they had lived in Germany, would have been put up against a wall and shot"6at a trade union meeting in Colston Hall.
In 1916 Ayles was arrested for distributing pamphlets opposing the Military Services Act which introduced conscription – he was later imprisoned for refusing to fight after the Act became law. Many conscientious objectors refused service on political grounds as well as Christians who abhorred the taking of life. Jails were full of socialists and members of the ILP. Life was hard for conscientious objectors; 6,312 were arrested, 5,970 were court-martialled and 73 died in prison. The authorities played 'cat and mouse' with objectors, letting them out when their sentence was up, packing them off to the army where they were often brutalised (crucified7 or tied to barbed wire fences)8 before incarcerating them again when they refused to fight once more.
It took courage to stand up for peace in a climate of militarism, many young men felt it was their duty to go and fight. It also took great courage to volunteer for service in the years before conscription was introduced.
Shot at Dawn.
In the archives department of Bristol Central Library lies our city's Roll of Honour, listing the names and ranks of Bristol's soldiers killed in WW1. Over five thousand lives reduced to lines of typewriter script on yellowing paper, but I am looking for a specific name.
A name that does not belong in this book, but is there nonetheless: Private Alfred Jeffries, 6th Battalion, Somerset Light Infantry, son of Leonard and Georgina Jeffries of St. Phillips, Bristol. Died 1st November 1916, buried Arras Rd. Cemetery, Roclincourt.
Alfred volunteered for service at the outbreak of war and went to France on 21st May 1915. In June he was wounded in combat but when he recovered he was sent back to the front. In November Alfred was evacuated to a hospital suffering from a nervous breakdown. After a period of quiet rest he returned to his battalion in the New Year. On 18th August 1916 during the Battle of the Somme his unit was ordered to attack Deville Wood, a position surrounded on three sides by German artillery.9 When the order to go over the top was given, Pvt. Jeffries was found to be missing, unable to stand the strain.
Alfred was shot for cowardice at dawn on 1st November. Before the date of his execution his brother Arthur Jeffries was killed in action in the same battalion. Alfred appeared on the roll of honour, but Arthur did not.
The British army executed 346 soldiers between 1914 and 1919 for crimes ranging from murder and mutiny to striking a superior officer or falling asleep at your post. The accused were tried without a lawyer to defend them, only being allowed a (normally unqualified) 'prisoner's friend' to plead their case. 10% of those shot went completely unrepresented at trial and 48 were juniors in the eyes of the law at the time. There is also evidence that the Army covered up many of these executions, telling the families of executed soldiers that their loved ones had been killed in action.10 This may explain the confusion between Alfred and his brother Arthur in the roll of honour.
Whatever the reason, Alfred Jeffries place in the roll is unique. The names of those executed do not appear in official lists of war dead, in death they have simply vanished into oblivion. Alfred's memory continues only by mistake, a stark reminder of those killed by their own side during the chaos and bloodshed of First World War.
Conscripted.
Harry Patch from Coombe Down did not volunteer. He had heard about the horrors of the trenches from his brother who was away fighting. Harry stayed out of the war until he was conscripted. "I had no inclination to fight anybody…why should I go out and kill somebody I never knew and for what reason?"11 By 1917 he was in a machine gun team at the horrific battle of Passchendaele where the British Army lost half a million men in order to secure an advance of five miles. "It was absolutely sickening" recalled Harry Patch "to see your own dead and wounded, some calling for stretcher bearers, others semi-conscious and beyond all help, and the German wounded lying about too, and you couldn't stop to help them."12
As Harry Patch was returning from the front line in France, a shell hit his machine gun team. Three of his mates were killed and Harry was seriously wounded in the chest. By the time he had recovered, the war was over. "The peace was settled round a table" Harry wrote later, "so why the hell couldn't they do that at the start without losing millions of men."1314
According to historian Jeremy Clarke, in Bristol in January 1919, hundreds of troops went on strike and marched on the Council House demanding demobilisation. Local regiments, the Gloucesters and Somersets, mutinied in Belfast and Maidstone.15
With Harry's death in 2009 at the age of 111 an important anti-war voice was silenced, making it easier for the present-day establishment to 'rehabilitate' the First World War with more of a focus on national unity and patriotism. In reality, Harry's disgust with the war was shared by hundreds of thousands of his fellow soldiers on both sides of the conflict. Indeed, it was precisely this unwillingness of ordinary soldiers to participate in war that brought the whole thing to an end.
Mutiny in the ranks
If WW1 was begun by the elite, it was finished by the workers. The armistice was a truce, not a defeat, only accepted because by late 1918 nobody in the conflict had sufficient troops left willing to fight.
All the Imperial powers were facing strikes and mutinies amongst their armies – German and Russian leaders had been overthrown by worker's revolutions. Some startling research unearthed by the Bristol Radical History Group show WW1 was not ended as a glorious victory for Britannia, but at the point which ordinary soldiers from all sides said 'no more'16.
By the end of October 1916 nearly 5 million Russian soldiers had been killed, wounded, captured or declared missing. Men were being sent to the front with no arms, expected to equip themselves by looting the dead. These conditions led to the 1917 February Revolution which toppled the Czar. Also in 1917 a mutiny among French troops saw 68 out of 120 divisions turn on their commanders, leaving the army unable to mount further offensives. In Germany, the 1918 Kiel Mutiny saw sailors raising the red flag over the fleet, organising with the workers of the naval city and marching on Berlin, forcing the abdication of the Kaiser.
The British forces had had enough as well, between November 1918 and February 1919 over 250,000 British and Commonwealth troops were involved in strikes or mutinies.
Bristol was also affected by this wave of dissent in the armed forces. On 7th January 1919 over 100 men of the Bedfordshire regiment went AWOL from their barracks in Ashton Gate demanding demobilisation. On 17th January 700 men and women from the RAF Western aircraft depot in Yate marched on the Council House demanding demobilisation.
Far from the narrative of national unity and glorious death that usually accompanies commemorations of World War One on Armistice Day, let's use the centenary as an opportunity to celebrate the buried story of the ordinary people. The people who disagreed with the war, who were shot by their own side, who learned the hideous truth of war first hand and took it upon themselves to bring the conflict to an end. In particular let us remember the words of Harry Patch, the Last Fighting Tommy; "War is organised murder."
With thanks to Colin Thomas, Roger Ball and Jeremy Clarke of the Bristol Radical History Group for all their information and help.
For more information visit:
Bristol Radical History Group: www.brh.org.uk
Remembering the Real World War 1: www.network23.org/realww1
No Glory in War: www.noglory.org
---