"We are not allowed a state on the ground, so we create one online."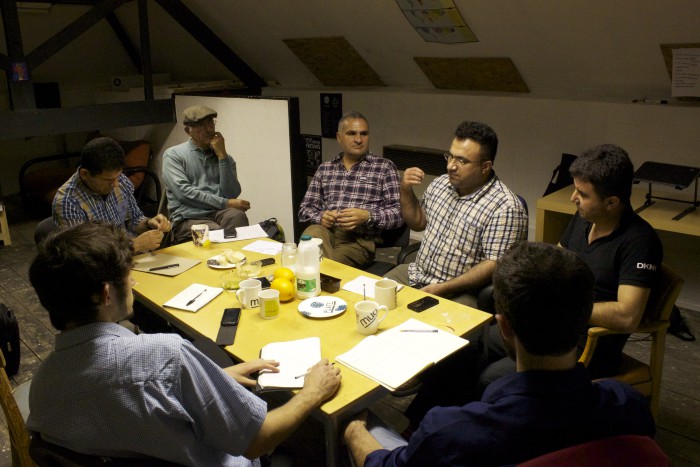 The Bristol Cable caught up with 5 Bristolian Kurds to chat about Islamic State, Kurdish communal life, and exile.
It's 2780 miles from Bristol to Kobani in Northern Syria. The Kurdish city that is still fighting off a brutal siege by Islamic State (IS) forces has become the icon of Kurdish resistance and plight in the region.
As war rages, these distant place names and warring factions have become just another feature on TV screens back in Britain.
But for Bristol's Kurdish community, of around 1,000 people, the conflict is more than just another news item. To find out more about how the conflict abroad is hitting home in Bristol, we had a discussion with 5 Bristolian Kurds, Esam, Ali, Adil, Ismail and Dara about their hopes, fears and contradicting opinions concerning the fate of a people without a recognised state.
Kurdistan has been a contested territory particularly since the division of the Ottoman Empire by Britain and France in the Sykes-Picot agreement of 1916, with Kurdish communities stretching across Syria, Iraq, Turkey and Iran. Today, with both alliances to Turkey and the war against IS as major objectives of the West, the result is Western double standards with "no Kurd strategy" says Dara.
Suspended state
"You're divided in between two lives; this effects every moment of your life." Like the others around the table, Ali, an Iraqi Kurdish interpreter and phd student at UWE who fled Iraq as an anti regime journalist, talks of the emotional difficulties as a Kurdish exile living in Bristol. "We come from a suspended state. We are always divided by two places."
"Things always remain with you, like the language, poems, songs… This for me is the first bridge or attachment emotionally. It brings you back to the valleys and mountains I grew up within" says Adil, an interpreter, who has worked at the Trauma Foundation, has lived in Bristol for 24 years and considers Bristol home. He came after leaving Kurdistan to join his family following Saddam's chemical weapon attack on the Kurds in 1988.
Despite inevitable feelings of longing, all five feel very much at home in Bristol. Perhaps this ability to live comfortably in a foreign place has something to do with the characteristics of Kurdish communities at home?
Communal life at home and abroad
Whilst acknowledging political, geographic and social divisions across Kurdistan, Adil reflected on the origins of what he called a Kurdish 'communitarian character'. "I grew up in communities, who could share, love, be compassionate, and show solidarity. And they come from an old tradition of living in communities."
Ismail, has two brothers currently fighting Islamic State, one of whom left Holland. He spoke of a historic tolerance and diversity in Kurdish areas, "because they have always been targeted as a nation rather than as individuals or religion or tribes or clans…"
Adil reaffirms the point saying, "Kurds have struggled against being subjected and subjugated to any rule or power. This is in the character of all Kurdish people."
Ismail continues, "we are not nationalist as a nation…I come from a village where about 70% of the villages around us are Christian. And we (Muslims) are to be honest the minority in the area, but they've always been living together for thousands of years….We've always been living in harmony, peace and respect to each other."
Esam, a chef and film-maker, compares his experience of volunteering at Bristol Refugee Rights to that of Kurdistan, where a mix of cultures co-exist despite differing characteristics. All five are strongly opposed to nationalism as a means to exclude others, with a Kurdish struggle for statehood meaning only "we are not asking for anything more than our rights", says Esam.
However, in Syrian Kurdistan the values of communal and tolerant life are in grave danger.
Over in Rojova; A clash of ideas
Over in Rojova, otherwise known as Syrian Kurdistan, in areas where IS is not in control, radically democratic social structures have been organised, according to reports by several Kurdish outlets.
In the face of autocratic regimes and medieval fundamentalism, the communitarian values of Kurdish life are expressed in a fundamental document, The Rojova Charter.
Authored by the Syrian Democratic Union Party (PYD) the Charter states:
"We the peoples of the democratic self-administration areas; Kurds, Arabs, Assyrians (Assyrian Chaldeans, Arameans), Turkmen, Armenians, and Chechens, by our free will, announce this to ensure justice, freedom, democracy, and the rights of women and children in accordance with the principles of ecological balance, freedom of religions and beliefs, and equality without discrimination on the basis of race, religion, creed, doctrine or gender, to achieve the political and moral fabric of a democratic society in order to function with mutual understanding and coexistence within diversity and respect for the principle of self-determination and self-defence of the peoples."
For Adil these developments do not come as a surprise. "Common Kurds by nature are anarchist, I'm sorry to say that, and it's true. In the sense that they desire total freedom. So now seeing anarchist elements re-appearing in politics is not surprising."
Back in Bristol..
At such a time of turmoil the need to stay connected with family and friends back in Kurdistan is pressing. Ali makes use of social media to exchange information and ideas with Kurds at home and across the diaspora. "We are not allowed a state on the ground, so we create one online."
As in Kurdistan, Adil says that in Bristol he has "experienced the similarity of human contradiction of behaviour and being. I have encountered many decent and exceptional souls, who tirelessly dedicate their energy to build a human community with respect to nature and to basic human needs." Referring to the values of coexistence which he grew up with, Adil cites the famous Iranian poet Saadi Shirazi:
Adam's sons are body limbs, to say; For they're created of the same clay.
Should one organ be troubled by pain, Others would suffer severe strain.
Thou, careless of people's suffering, Deserve not the name, "human being".