Fiction: Strangers on Trains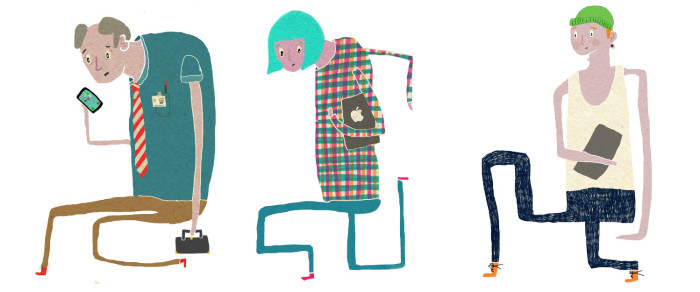 Brain Drain
Most people, like Simon, carry an extra brain. Tucked under an arm, slung
casually over a shoulder, these stylish externals easily outdo the internal kind.
The girl on the train two seats in front keeps hers in a Gucci pouch, and clasps it
to her like a soft­skinned daemon.  Behind her a sales rep (sweaty pate, tie
undone) unfolds a battered laptop that auto­starts on Excel. Simon looks away.
He's proud of his own brain. It's high­spec and compact. It fits in the palm of his
hand, or hides in the pocket of his suit without spoiling the cut.
At home his wife wears Agnes B and a frown. 'You're late,' she says to
the mirror, her pout of resentment underlined by a stroke of Rouge Noir. Simon
is confused. His brain did not remind him of the dinner date. He pats his pocket
and feels a lack of something.
They arrive and are greeted and seated and given a drink, but Simon is
out of sorts. At the black glass table dressed in white sushi, someone asks him a
question. 'I'm sorry,' he says, 'I was miles away.'
His wife dismisses this with a wave of the arm. 'Don't mind Simon,' she
says. 'He left his brain on the train.'
Anti­Climax
The guy in the window seat moves his bag in a gesture of welcome. And smiles.
But the carriage is half­empty. A glance at her ticket lets her off the hook. 'Sorry!
Wrong seat number. I'm in front.'
Personal space, the soothing rattle of the rails.  A perfect opportunity to
read, to work, to …  She takes out a novel, opens it and closes it again. She
fiddles with her phone. No signal.  Not even a tetchy toddler or gossiping granny
to fill the disconcerting emptiness of a mind in transit.
But behind her window­seat guy is having more luck. He's through to a
colleague. Apps are mentioned, reception, diaries, then. 'Oh, but that verse was
written as a crescendo. You didn't like it?'
A creative type. Maybe she should have sat next to him after all.
Well I didn't realise. If you want it more .. . orchestral. No problem.'
The client is calling the tune. He/she doesn't hear the sigh of
disappointment and frustration. 'I only thought crescendo, because, you know, it
worked with the Military Wives.'
OMG. Had it been Gareth Malone in the seat behind? Or the other one,
chubby with the lopsided smile and a line in scathing judgements. Whoever he is
it's too late to turn round and take a closer look.
The conversation stutters to an end. Mr Creative will change the
composition, erase the crescendo, if the paymaster, the philistine wants it that
way. But really, a crescendo, why wouldn't you have one?
She goes back to her novel in which a woman is clearly unhinged. It has a
sagging middle, the book that is, not the woman, although who knows how her
middle is behaving. The novel is short on descriptive detail.
She checks her phone and makes a call to discover her appointment in
London has been cancelled. Her journey is pointless. From said phone she also
retrieves her last assignment, marked up with comments. 'Your writing flows well
but the story arc lacks clarity. It needs more of a climax.'
They're pulling in to Paddington. Behind her there is silence. She unpacks
an ancient note­book and a wonky pen. As she hands him the folded sheet she
makes sure he is not Gareth Malone and leaves before he has time to read it.
'This is a message from the other side. KEEP THE CRESCENDO.'
---
Illustration by Tessa Gleeson
Ali Bacon lives in South Gloucestershire and is a member of Bristol Women Writers
www.writersunchained.wordpress.com
She can also be contacted via www.alibacon.com