A worrying trend: The Rise of Luxury Student Accommodation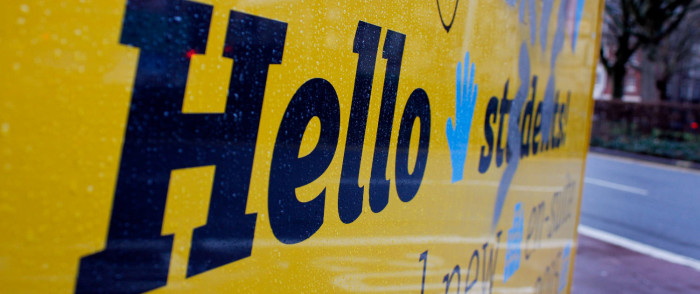 Alex Rankin looks at the growth of upmarket student accommodation and its effect on the local area.
Bristol has always had a strong student presence. With two well-established universities to its name and a reputation for a lively culture and nightlife, it's no surprise that many young people are drawn to study in the city. In the last academic year over 21,000 students enrolled at the University of Bristol and 27,000 at the University of the West of England (UWE), making up around 10% of the city's population.
But as numbers continue to grow, so too does the issue of accommodation and where to house Bristol's burgeoning student population. A new type of 'luxury' accommodation is emerging to alleviate this concern. Within the last couple of years, a raft of new developments have sprung up across town, offering would-be students an exclusive living experience.
Can students even afford spiralling costs?
Nowhere is this more noticeable than in the area around Nelson Street, formerly the site of the See No Evil street art gallery. It's currently a frenzy of building activity with New Bridewell police station and the Magistrates Court razed to the ground and several other buildings in the process of being redeveloped.
One of the first to be transformed was the pre-existing Nelson House, which underwent a £3 million upgrade courtesy of Unite Students. Ironically, it's still advertised by the University of Bristol as being "at the heart of Bristol's world-famous street art scene" despite few traces of the art remaining, because of all the construction work. A single room here goes for just over £5,000 per academic year, or £125 per week, which might sound reasonable enough given its central location but other student accommodation costs a lot more.
St Lawrence House, currently under development by Prime Student Living, is set to open its doors to undergraduates in September 2015. The description of the facilities reads like a holiday brochure, with students being offered an on-site gym, 32" TVs and even their own printing and parcel distribution service. Despite claiming to offer tenants 'affordable' accommodation, prices start at £165 per week for a standard studio and rise to as much as £213 for an 'extra large' version. Meanwhile, Student Castle, who recently turned the old Pro Cathedral in Clifton into student rooms, charge even higher, with rates ranging from £139 per week all the way up to £269 for a two-level studio.
According to their website, many rooms are now booked out, but this has little bearing on the financial status of the vast majority of Bristol's students. Tom Phipps, housing officer for the University of Bristol's Student Union, said about these prices:
"given that the basic maintenance loan is around £3,700 a year, these prices are exorbitant. Only a very small proportion of students here at Bristol will be able to afford these costs. This is a worrying trend as rents across the board are rising year on year making Bristol one of the most expensive places to be a student."
City centre take over
Roll for the Soul café and bike workshop, located in the midst of the building work taking place on Nelson Street, are wary not only of potential rent increases, but also of the cultural effect that the developments could have on the area.
"When we moved in here," said Rob Wall, manager at Roll for the Soul, "one of the things that we were interested in doing was to create a space in the city centre that was non-corporate. City centres are so homogeneous across the country. There's a Primark on every high street. And it's a bit depressing that what we see as the culturally interesting bits of British life and the creativity are squeezed out of city centres."
Rob is also dubious about the interests of the companies behind some of the developments. The building he rents is owned by Crosslane Group, who are developing St Lawrence House under the pseudonym of Prime Student Living. They in turn run the Victus Fund, which provides opportunity for investment in the European student housing market. In a press release, the chairman of the fund remarked how they work to "capitalise on current European market conditions for the benefits of our investors," suggesting the onus is very much on making a profit rather than nurturing education.
They have already completed projects worth £40 million in UK cities including Bristol and have future potential projects worth £150 million. Likewise, Unite Students own 130 properties in 23 cities across the UK and received a net income of nearly £80 million in 2013. They manage a total of 13 student properties in Bristol.
Whilst debate rages on about rising student fees and the wider privatisation of higher education, there can be little dispute that student accommodation is now a multi-million pound business and the impact that these developments have on our communities is something to watch closely.