Bristol: a cycling city in name alone?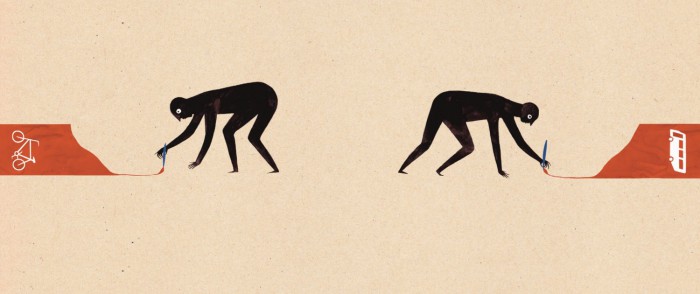 Alfie Lake looks at the potholes in Bristol's much peddled bike-friendly status to find its infrastructure in need of improvement.
Illustration: Lara Hawthorn / larahawthorne.com
On the face of it, the signs are promising: thriving grassroots organisations, a 94% increase in cycle commuters between 2001 and 2011, and the Council ́s adoption this year of a "cycling manifesto", including a pledge to spend £35 million by 2020 with the aim of boosting the percentage of journeys made on two wheels from 8% to 20%. A 2010 Cycling Plus survey ranked Bristol as the "number one cycling city", and the city also came out on top in terms of cycle parking per head of population.
Bristol ́s oft-cited "cycling friendly streets" were a factor in its being awarded European Green Capital for 2015, with the jury noting that "thanks to its efforts, the number of cyclists has doubled in recent years". This is no doubt spurred by the large number of grassroots cycling organizations in operation, including the Bristol Bike Project and Lifecycle UK. Rob Wall, general manager at the Roll for the Soul community bike cafe, told me "that ́s what Bristol ́s brilliant at… culture from the bottom up, people getting of their arses and doing things".
Much money for not much more safety
Despite these laudable achievements, however, there is an undercurrent of discontentment with the current transport infrastructure among both motorists and cyclists, along with a sense that the city ́s much-vaunted bike-friendly status is a title with little substance behind it. One cyclist commented "I've been living in Bristol for 25 years and can think of few places I'd less like to cycle in", with another adding, "if Bristol is apparently leading the way as a 'cycling city' then the rest of the cities must be quite bad!".
The recent growth in cycling has gone hand in hand with a 15% jump in the number of cars on the road (from 165,334 in 2001 to 190,530 in 2011), effectively forcing ever-increasing numbers of people to compete for the same road space and creating conflict and casualties; the number of cyclists injured or killed on the roads of North Somerset has risen by 30% in the last ten years.
Bristol City Council ́s response has been to commit to spending £16 per person, per year in the construction of a 200 mile network of "better connected, segregated, safer routes", according to Assistant Mayor for Transport Councillor Mark Bradshaw, in addition to reductions in speed limits and the promotion of cycling in the area.
Yet this is not the first time that the council has allocated significant funds to such an end; in 2008 the Greater Bristol Cycling City project was awarded £11.4m to "to invest in the promotion and encouragement of cycling", an amount which was matched by Bristol City Council and South Gloucestershire Council, creating a total budget of £22.8m.
The project was launched to great fanfare, amid talk of the implementation of a citywide bike hire scheme and traffic wardens on bikes ticketing motorists for using cycle lanes, but three years after the project's end, Bristol ́s cyclists are sceptical about what improvements, if any, have been achieved. The secretary of the Bristol Cycling Campaign, Martin McDonnell, commented that the project "started with high ideals but ended up going for the low hanging fruit". Another cyclist, Lee Davies, added that "the output from the investment is disproportionate and disappointing.
The roads certainly don't feel more cycling friendly". Initially, 52 miles of cycle routes were promised, of which 39 miles were existing routes that were to be improved. The notion of "improvement" can cover anything from adding enhanced street lighting and installing light-controlled crossings to improving the route surface, dressing up cosmetic tweaks to existing infrastructure as meaningful change. The end-of-project report described the construction of 36 "new or improved" routes totalling a distance of 53km, as below what was promised and falling way short of the 180km of high-quality, traffic-free cycle routes that the budget would have permitted, according to figures published by Brake road safety campaigners and the BikeRadar website. The report also trumpeted piecemeal improvements made to signage and cycling parking facilities. While encouraging more people to use is an admirable aim, swelling the number of cyclists while failing to provide them with suitable, safe infrastructure could be seen as a reckless strategy that endangers lives.
Challenging motorist culture
So, if Bristol City Council has already missed one similar opportunity to deliver the root and branch reform that the city ́s dysfunctional road system so desperately requires, residents may be justified in asking the question: can it be trusted to do so this time? BCC ́s recent spending commitment, stemming from its adoption of the Bristol Cycling Campaign pressure group ́s cycling manifesto in July 2014, promises to create a 200-mile network of "high quality, direct and continuous" cycling routes through a network of freeways and greenways. Freeways are described as routes on main roads with "extensive segregation" from vehicular traffic. However, cyclists more used to painted-on cycle routes which offer no protection from fast-moving traffic and are often obstructed with parked cars may wonder how many miles of such routes will materialise over the next few years, especially given the council ́s patchy track record of providing genuinely new infrastructure.
In a climate of ever-tightening public sector budgets and when faced with the challenge of completely overhauling the city ́s transport system, is it even possible for a city such as Bristol to leave behind decades of car-centric planning and put in place a network that favours cyclists? The city's narrow, dense network of roads is also highlighted by Rob Wall, who questions whether such change is feasible, given that space is at a premium. Many point to the cities of Holland and Denmark as examples to follow, but as cycling has been favoured in city planning there since the seventies it may be an unfair comparison to draw.
A better example of what can be achieved when intelligent design and political will meet can be found in Spain, a country that sits last in the EU ́s rankings with just 1% of journeys made by bike. Between 2007 and 2010 the city of Seville constructed 80 miles- 50 of them in the first year alone- of well-connected Dutch-style bike routes and was rewarded with a tenfold increase in bike use. All this over a similar timeframe with a budget of £25m, only slightly more than was spent during the cycling city project, and in a city also known for having mazes of narrow streets where space is in short supply.
The council has for too long failed to turn pro-cycling talk into meaningful action, something highlighted by their replacing bike lanes with car parking spaces and diverting £400,000 of funding intended for cycling to plug the financial black hole in the Metrobus project. As we enter Bristol ́s year as Green Capital, surely now is the time for the powers that be to turn green rhetoric into lasting change, and use joined-up thinking to rectify a disjointed transport network.