Bristol Water: Who is getting what at the watering hole?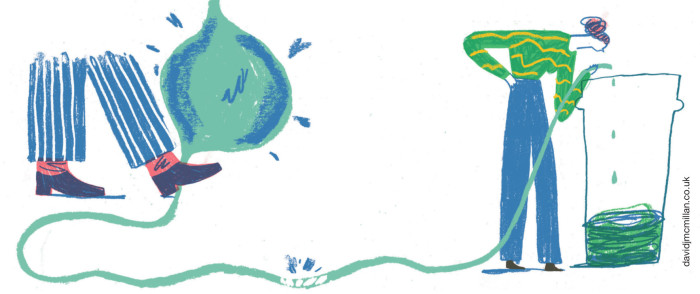 Between 2010 and 2014, CEO Luis Garcia's salary has risen from £113,000 to £189,000 per year, while his potential bonus has more than doubled, to £54,000, in the last four years.
Between 2010 and 2014, Bristol Water's profits have increased from £6.8 million to £17.1 million, a gain of £10.3 million, making a four year profit of £44.2 million.
In 2010 the average water bill in Bristol stood at £157. This has now increased to £202 in 2014 and is forecasted to rise again.
Bristol Water is accused of sucking up millions in profits from a natural resource, while over one million customers take the hit. Ben Hickey investigates, with additional research by Adam Cantwell-Corn.
On 12th December the official water service regulator, Ofwat, ordered Bristol Water to cut their prices by a quarter over the next five years.
As reported in the first edition of the Bristol Cable, Bristol Water's charges have increased over five consecutive years while its profits – £13 million and £17 million for the last two tax years respectively – continue to grow and grow. Indeed, a 2014 company document stated that one of 'the main drivers of future profitability' is expected to be 'increases in charges to customers'.
Behind Ofwat's ruling lies the question of how Bristol Water's massive profits stack up in a period of continued bill increases.
So where are these profits trickling away to?
Despite the name, Bristol Water is not locally owned. Joint ownership by Capstone Infrastructure, a Canadian corporation, the Spanish water services giant, Grupo Agbar, and the Japanese Itochu Corporation places the firm in a network of major multinationals. This structure of ownership means the vast majority of Bristol Water's financial decisions are influenced by shareholders and executives who are distant and unaccountable to local bill payers. Six of the thirteen members of Bristol Water's board of directors in fact work for the parent companies, not for Bristol Water itself.
Over the past two years almost £30 million has been paid out to shareholders in dividends, against a backdrop of continued infrastructure failings, such as the flood in Kingswood in September 2014.
Among those profiting from higher charges is the current CEO of Bristol Water, Luis Garcia, who worked for Agbar for 20 years before assuming control of Bristol Water in 2009. Since 2009 his base salary has increased by £76,000 while his bonus has more than doubled, from £26,000 to £54,000, during the same period.
Bristol Water's central justification for bill increases has been necessary maintenance and improvement works on the supply system. 'Our aim', claims the company's spending proposal report, 'is to mitigate risks for customers…without pushing customer bills up higher than required'.
One such risk mitigation strategy is the building of a new £125 million reservoir at Cheddar. However, five years on from the project's proposal, Ofwat has declared it grossly over-budget and against customer interest. In fact, in light of continuing bill increases, the regulator will not allow customer charges to be used in funding the reservoir's construction, throwing the project into uncertainty.
Rough waters lie ahead
In response to Ofwat, Bristol Water has said it 'needs time to consider the best interests of its customers' before deciding on its final spending plan for the next five years. They may go in for an appeal to the Competition and Markets Authority: an approach that proved successful in 2010 after the company reportedly spent £46 million on legal fees fighting bill increase restrictions, but this remains unclear at the time of printing.
Unfortunately we can expect further rises as water companies have the freedom to increase charges in line with inflation, while incomes fail to keep pace.
But then, when the latest non-executive director of Bristol Water is a resources consultant, formerly of accountants PricewaterhouseCoopers (who happen to be Ofwat's delivery partner), maybe that's not a surprise.
The multinationals sucking Bristol dry:
Capstone Infrastructure – Canadian energy and resources corporate giant (50%)
Grupo Agbar – Spanish corporation and owner of 239 other companies (30%)
Itochu – Japanese corporation ranked 174th richest company in the world on the Fortune 500 list (20%)
If you fancy writing to Bristol Water to tell them your thoughts, contact them here:
customer.services@bristolwater.co.uk
Bristol Water plc
Bridgwater Road
Bristol
BS13 7AT