Food: From Sudan to Stapleton Road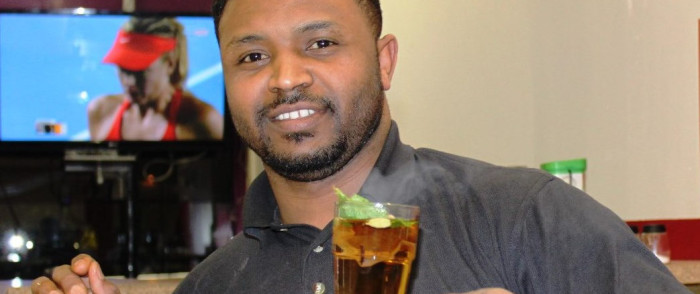 In the first of a regular column Andrew McCarthy writes about food, community and a sense of home in Bristol.
What does Bristol taste like? There are a lot of contenders for that quintessential Bristol flavour.
Some might say it's a pint of cider or a scoop of Tarr's ice cream. Or a hot pasty at the Rover's ground on a chilly Saturday? Jerk chicken at Carnival? What about any one of a whole host of local ales? Roast dinner at my dad's house or spanakopita at my mum's…
The flavour depends on where you are, really. It also probably depends where you're coming from and a fair portion of our city's population has come a long way to be here. But the chances are, wherever you come from, you can get a taste of home somewhere in Bristol. I work at Bristol Refugee Rights and I often see how important restaurants and cafés can be to people building a new life in this city. They can be a place to relax, meet friends, share news from countries left behind and a place to eat familiar food.
I've decided to go on a little culinary adventure around some of those places in Bristol. The first stop on this tour is during my lunch break. I've gone with my colleague Mohammed to Leisure Café, but nobody calls it that: it's mostly known as the Sudanese Café. Abdullah the owner is from Sudan, but the people eating in the café seem to be from all over. During a busy lunch time I hear people speaking French, English, Somali, Kurdish, and Arabic in several different dialects. The food, Mohammed tells me, is pretty representative of the cuisine shared by Sudan, Eritrea and Ethiopia.
I left the ordering to Mohammed and waited, eyeing up my neighbour's fried fish. The first dish to arrive at our table was a stack of injera, a sort of pancake made from fermented batter. Between the layers of light, spongy bread was a stew of lamb cooked in spinach until the meat was softer than butter. Next came a bowl of grilled lamb, nicely spiced, with lentils and a green chilli dip on the side and a baguette, in case we were somehow still hungry. Half way through eating all that, more arrived! This time a lamb soup, rich and warming, with delicious, melting pieces of bone marrow.
More stuffed than is sensible for a mid-work lunch I washed the meal down with a green tea, with the glass stuffed full of mint leaves and cardamom pods.
Delicious food aside, this place is a real community hub. Almost everyone coming in gets a nod and hello from the others sitting around. Many of the Sudanese people in Bristol have fled horrors of war and torture. Despite what the mainstream media might say it's not easy building a new life here in Britain. Even those who manage to get leave to remain in the UK, having navigated an asylum process where the odds and the system itself are stacked against success, find themselves at the bottom of the list for housing and struggling to find work. Abdullah is well known as a good guy, someone who will help others out, and the café must feel like a port in a storm for those still finding their feet in Bristol and a welcome taste of home for those who are more settled here.
Keep an eye on the Bristol Cable website where I'll be writing about places in Bristol serving up food from Kurdistan, China, Jamaica and Somalia. To find out more about Bristol's asylum seeker and refugee communities in Bristol visit www.bristolrefugeerights.org .
If you fancy a visit, you can find the Leisure Café roughly opposite Easton Leisure Centre on Stapleton Rd. Expect to pay 50p for a cup of tea, about a fiver for a meal and to eat with your fingers!