Metrobus: a 'timetable of destruction' for Bristol's Green Capital?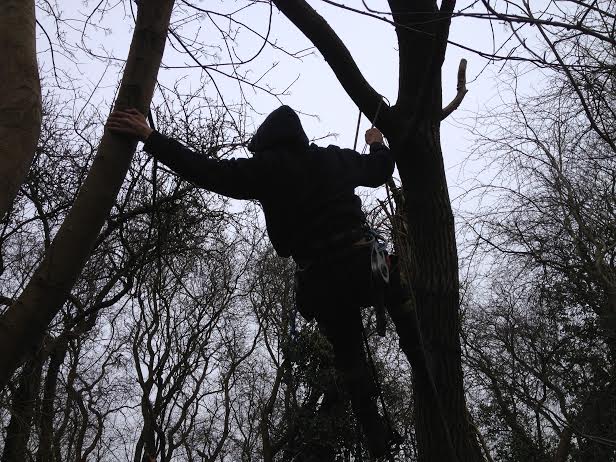 Tessa Gleeson looks at plans to build a large scale bus network across Bristol and finds out why campaign groups and protestors would like to stop Metrobus in its tracks.
The Metrobus scheme is a £200m bus network that has been in planning since 2007. Its route across Bristol has been planned and funded in three sections – the North Fringe to Hengrove Package (NFHP), Ashton Vale to Temple Meads (AVTM) and the South Bristol Link. The project's stated aims include improving commuter access to employment and cutting journey times.
Public pressure is mounting to save top quality agricultural land in Bristol from planned Metrobus routes. Campaign group Alliance to Rethink Metrobus (ARM) say Bristol City Council is "highly hypocritical" to include Metrobus in the Green Capital calendar, and has called its proposed developments a "timetable of destruction."
A Metrobus statement issued in response to a Bristol Cable query predicts 600,000 new bus journeys will be made as a result of the first year's operation, an increase of 2.18 per cent from 2013 figures. Campaigning group StopBRT2 asked a transport expert to study Metrobus consultant Atkins' patronage charts, resulting in a compatible prediction that just 277 passengers would use the service during the peak hour between 8am and 9am in 2016/17. The cost of its longest section – NFHP – is around £100 million, for an extra 200 daily peak-hour passengers. StopBRT2 describes these numbers as "incredibly low for such a new and expensive venture".
In 2014, Bristol council's planning officers' report recorded 335 comments about the NFHP route, of which 324 were in objection. The most commonly raised point was that environmental impacts outweigh the benefits of the proposal. Similar ratios of objections were raised in comments on Metrobus's other sections. Petitions against Metrobus stand at over 5,500 signatures combined.
Hands tied?
Bus Rapid Transit: the proposed routes
BRT3: North Fringe to Hengrove Package (NFHP)
BRT2: Ashton Vale to Temple Meads (AVTM)
North Somerset, South Gloucestershire, Bath and Bristol councils are all contributing to the Metrobus scheme, alongside the Department for Transport (DfT). However, DfT funding is capped and Bristol must pay the majority of the remaining costs.
Bristol's contribution to Metrobus is now budgeted at £45.4 million or, in other words, about £100 for every Bristolian. A leaked council document from October 2014 published by the Bristolian revealed a budget shortfall of £9.2 million, and additional costs are rising. In January a £2.7 million contingency payment was granted by the council for the AVTM section.
During Mayor's Question Time on 10th December 2014, The Bristol Cable asked at what point, in the context of Metrobus' rising costs, would compensating partnering authorities' planning costs be preferable to continuing with the scheme. The Mayor replied: "If we cancelled we would be liable for all their costs to date, and that I'm not prepared to risk. I'm with [Alliance to Rethink Metrobus] on principle, but it's simply not an option. Department for Transport say I could pull out – of course I could – but not at their cost, at our cost." Figures for these costs were not officially disclosed.
When asked at what point the Metrobus plan became unavoidable, the mayor replied: "Before I got here."
Land matters
Land due to be affected by Metrobus includes Stoke Park, Stapleton Allotments, the Frome Valley Conservation area, Festival Way, woodland at Bradley Stoke, Hanging Hill Wood, Highridge Common, Colliters Brook and part of Ashton Vale.
TravelWest's 2014 NFHP Value for Money report states: "The [NFHP] scheme would be likely to give rise to […] slight adverse environmental impacts, with the inclusion of suitable remedial measures." Impacts described here include "some long term impacts on landscape (…) some loss of (…) grassland habitats (…), green field (…) and limited chance of damage to Sites of Nature Conservation Interest and (a) Local Nature Reserve". Mitigation measures are seemingly crucial to ensure impacts of the scheme are not more seriously adverse. The report highlights a risk that "without mitigation, there would be some negative impacts on The River Frome", and counters that "if appropriate mitigation is proved, the effect of the NFHP on the water environment will be neutral". The report's findings portray the scheme as far from unanimously beneficial to the local environment; for example, while it's expected to have a "slight beneficial" impact on greenhouse gases, a "slight adverse" impact on air quality and noise is predicted.
All three sections of the route have drawn criticism, but plans for the NFHP section at Stoke Park and Stapleton Allotments have been a focal point for environmental groups. One such group, the Blue Finger Alliance (BFA), works to conserve for agriculture a 20km long and 500m wide 'finger' of grade-one agricultural soil near Stoke Park, now threatened by Metrobus. Historically the site of Bristol's market gardening quarter, this deep and fertile strip ranks among the top three per cent of arable land in England.
In strong contrast to what opponents have dubbed the "white elephant" of "Metrobust", an emerging network of Bristol growing projects are succeeding in the area through demand, social benefit and profitability. One such example is Avon Wildlife's project Feed Bristol; 25,000 people have attended in the last three years. Students on Shift Bristol's courses use the site to train in practical sustainability, neighbouring farm Sims Hill supplements its vegetable boxes from here, whilst other groups attend for recreation, gardening therapy and rehabilitation.
Kerry McCarthy, Labour MP for Bristol East, has said: "We need practical projects on the ground in these communities, which local people can visit and participate in. […] Feed Bristol […] is going to be badly damaged by the Metrobus project, which, to my mind, isn't what we should be doing during Green Capital year!"
Still demanding accountability
Maddy Longhurst, a member of the BFA, believes the area is "key for Bristol's stated aims of food-security and carbon neutrality". According to her, Metrobus development contravenes local and national planning policies designed to safeguard greenbelt land, wildlife corridors, conservation areas and public amenity assets.
BFA and StopBrt2 campaigners understand that Metrobus contractors Halcrow (revealed by The Bristol Cable to be operating in scandal hit Qatar) and Atkins rely on projected time-savings of a road through Feed Bristol to meet the criteria for government funding of the project. Alternative routes proposed by campaigners include using the M32's existing Junction 1, which they say is a potentially cheaper option – and would prevent the loss of half the land used by Feed Bristol and half of Stapleton allotments.
Last December, Belinda Faulkes of BFA and Kerry McCarthy MP met with transport minister Baroness Kramer, who made it clear that amending the NFHP route would remain a possibility until plans are signed off by Government in March. A press statement from McCarthy reports that Kramer refuted the claim Councillor Abrahams made to councillors that "serious financial consequences" would be the repercussion of not voting to approve the NFHP, a claim that may have led to permission being given by just two votes. Following the repudiation from Baroness Kramer, McCarthy stated: "It's deeply regrettable that Councillors and Bristolians at that Development Control Meeting were allowed to believe that there were no alternatives to either accepting or rejecting the scheme they were presented with – I firmly believe some would've called for alterations to be made".
On 16th January, 60 people attended a 'Beet the Bulldozers' meeting in Hamilton House, Stokes Croft, with campaign groups including StopBRT, Rising-Up and BFA. Attendees were informed that tree felling is due to start at Feed Bristol's woodland, with a deadline for completion at the end of February, before the bird nesting season commences.
The first protestor's tree-platform was built on Saturday and such construction has continued unabated in the proximity of hastily assembled bailiffs, security and police. One bailiff we spoke to lamented that he's dreading trouble at home since his wife gardens at Feed. Local residents have joined the protest and infrastructure is accruing.
One element on the protestors' side is a query over which side of the boundary the tall conifers stand, it speaks of a certain haste that this has not been determined at the point work is due to begin. Faulkes is concerned that adequate assessment of the site has not been carried out, neither for health and safety of felling in the presence of badger sets nor a full appraisal of procedures necessary to mitigate damage. She states that as someone at Feed Bristol daily, she would have seen this being done and hasn't. She has requested proof of such preliminary procedural conditions on planning, and is awaiting response to a Freedom of Information request. Further question marks hang over the relocation of allotment holders with some saying that the land they are to be moved to has been found to contain high levels of lead.
Campaigners are adamant that Metrobus has no place in Bristol, particularly during Green Capital 2015. Following Mayor's Question Time, Sarah Pugh of Shift Bristol plaintively warned the mayor: "Metrobus would be a rotten legacy." Only time will tell how events will now play out.