'Stop the Eviction, Start the Repairs!' Letting agent drops property after asthma protests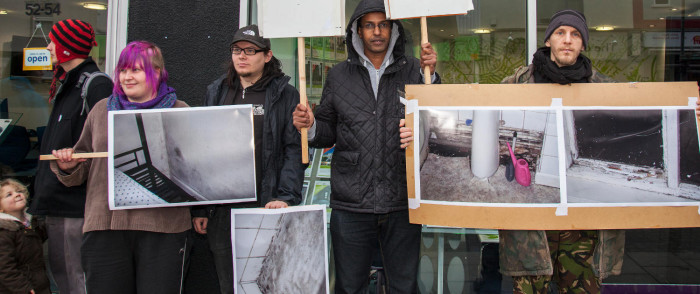 Drew Rose reports on a community response to poor housing and its effect on children's health.
Following a protest outside Central Estate Agents (CEA) on Gloucester Road last December the Bristol letting agent says it has terminated its contract to manage a property on St Marks Road in Easton, where tenants say dampness has caused them to develop asthma. Management of the property has reverted to the landlord Ernie Biela, who the tenants say they last saw in 2007.
As a banner reading "Stop the Eviction, Start the Repairs" was unfurled by local action group Bristol Solidarity Network (BSN) outside the estate agents, Jabbar Mohammed, the company director expressed annoyance, he said:
"I don't know what they are out there protesting about."
Dahir Mohamud and his family have been tenants of the property in Easton for seven years. He said that the increasing disrepair of the property had led to serious damp and had caused him and three of his children to develop asthma. His eldest daughter Sahra, 18, told The Bristol Cable:
"I had an asthma attack two weeks ago due to the damp in my house."
Cold and damp homes double chance of childhood respiratory problems
Ian Preston, manager of the Warm and Healthy Bristol (WHB) project, said:
"The Marmot Review of Fuel Poverty and Health found that children living in cold homes are more than twice as likely to suffer from a variety of respiratory problems as children living in warm homes."

"Asthma in children is actually where there is the strongest clinical evidence […] cold and damp housing accounts for around 25% of childhood asthma."
He added that the prevalence of childhood asthma is slightly higher in Bristol than nationwide and that lower income areas of Bristol such as Southmead and Lockleaze are most affected.
"Where we see the worst problems across Bristol is the private rented sector. We have done home visits where there are severe damp and mould problems" he concluded.
Stephen Newton, from BSN, said:
"Dahir's house is in an appalling state of disrepair, with a seriously leaky roof, huge cracks in the walls and ceilings and intolerable mould, cold and damp. The very few repairs that have been done have been cosmetic, minimal and ineffective."
Bristol City Council had issued an improvement notice requiring repairs to be done to the property at the beginning of 2014. Jabbar Mohammed said:
"All the repairs were done so I don't know what they are complaining about." He added that Lisa Williams, Environmental Health Officer for the Discretionary Licensing Team, had signed off on the repairs. When contacted by The Bristol Cable she declined to comment.
'Across Bristol thousands are renting in poor conditions'
A council fact sheet on damp housing and health problems states:
"We can only help if the dampness is serious enough to mean that some medical treatment is likely in the next 12 months. In making this assessment we cannot take into account medical conditions of occupiers."
After the tenants submitted a letter to CEA on the 8th December demanding repairs, they said Mr Mohammed's response was to threaten them with eviction. Their landlord claims he had asked the tenants if they wanted to be evicted. He told The Bristol Cable:
"Tenants from a certain community want the landlords to evict them so they are prioritised in order to get a council property."
The tenants maintain that they want to remain in the property and have the repairs carried out so they can live in a secure and healthy house.
Ian Preston of WHB raised the issue of retaliatory evictions:
"If you are in a privately rented home it has never really had a standard imposed upon it to improve it. Also, you've got less power to do anything about this because if you start causing trouble for your landlord arguably they are just going to get rid of you."
There was outrage from homelessness charities Shelter, Generation Rent and Crisis, on 28th November 2014, when Tory MPs Philip Davies and Christopher Chope prevented the Tenancies Reform Bill, which seeks to protect tenants from retaliatory eviction, from becoming law by continuously talking until the debate ran out of time.
"The private landlord associations are lobbying quite hard against proposed government legislation that calls for all private sector properties to be improved beyond F and G on the Energy Performance Certificate by 2018," added Ian Preston.
Nick Ballard, an organiser with the community action group ACORN who has spoken to hundreds of local residents about housing conditions in east Bristol, said that this situation is indicative of a wider problem:
"Renting has become a way of life for millions who have been priced out of home ownership and with no chance of social housing. Across Bristol thousands are renting in poor conditions. With only six months security and rip-off letting agent fees of up to £500 each time we move, many tenants won't campaign or complain because they are intimidated by the threat of eviction."
Almost 2,000 local people have already signed the ACORN petition for an Ethical Lettings Charter to guarantee healthy, stable and affordable homes for those renting in Bristol.
Community action groups in Bristol like ACORN and Bristol Solidarity Network are increasing pressure on property managers to improve the standards of their accommodation. It remains to be seen whether other estate agents will relinquish responsibility for their properties, or take action to ensure healthy homes for their tenants.