Banged up in HMP Bristol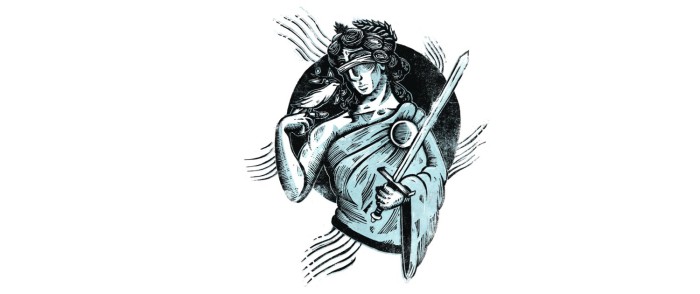 Adam Cantwell-Corn caught up with Governor of HMP Bristol, Andrea Albutt, and ex-con and prison campaigner, Ben Gunn, to find out whether one of society's most closed institutions is in 'crisis'
Illustration: Luke Carter / lukecarter.co.uk
"I'm absolutely clear there is not a crisis in our prisons" pronounced Chris Grayling, Secretary of State for Justice, in August 2014. Renowned campaigners, The Howard League for Penal Reform, responded in October that in fact "the prison system is in crisis" due to staff shortages.
Andrea Albutt, Governor of HMP Bristol, a local category B male prison, treads a cautionary line between the positions of ministers and campaigners. "Bristol's not in crisis, but it's not where it needs to be at the moment" she says. HMP Bristol has not been spared from huge cuts, with the Howard League reporting last October a 38% reduction in Bristol prison officer levels since 2010. Despite this, Andrea maintains that "we're on an up […] things are improving for us […] and I expect next year to see further improvements in Bristol."
This marks a stark contrast from 2013, when an Her Majesty's Inspectorate of Prisons (HMIP) report found that "levels of respect in the prison were poor" with some prisoners "living in unacceptable conditions", among other scathing remarks about Bristol Prison. As I sat in the Governor's office, within the walls of a victorian prison first built in 1883, I wondered what would signal another crisis in prisons, like the ones that led to Bristol prisoner riots in 1986 and 1991.
2014's inspection report is expected to show a significant improvement, but the prospect of what Andrea describes as "concerted indiscipline" among Bristol's 614 prisoners is ever present. "You know that goes without saying […] that's always there." The key factors in avoiding a riot? "Good staff-prisoner relationships […] the single most critical thing in a prison is how staff and prisoners kind of work together", that along with "a decent predictable regime".
Whilst this view is shared by others, whether this can be achieved in an era of austerity is debatable.
Ben Gunn, a former HMP Bristol prisoner and now prison reformer, certainly doesn't think so. Speaking to The Cable he said "staff shortages mean that some prisons are now barely able to deliver the legal minimum regime. That is a fair definition of a crisis."
The Independent Monitoring Board at Bristol has also pointed to staff shortages as having "undermined relationships between prison officers and prisoners". The future is uncertain for staff too, with an independent survey commissioned by the Prison Officer's Association revealing that 60% of respondents nationally are considering leaving the service, with 7 out of 10 regretting their choice of career.
But, Andrea refuses to be drawn on the effects of cuts, restructuring and crisis, at least until the new regimes have been fully implemented in Spring 2015. Only then will she "be able to say yes we can work this, or no they've gone too far".
24%
of prisoners were taken into care as a child
2%
of the population were taken into care as a child
---
---
47%
of prisoners have no qualifications
15%
of the population have no qualifications
Is it possible to both harm and heal?
Although reluctant to talk about the future, looking back at 24 years in the service, including three stints as governor, Andrea confidently stated that we have "far better prisons now". A victim of sexism from male colleagues as one of the first female prison officers, she recognises that "we haven't got the culture where it should be yet". However, she is positive about how the military style "good old days" have been replaced by a "softer caring side of things", where instead of punishment "our role now is to care for people in custody […] to rehabilitate people."
But can prison ever be 'soft' and 'caring'? From the other side of the bars, reflecting on 32 years time served for murder and campaigning for prisoner rights, Ben Gunn recognises the positive developments in the physical condition of prisons – changes that followed prisoner riots in the 1990s (during one of which Ben was "allegedly" on the roof of HMP Bristol). However, he challenges bureaucratic prison regimes that see the "small nods in the direction of humanity now lost". On a wider level, Ben refuses to get on board with the statement that prison can ever get 'better', saying "prisons can never be moving in the right direction. It cannot be possible to deliver punishment – deliberately damaging the prisoners' life – whilst simultaneously attempting to deliver rehabilitation. It is not possible to both harm and heal."
Although generally upbeat, Andrea sighs when saying "you see them same old faces coming back time and time again", with the Ministry of Justice finding that 65 % of short-termers leaving HMP Bristol go on to reoffend within a year.
That's a pretty high failure rate. Costing upwards of £35,000 annually per prisoner, plus the human cost of imprisonment including widespread rising violence and self-harm, it must be asked:
What is prison for?
The Government states that prison is for five things: punishment, rehab and reform, offender payback, reducing further crime and protecting the public. Yet, perhaps signalling a turn towards the "good old days", the Government is cutting budgets and reinforcing the role of punishment, in an attempt to head off 'tough-on-crime' UKIP, who plan to double prison capacity.
At this point Governor Albutt and Ben Gunn's positions converge as close as they possibly could. "If you are putting brutalised people into a brutal environment you will further brutalise them…and then they'll leave feeling even more bitter and even more disaffected..and even more not part of the community and then more likely to reoffend…" says Andrea. With 24% of prisoners having been taken into care as a child, and 47% having no qualifications, compared to 2% and 15% of the population respectively, these comments point to wider social issues that successive Governments have not faced.
Ben contends that "politicians deceive the public that harsher prison regimes cut crime; all the evidence disagrees." While differences in criminal justice and social systems must be taken into account, the international experience also seems to support this claim. For example, Norway's 'holiday camp' prisons maintain a maximum re-offending rate of 20%, whilst the USA – with just 5% of global population but 25% of the world's prisoners in harsh regimes – faces re-offending rates of up to 76%.
Back in the UK, whilst prison conditions have undoubtedly improved since HMP Bristol entered service, the punishment versus rehabilitation debate has long raged. One key related question yet to be resolved is that of prisoner voting rights, with the Government standing in defiance of European Court of Human Rights rulings that the current ban is unlawful. Ben sees it as a "long time to address" this issue, while Andrea, again cautious but in favour, says "obviously as Governor we'll do what the Government decides, but me personally, I don't see what the issue is."
Democracy On The Inside
The European Court of Human Rights has ruled several times that the UK's blanket ban on prisoners voting is an unlawful breach of human rights and the UK's obligation to hold free and fair elections. The debate rages on whether this is a key part of punishment or in fact hinders rehabilitation.
No legislation has been tabled, but what do Bristol MPs think?
Charlotte Leslie,Conservative, Bristol North West – Not in favour.
Kerry McCarthy, Labour, Bristol East – In favour, one of just 22 MPs to vote in favour in 2011 debate.
Stephen Williams, Lib Dems, Bristol West – In favour, also one of the 22 MPs.
Dawn Primarolo, Labour, Bristol South – Unknown
An "informed debate"?
Alas, while the discussion should turn on whether harsher policies bring down offending or not, according to Ben (and just about anyone else) "politicians often prefer cheap shots to an informed debate".
'Crisis' or not, with the UK's prison population almost doubling from 1993-2012 despite overall falling crime, and reoffending costing up to £13 billion per year, big issues need addressing.
Whether it be a return to the "good old days", Governor Albutt's "wishlist" of basic investments to "just make it a better environment" or Ben's argument that "we should look at new solutions to crime" remains to be seen.