Photos & Video: Eviction of Stapleton Allotments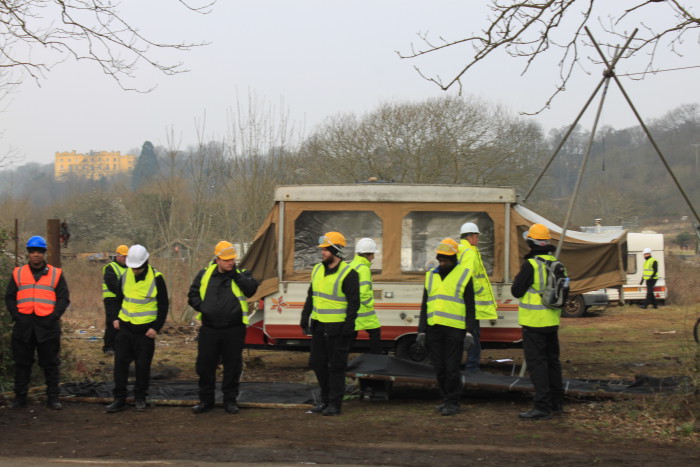 The eviction of the metrobus site started today. Teams of bailiffs and private security teams arrived on the site in the early hours to begin what will probably be a drawn out eviction.
From tree houses to tunnels, protestors have set up a labyrinth of defences for the bailiffs to overcome. But the eviction, at the behest of Bristol City Council, which if successful will pave way for a new metrobus route, doesn't look like it will grind to a stop quite so easily. Cranes have moved in and begun chomping down trees, fences have been set up, and special climbing teams have started ascending the trees.
For most of the day the police stood back with just a few officers visible on the outskirts of the site, leaving the private security with the task of dealing with the protestors and any public backlash.
In what felt like a game of cat and mouse, legal observers, journalists and supporters were chased around the fields and trees by private security and teams of bailiffs. Two Bristol Cable journalists, including myself, were at one point dragged off the site.
After managing to climb back over and get filming again, we bumped into the guys who had dragged us off earlier, except this time security were instructed by their commander to not touch anyone. Clearly there was some confusion and local supporters made the most of it, scrambling around the site once more before security could decide what to do next.
There appear to be several private security agencies operating on the site. One bailiff told the Bristol Cable that he was working for bailiff company, Bryan Lecoche. Lecoche boast on their website that they have "been involved in approximately 12,000 Common Law evictions of trespassers/travellers on behalf of hundreds of clients" including the highly publicised "Dale Farm traveller site."
Standing awkwardly next to a half open fence, two other security told us that they weren't sure what they were up to, being far more used to working on nightclub doors in Cardiff or Bristol than dealing with people banging drums and making Native Americanesque war chants from encampments up in the trees, with those assignments usually more raucous than this one.
From fireworks being shot over the site to well stocked campers and groups singing, it looks like campaigners aren't leaving without a fight, despite the 100 or so bailiffs on site and a High Court order. We'll be keeping a close eye on any developments.
See here: For analysis on the background to the Metrobus development