Richard: profile of an ordinary man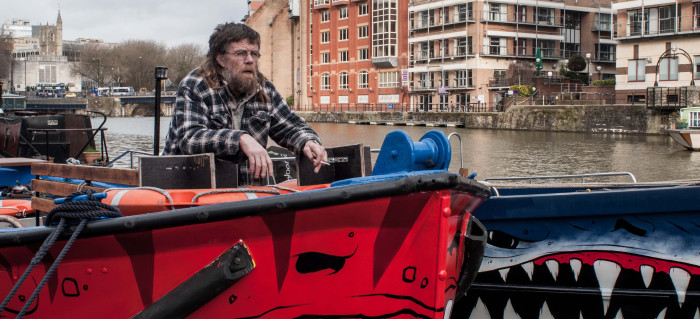 This is the first of a series of profile pieces that will put the spotlight on an ordinary Bristolian, in contrast with the media's celebrity obsession and because everybody has an extraordinary story to tell.
I arrange to meet Richard, who runs ferry tours of the harbour, on a chilly December morning. When I hear his office is 'moored behind the Apple', I begin to think it might not be your typical place of work, and I am right. "Baltic" is a 45 foot steel ex-crabber, and a cluttered space, full of character and warmth.
To get on board, I have to negotiate some wire fences, then climb over the boat's handrail trying not to take a dip in the litter-strewn harbour waters. We enter the 'office' and I am immediately offered a hot drink by one of Richard's employees, Tom. We settle down on two seats that are possibly the only surfaces not occupied by objects. I get the impression that everything in the chaos has its place.
I begin by asking Richard about how he first got involved in his lifelong obsession: boats and the open water. In his West Country twang, he begins to speak effusively:
"one of my first childhood memories was being put into a 'duck', an amphibious army boat-cum-truck, and being driven down to Uphill. My Dad didn't tell me anything about it and just drove straight out into the sea. We went for a trip around the bay and he drove it back".
He goes on to describe how his father, who worked test-driving these vehicles, had calculated that the petrol he was given to drive around the test circuit would stretch as far as a trip down to Beer, in Devon.
"I was sat amongst jerry cans full of petrol, driven like a lunatic in an Austin Champ, and he'd drive like a lunatic all the way back with me sat amongst a bunch of empty petrol cans"… "between that and going out to catch mackerel with my Dad, that's how I got into boats. I'm adopted, and it turned out when I met my brother at the age of 35 that my great-grandfather was harbourmaster at Portishead, my grandfather was in the navy, it runs in the blood".
He tells me about his job:
"You're taking people out to enjoy themselves and that's brilliant, it's a really nice way to earn a living…We've always let kids under seven travel free and that pays dividends; when they get to be over seven they still carry on coming with us. When they get married they have stag and hen parties with us, when their Gran dies we help scatter her ashes".
And the negatives?
"We enjoy our work, sometimes it's stressful. We've pulled three people out of the dock in the last four months. The last one died. The time of response by the harbour staff is good, but they're under such financial constraints that there's fewer staff on duty. Alcohol and water don't mix. It's very sad when it's someone that hasn't got anything to start with that dies. The last one that died was living on the streets. They're forgotten, they don't count, and they should".
Richard speaks fondly about his home-town Bristol: "It's the best city in the world, and I've been to a few. I rate its independent atmosphere, and I rate the fact it hasn't forgotten it's a collection of villages. Kingswood, Stockwood, Hanham, they're all different…".
So what is it that sets Bristol apart from other places?
"…I love the people, and I love the fact that we've always been a rebellious bunch of scumbags, right the way through history".
When asked how the city has changed over the years, he has a memory: "I was able to sit on the end of my boat in the harbour, drinking a gin and tonic as it happened, with them racing powerboats about five feet away from me, that was marvellous".
I ask him how he'd like to see Bristol change in the future. After a long pause in which he mulls the question over, he replies, "I'd like to see us stop selling our assets. At the moment we're looking at selling the freehold of Avonmouth docks. I grew up in a council house and by the time Thatcher came into power I was well able to buy my Dad's council house. He took me to one side and threatened to slap me, saying 'this house is for people that can't afford a house, so when I die let's make sure somebody else who can't afford a house has access to one.' Wouldn't let me buy it. Smart move, good man".
Does he have a particular ethos that he follows when it comes to his employees? "Yeah, the whole lot of them know how much I've got in the bank at any one time, my bank accounts are an open book to my staff. It's because of the people I've got working for me that I am where I am".
And when it comes to customers, "they're king. I've only banned one property company because I didn't like their attitude. This woman clicked her fingers at my staff for a drink and I told her the bar was shut".
What would he have done differently, given the chance to relive his life?
"It's always easy to be clever with hindsight. Nah, I am what I am, I wouldn't change anything.  What's the point? I'm happy, I enjoy my job, I like Monday mornings".
We get onto the subject of family, and it's clear from the affection in his voice that boats aren't the only passion in his life. "I have three kids, I really like spending time with them. They're good levellers, especially the nine-year-old. He puts me in my place loads. I've got a wife, she's not too well, she's probably the strongest person I know. She's put up with me for thirty-odd years and not many people would".
They also feature in his morning routine:
"…I spend about an hour with my wife in the morning, just talking. I wouldn't change that, that's a ritual. Never get up and just walk out of the house".
If you know of someone who would make an interesting 'ordinary Bristolian', please contact us below and introduce us.