Taken for a ride?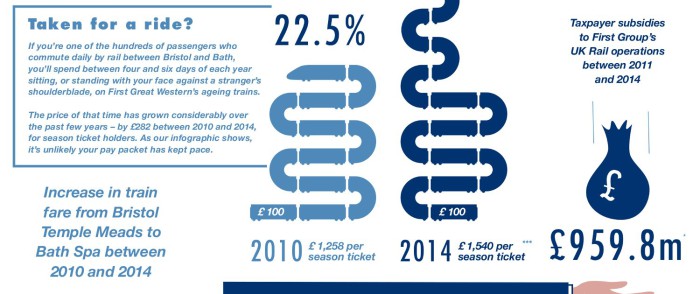 Trains fares rise, incomes down, public subsidies up?
Related content
Analysis: It's time for politicians to come together on mass transit
A leaked report has concluded that underground sections are needed and achievable in Bristol's future mass transit system. As we move to the next stage in the process, we need our politicians to work together.
Trams, or an underground? As Bristol weighs its public transport options, can it learn from across the Channel?
Bristol is notorious for its congestion and poor public transport, and has been hit by a worsening bus crisis. As it looks to a new mass transit system to solve its problems, cities such as Rennes and Bordeaux can offer valuable lessons.
Bristol won't bring in parking levy to fund transport as council forced to publish report
Mayor Marvin Rees has again hit out at sceptics of plans for a Bristol underground, and said smaller schemes won't do enough to give us the public transport we need.
Section of secret report into plans for Bristol underground released
The potential cost of building a Bristol underground is being disputed - between £7bn and £18bn.
Judge orders Bristol City Council to disclose secret report after freedom of information battle
A Green councillor has accused the council of being scared of scrutiny after trying for 18 months to get hold of a feasibility report into the idea of a workplace parking levy.
Campaigners renew calls for metro mayor to bring struggling buses back into public hands
A new petition has been launched urging Dan Norris to formally investigate franchising the West of England's bus services that are currently run for profit.