The Results: first Annual General Members meeting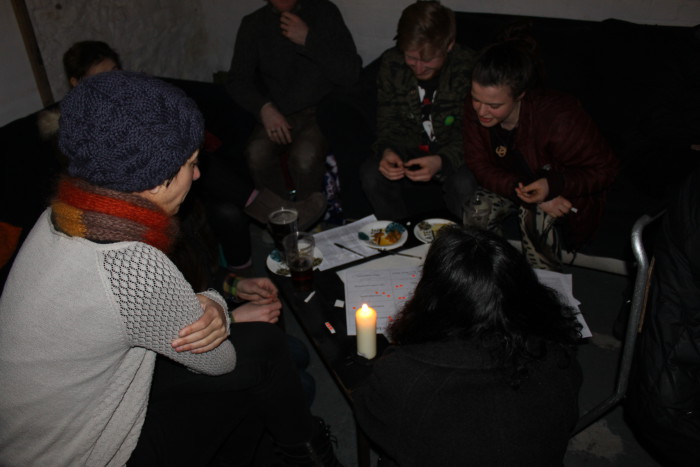 Thursday the 5th of March saw the first Bristol Cable Annual General Meeting – a legal requirement and a great opportunity for direct input on key issues as the Cable moves forward.
Aiming to not have a dull meeting, members sat at candle-lit tables, drinking beer (£1 per pint!), tea and chomping free and fresh samosas.
The meeting was attended by 42 members, 26 % of the total membership, meaning there was the numbers to go ahead electing directors and other obligations of the co-op.
The Cable is happy to announce that 83% of us voted for all 12 director candidates. Congratulations and welcome to them! This role, primarily an advisory role, aims to bring a breadth of experience and background to the co-op, and we are sure the Cable's directors will do so. You can read more about them here.
Starting with an intro on the basics of where we're at, and what we need to do, we moved onto the first exercise; Prioritising topics and subjects for the Cable to focus on in future content creation. With each member given four votes (stickers) to place on a range of choices. This was the first outcome: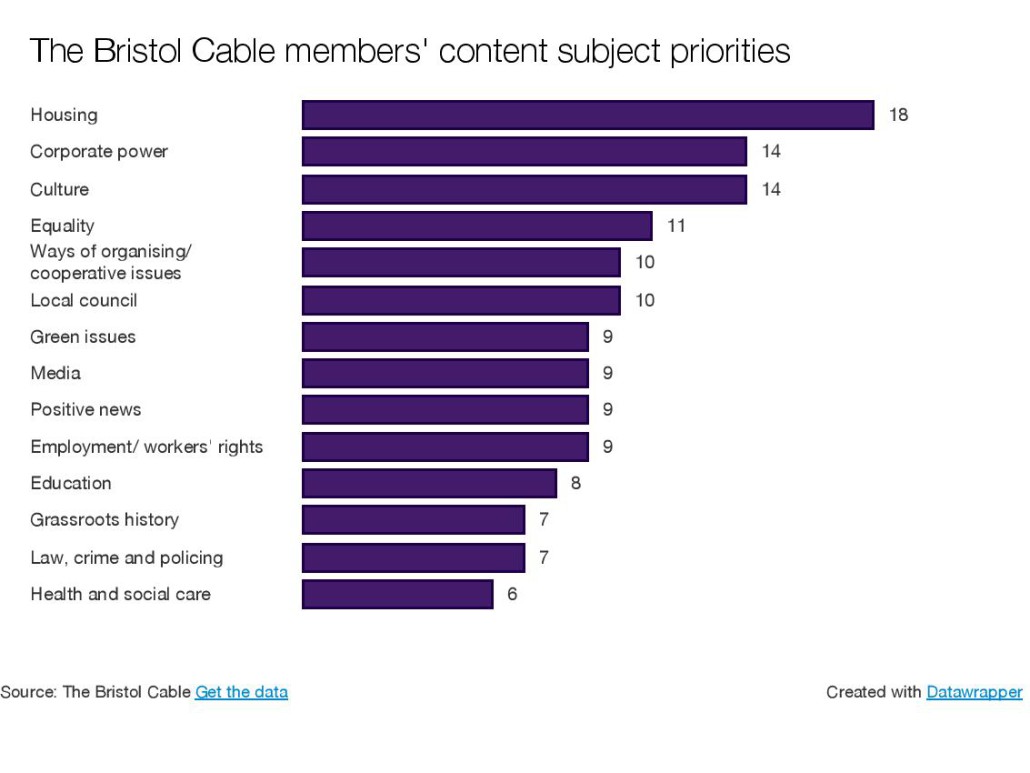 We then made public our financial accounts. As you can imagine, it didn't take too long. However it highlighted our need to prioritise fundraising and increase membership in order to sustain the Bristol Cable and work towards the aim of paying everybody something. This exercise also demonstrated a commitment to openness and accountability so severely lacking in other organisations. You can see more here: AGM Accounts, 03/2015
After this we moved straight into another direct input exercise. This time on what content styles and activities the Cable should pursue. Here are the results: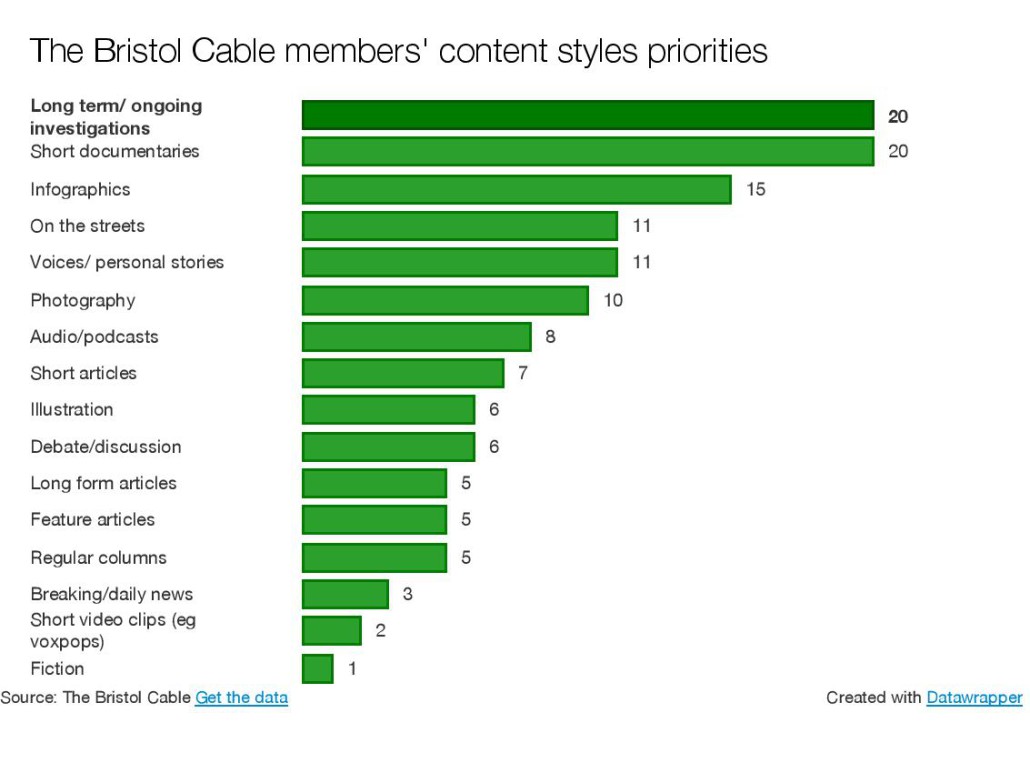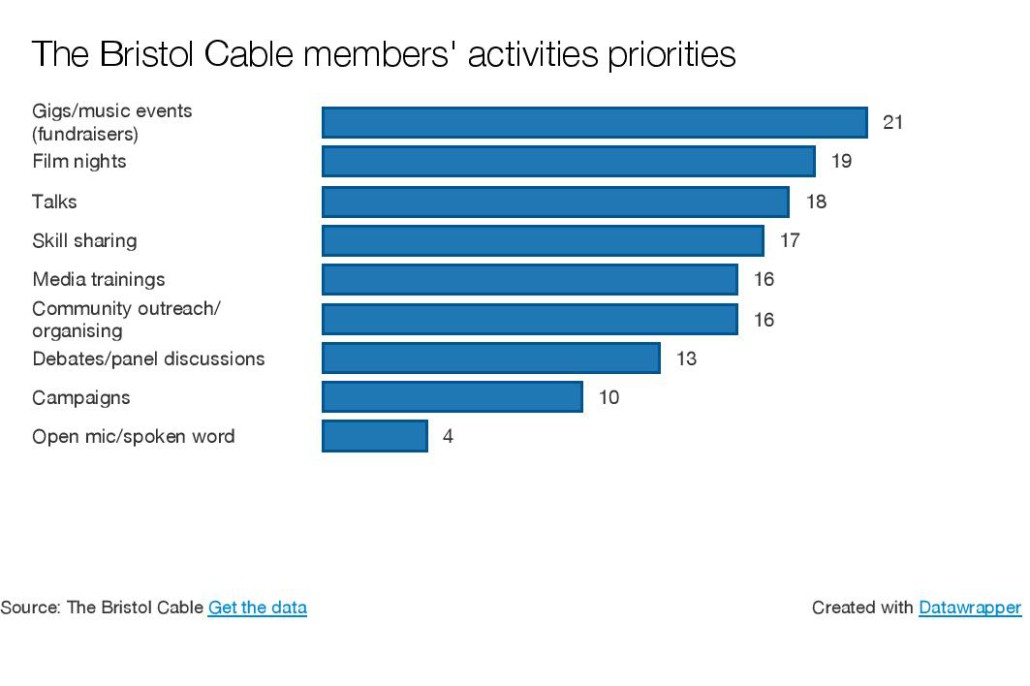 Following another samosa, an outline of plans for a new Bristol Cable structure was presented. The aim of this new working method is to streamline our organisation with different working groups as we are grow in membership, readership and interest in getting involved. These working groups are events & membership, finance and content as well as a regular intro meetings on the first Tuesday of every month. This will be starting from April. Check out the events page for more or drop us a line at info@thebristolcable.org
During the evening many pertinent points and questions were raised.
They included:
Is there a possibility having two types of members; Those who want to support and those who want to be more involved?
Following from this suggestion we are now creating two categories – supporter and member. Check out the site for more soon.
Who is responsible in the case of legal conflict, litigation etc?
The directors are responsible for administering the business of the Cable. However, as a limited company, no individual is personally liable.
Is there an editor?
There is no single editor. However there is an editorial policy and editorial meeting (the content working group) that will work to produce the Cable's publication with coherence, quality and originality, alongside contributors.
Unlike the finance and events/membership groups this will not be a totally open group. As producing quality journalism is the key business of the Cable participating in the editorial team requires a high level of commitment and a particular set of skills and ideas.Joining the group will depend on either a submitting an expression of interest by a member, or by an invitation from somebody already in the content working group. Both of which will be determined by the content group as a whole.
How can the Cable balance democracy, efficiency and personal input?
With clear role briefs for each working group and the group's co-ordinator the maximum amount of independence will be allowed within those responsibilities. However any disputes, key questions or decisions will be worked out at a monthly meeting of all the groups. Any issues arising within the month will be dealt with by the working group coordinators.
Once again, thanks to all who attended. It was great to see you, and to see cooperative power in action – Let's make sure the Bristol Cable continues happening!