Victorian Bristol's radical coffee taverns – Educate, Agitate, Percolate?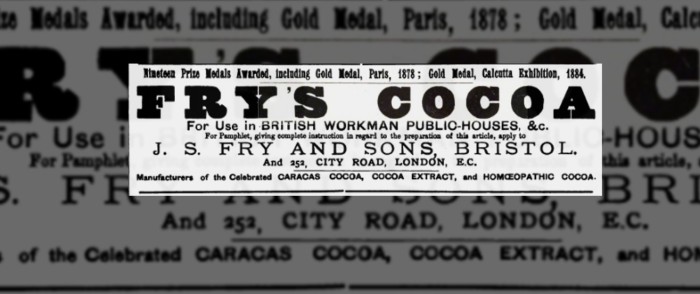 With the prospect of a Starbucks in Old City, Bristol's proclaimed status as 'alternative' is facing increasing corporate influence. Stephen E. Hunt of The Bristol Radical History Group introduces the fascinating history of Bristol's radical coffee houses.
When researching the socialists, anarchists and other radicals of late Victorian Bristol, it is striking how much of their activity took place in the gaslit interiors of what were variously called coffee houses, coffee or cocoa taverns or, most enticingly, coffee palaces. Several were hotbeds for radical and progressive ideas.
To imagine stepping into the interior of such an establishment, therefore, helps us to understand and get inside the milieu of the historical socialist movement.
These were spaces where the education, agitation and organisation that socialists proclaimed actually took place. Sam Bryher, the chief source for the city's early labour history, for example, records that the Working Men's Reform Association, described as 'the centre of gravity for Bristolians with advanced views' would meet in the British Workman Coffee Tavern (St Judes) from the 1870s.
There are significant links between coffee taverns and radical traditions.They were cheap, accessible and open to men and women alike. Coffee taverns attracted customers by providing journals (radical or otherwise) and a convivial space for discussion. There was also a strong correlation between teetotalism and religious non-conformism. One of the first temperance societies started in Bristol in 1830 and two temperance hotels (establishments where no alcoholic drinks were sold) opened in the city later that decade. By the late Nineteenth Century a new generation of socialists and reformers favoured coffee houses as a means to discourage alcoholism which they regarded as a scourge of working-class communities, contributing to poverty and undermining political efforts to improve conditions.
We learn from Arrowsmith's Dictionary of Bristol for 1884 that there were more than a hundred cocoa and coffee taverns of 'a miscellaneous character' in the city at that time. Among these, known socialist haunts included the Giant's Castle Coffee Tavern (St Philips), Christmas Street Coffee Shop, Star Coffee House, Lee's Coffee Tavern (Lawrence Hill) and the Baptist Mills Coffee House.
The Castle Street Coffee Palace and the British Workman, which we have already visited, were particularly favoured venues. The inspiring libertarian social reformer Edward Carpenter spoke regularly at these locations. In 1889 up to 20,000 striking workers and their supporters, most prominently dockers and cotton operatives from Barton Hill, joined together in a mass demonstration which was a high point in the Bristol Labour Revolt. A lively meeting followed in the Castle Coffee Palace, including participation by such famous speakers as Ben Tillett, Tom Mann and Will Thorne. Thereafter the British Workman, functioning as the movement's headquarters, hosted regular Strike Committee meetings. Here patrons could debate and join in solidarity (or occasionally try to resolve stand-offs!), radical literature was published and funds were raised. It was also the main contact address for postal communications. The socialist paper The Clarion, for instance, informed readers that Enid Stacy, Strike Committee Honorary Secretary, could receive subscriptions through the British Workman during the confectionery workers' protracted dispute in 1892.
Taking a peek into domains where work and recreation intersected, therefore, gives us insight into the socialist movement's practical operation and into the cultural habitat where radical Bristol flourished. This was not only in workplace struggle but in rallies in the parks and downs, country rambles and bike rides and, of course, in coffee taverns. Ordinary Bristolians could organise to improve their lot by fighting to seize a greater share of the prosperous port city's commonwealth and secure a better future for their children. In coffee taverns industrial action was organised, freethinkers would challenge religious dogmas and there was room to read, listen and debate. Open to all, they were public spaces,
quieter and less intimidating perhaps than alehouses, and inclusive where the closed doors of elite private clubs were not.
So, finally, what was a coffee tavern like inside? The first Labour Prime Minister, Ramsay Macdonald, reminisced evocatively about the radical Victorian coffee culture he experienced in Bristol:
"In the happy virgin days of the Social Democratic Federation, I wandered in the region of the Bristol Prison seeking a certain coffee house where the ceremony into full-blown membership of the S.D.F. was to take place. I found it at last. There was something exotic about it. The odour of saw-dust and steaming coffee, the long wooden staircase, the dimly lit small upper room with the hard penitential forms, impressed the novice with a sense of awe and expectation. That coffee shop was a cathedral, and its odours were the smells of sacrifice which were being offered up by Demos. A paper on 'Ruskin', to a small audience, was read and thus I became a full-blown Social Democrat."
Stephen E. Hunt is co-author of the newly released Strikers, Hobblers, Conchies and Reds: A Radical History of Bristol 1880-1939.
Stephen  is also the author of The Revolutionary Urbanism of Street Farm: Eco-Anarchism, Architecture and Alternative Technology in the 1970s, published by Tangent Books and available here.