An antidote to extremism?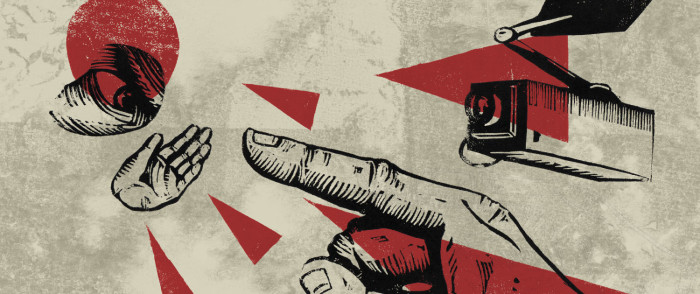 A Bristolian Muslim's perspective on countering extremism in all forms.
Illustration: Luke Carter / lukecarter.co.uk
The government recently passed The Counter-Terrorism and Security Bill, which in essence is an attempt by the government to update existing anti-terrorism laws.
Where previously, the aim of the government's flagship anti-radicalisation programme, prevent, was
'to deal with all forms of terrorism and target not just violent extremism but also non-violent extremism'
it has now defined extremism as
'vocal or active opposition to fundamental British values'.
Prevent has already come under scrutiny for its alleged spying on the Muslim community. In an interview with the BBC, former Metropolitan Police chief superintendent, Dal Babu, called it a 'toxic brand'.
 But what does prevent really spell out for the Muslim community? Does it isolate Muslims unfairly?
At the Munich security conference in 2011, David Cameron stated that there would be "no sharing of platforms" with groups that did not accept fundamental British values. The UK response, he said,
"should be not to engage with organisations".
But this view is based on a divisive narrative of 'us' and 'them' – and it dangerously stifles debate. This shift from tackling particular forms of religious extremism to the eradication of anything contrary to British values seems like a significant move to the right of the political spectrum.
One result is that some parents feel stigmatised for providing a religious upbringing for their children. There is a growing sense that British values – at least as narrowly defined by the government – contradicts their religious values. For example in a local case,
"A child was asked by a teacher if he was forced to fast or forced to pray"
said Arif Khan, the chairman of the Council of Bristol Mosques.
This sort of questioning gets to the crux of the issue for the Muslim community. The Islamic faith has its requirements and it is an incumbent duty of parents to instil a zeal for faith in their children by setting the example.
But zeal does not have any relation to extremism; rather it means that the desire to follow the Islamic moral code of conduct is born in the heart of an individual. Zeal, in this sense, is striving to live a practical lifestyle that adheres to the teachings of Islam.
According to the government's published guidance on promoting British values, a fundamental value is the
'mutual respect and tolerance of different faiths and beliefs'.
But if this is really the case, why can a school teacher condemningly question a child about his or her faith practices? No wonder that the disparity between "published guidance" and "everyday life" can raise eyebrows from certain parts of the community.
Questioning a child won't cure the issue of Islamic extremism that the government is trying to address. Nor will the current direction of the prevent initiative. If these measures were effective, we wouldn't have the problem of British citizens going to join the so-called IS. So how should the prevent initiative be adjusted to counter Islamic extremism?
Sir Isaac Newton gave us the answer when he gave us his third law, which goes as follows:
"When one body exerts a force on a second body, the second body simultaneously exerts a force equal in magnitude and opposite in direction on the first body."
So when you have people hell bent on destruction in the name of Islam you have to exert an opposite force that is equal in magnitude.
Don't fight fire with fire. Don't employ a foreign policy of invading foreign lands illegally. Don't tighten legislation to further isolate minority communities. These actions not only gives extremism more potency but also gives birth to forms of far right extremism.
In the context of political and social crises across the Middle East, and financial support from religious institutions in Saudi Arabia, Salafism, a dogmatic interpretation of Islam – which forms the theological basis of ISIL – has shot to prominence.
Sufi teachings focus on the spiritual rather than the political. Whereas Islamic extremism uses energy to spread hate, Sufis are renowned for using love to spread tolerance. According to Seyyed Hossein Nasr, professor of Islamic Studies at George Washington University,
"Sufism is the most powerful antidote to the religious radicalism called fundamentalism as well as the most important source for responding to the challenges posed by modernism."
Posing a direct challenge to Salafism, Sufis are increasingly being targeted by fundamentalists who see this gentler form of Islam as a challenge to their own rigid orthodoxy. But there is resistance. In Egypt, for example, Sufism has sided with the liberal movement against the Muslim Brotherhood and their Salafist allies. This in turn is proof of Sufi support for tolerance and political reform in Islamic countries. Sufism is still seen as a way of life by many across the Muslim world, and has the potential to counter Islamic extremism and play a vital role for a much needed religious reform.
It is for this reason my Sufi teacher concludes,
"The antidote to extremism is Sufism."
---
Asif Ali is an aspiring data analyst by profession. A follower of Sufism, he has been an active voluntary member and general secretary of a community based organisation called Spiritual Umbrella Faith Initiative (S.U.F.I.) for over 10 years.