Fringe benefits: who are the 'other' candidates running for Bristol this General Election?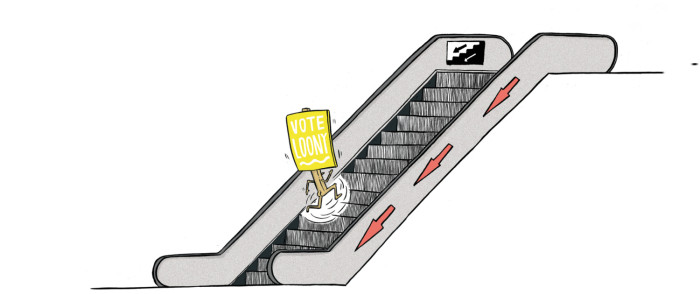 From painting Bristol's cranes to look like giraffes, to parties proposing radical anti-austerity policies, what makes Bristol's smaller parties tick? Arvind Howarth finds out.
 Eric Mutch, Official Monster Raving Loony Party
Eric Mutch looks suspiciously normal despite being a Monster Raving Loony.
He is the first of three of Bristol's fringe party candidates I meet.
His campaign under the emblem of the Monster Raving Loony Party, for Bristol East, centres on the Universal Basic Income (UBI); the idea of paying every citizen a basic income. Supporters of the idea believe that freed from the treadmill of having to work to survive, people will thrive.
'We can't expect people who are fighting to put food on their tables and survive to worry about the environment or other people', he says. He wants every adult in the UK to be given £11,375 of no strings attached income annually.
"…this is a serious campaign. I'm standing as a loony…" Eric Mutch
He reckons this could be funded using the current tax system if income tax were raised to 50 percent and the benefits system scrapped along with the personal tax allowance.
'It's about enabling people to realize their ultimate potential…the UBI would definitely do that'.
He has two other campaign promises: to halve MPs' pay and to abolish their expenses. But drawing attention to the UBI is his reason for running, at a cost of £1200 to himself. 'I've got no illusions about winning the election or even getting my deposit back. It's just a crime of passion really' he explains. Eric is no stranger to dramatic political stunts.
For the 2010 General Election Eric stood as an independent, changing his name to 'Zero, None-Of-The-Above' on the ballot for Filton and Bradley Stoke. His only manifesto promise was that if he was elected he would resign immediately. He came last with 172 votes. 'People didn't understand', he explains.
He had also planned to stand against George Ferguson for Mayor in 2012 using the name Mr Corrupt Self Serving Lying B'stard but it emerged he lives 200 metres outside the city boundary so was ineligible to run.
This time he's standing as himself:
'I'm not changing my name again, this is a serious campaign. I'm standing as a loony, I don't need to water it down to make it less acceptable!'
---
Dawn Parry, Independents for Bristol
I meet up with Dawn Parry, a glamourous family-loving grandmother. Standing for Bristol West with Independents for Bristol, this woman is full of surprises – not least that she's also a country singer.
A former Conservative Party Councillor in North Somerset, and MP candidate for Newport East, she left the Conservative Party in 2011, saying that she had 'found herself politically'.
Her current incarnation is somewhat zany. 'If you look around here, how do we all slot into one party? Especially not in the Bristol West area. It's funky, quirky, creative and it needs people that are just a little bit bonkers round the edges really'.
People like George Ferguson: 'He feels nothing is impossible and Bristol is our oyster. I hope we can keep it that way…Make it twinkle and sparkle for all of us.' She would like to see all Bristol's cranes painted to look like giraffes.
"I left the Tories some years ago and have never agreed with anything they've done since they came into power in 2010." Dawn Parry
The Dawn I meet seems to have little remaining in common with the Conservatives, and is keen to distance herself from them as much as possible. She speaks of being against austerity and its effects on frontline services, she wants pay rises for public sector workers and she regularly campaigns in defense of the NHS.
'I'm very passionate about equality and as for injustice, ugh!'
So, from prospective Tory MP to Independent, it sounds as though she's travelled far since 2006 when she was 'wooed' by the Conservative Party. Her explanation: she was 'never a Conservative at heart' and consistently voted against their policies.
However at the time of writing this, according to her Facebook profile she still 'likes' several Conservative groups and MPs. More surprisingly, she 'likes' several UKIP pages. I email Dawn about these. Her reply is vehement:
'I've NEVER "liked" ANY of UKIP members or their groups.'
She calls the likes 'fake claims' that are 'down to political parties paying (in the Tories' own recent accounts), approximately £120,000 per month on Facebook Actions', and warns me, 'do not try to assist Facebook in their promulgation of political parties that pay for that service.'
And in a later email, Dawn writes,
'regarding what I think of UKIP, I feel they instil fear, racism, and generally evoke the ugliest of emotions, have no positive message and play to the lowest common denominator.'
She adds 'I left the Tories some years ago and have never agreed with anything they've done since they came into power in 2010. I am anti-austerity, pro-chasing the wealthy tax dodgers, pro-shouting NO to TTIP [Transatlantic Trade and Investment Partnership] and all outsourcing of our NHS services.' When I asked if she had stood for them again as a councillor for North Somerset in 2011 she agreed she had, but said her heart wasn't in it.
---
Stewart Weston, Left Unity
A few days later I meet up with Stewart Weston of Left Unity, standing for Bristol West. He arrives in a suit ready for a morning's canvassing in Easton. Stewart is an old friend of film director Ken Loach (they both support Bath City) who wrote the article that inspired the formation of the 18 month old party. Left Unity labels itself as 'a grassroots party,' aligning itself with Syriza of Greece and Podemos of Spain.
The conversation quickly turns to the Labour party. According to Stewart, Labour has:
'… become a shell of what it used to be as a party. It used to be a party of change, a party that would represent the aspirations and dreams of working class people, it no longer does that'.
Left Unity runs on a triple platform of 'socialism, feminism and environmentalism'. They aim to have 50 percent female representation in all their committees and instead of a leader they have four 'spokespeople', two men, two women.
The issues Stewart is hearing about 'on the doorstep', are the issues Left Unity is grappling with. For example, on housing, he says
'we believe that the rents are too high particularly in Bristol and also that the accommodation standard is far too low'.
On the issue of transport,
'we look to bring transport back into public ownership because at the moment we are actually keeping the shareholders in the lap of luxury'.
On utilities,
'if it was under public ownership we'd be using the surplus that had been created rather than it going to private owners'.
Left Unity also has a policy called 'full-employment' involving reducing the working week to 35 hours and raising the minimum wage to £10 per hour.
It will be interesting to see in the coming weeks whether Left Unity can not only succeed in bringing together the disparate groups who identify as left, but also reach out to the working classes it seeks to represent.
As UKIP and Greens edge in from the fringes of the political spectrum, what has been left behind? Does this shift from the margins herald a new dawn in British politics? I'm not going to place my bets, but fringe candidates are certainly crossing their fingers for it to be so. The battleground for the several hundred voters who won't go for the main parties is still alive and kicking. Not put off by the institutional power of major parties, the fringe candidates I spoke to are giving it their best shot – in their own sorts of ways.