Money In Politics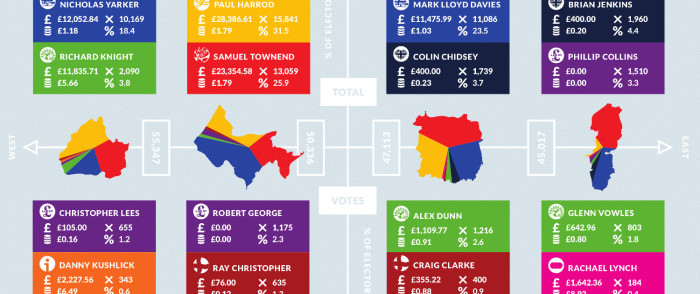 Click the image to enlarge
This exclusive research by The Bristol Cable shows some of the influence of Money in Politics and democracy in Bristol seats, in the 2010 General Election. As you can see, money is not always the determining factor in gaining votes or winning seats. Multiple elements are at play, including time volunteered and the power of ideas and parties to galvanise voters, regardless of money. But the research raises a number of important questions. In 2010, three out of four Bristol seats were won by candidates who spent the most. In two cases, candidates spent almost £10,000 more than the runner-up.
A way of dramatising these differences in expenditure is to think of the 'cost' of each vote. For example, in Bristol North West in 2010, the Green candidate declared £150, and gained 511 votes, with each vote 'costing' 29p. In contrast, the victorious Conservative candidate spent a whopping £28,552.51, with each vote 'costing' £1.49.
What would have happened if the Green or Ukip candidates had spent that much? We'll see the power of money in Bristol's 2015 General Election when the info becomes available!
Related content
Bristol in the Panama Papers
The Cable investigates how the world of offshore finance reaches out and touches on our doorstep
Interactive: Why did some of us vote leave?
To what extent do people's sense of community, perception of influence and opportunity, or access to resources impact the way they voted in the EU...
Dead space
We hear a lot about empty homes, but where exactly are Bristol's disused properties? Alex Turner takes a look, and finds as many questions as...
The history of struggle at Avonmouth Docks
The Avonmouth Docks have been a site of dispute since opening in 1877 as detailed in these six events from 1923 to the present day.
Get tooled up with the Bristol Cable!
Free workshops and events for co­op members: for a city that owns and creates honest and challenging media. Telling it how it is!