Packed and charged audience at Get Heard Bristol West event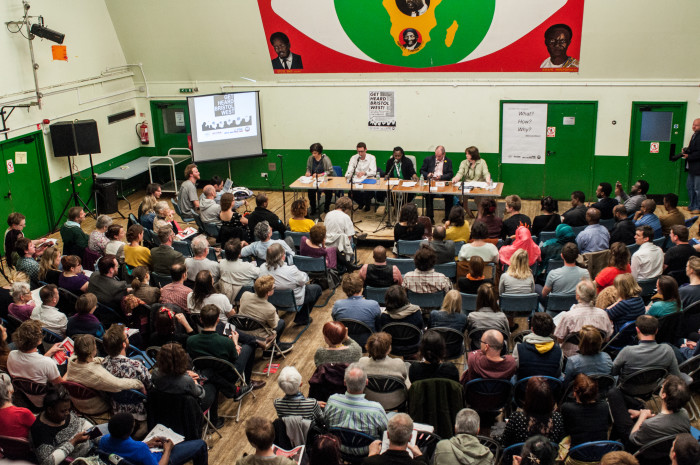 Photos: Alfie Lake
It was a rammed night at the Malcolm X Centre for the Get Heard Bristol West General Election event. In a broad show of unity, this unique election event for the Bristol West constituency was co-hosted by The Bristol Cable, Acorn, Ujima Radio, and the Somali Media Group. It featured candidates; Claire Hiscott (Conservatives), Stephen Williams (Lib-Dems), Thangham Debonnaire (Labour), and Darren Hall (Green).
With up to 400 people attending, the appetite for challenging questions was palpable. The Chair, Julz, from Ujima Radio, could barely contain people's reactions from the floor. Formatted as an accountability meeting, the purpose of the evening was to give local people a voice and to scrutinise the four candidates with a real potential of winning.
Unlike other hustings, the evening saw a diversity of local people give powerful testimonies on personal issues; including Osman, a local truck driver, Jackie, a youth worker, and Jess, a local renter.
Candidates were invited to present brief statements of intent and policies, answering questions along the lines of 'What?', 'How?', and 'Why?'. Facing detailed and researched questions from local people, the candidates weren't given an easy ride. The subjects were varied, from BME young people asking how employment prospects could be improved, regulatory policies to bring down high rents, to clamping down on tax evasion by corporations. And so, so much more!
Redcliffe, Lawrence Hill, Easton, St Pauls, Cotham, Redland, Clifton and others are covered by the Bristol West constituency. This seat is one of the most talked about in the country and one of the most difficult to call in the polls. Once the election hysteria has calmed down, we will be watching closely to see if the winning candidate stays true to their manifesto and pledges on the campaign trail.
To finish off an electric night of thorough questioning, the fire alarm sounded the end of the Question and Answer session as a fire started in the women's toilet. The event was brought to a close with everyone leaving the building peacefully and safely. What a way to bring a fiery evening of political debate to an end!