Gangs in Bristol: beyond the headlines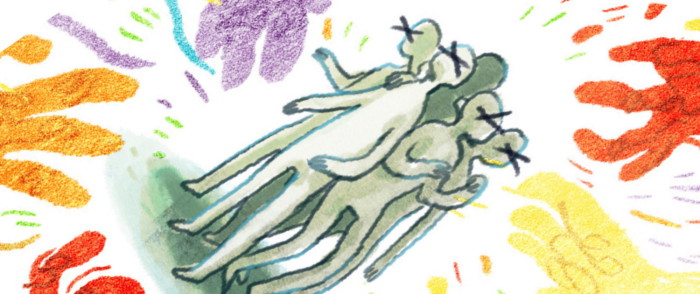 Alon Aviram spoke to former gang members, youth workers, the police, and a football hooligan turned vicar to find out about the nature and scale of gang activity in Bristol today.
Over the years there have been a spate of reports on gangs taking over the streets of inner-city Bristol. Back in 2005 Donal MacIntyre's sensationalist TV programme 'Toughest Towns' put Bristol firmly on the prime time TV map of being yet another city marred by gang rivalries, drug dealing, violence and armed police patrols. Certain neighbourhoods received notoriety in the tabloids, such as Easton's Stapleton Road with inflammatory headlines like the Mirror's in 2011 "This really is Britain's worst street".
Bristol historically has had its fair share of gangs. From the infamous Kingswood 'Cock Road Gang' of the late 18th century to the St Phillips 'Monkey Town Mob' of the early 20th Century to the St Pauls 'Aggi Crew' of the 1990s and early 2000s. There was a seeming spike in tensions in 2011, with street conflict between the Easton 'High Street Crew' and St. Pauls 'Bloods' resulting in the murder of 18 year old Abdi Razak, as well as numerous injuries and arrests.
But are street gangs still an issue in Bristol today? Was the murder of 19 year old Nicholas Robinson, on March 5th 2014 in Stokes Croft, in an alleged dispute involving a failed gun purchase from a Birmingham-based gang, indicative of a wider resurgence in gang crime of this type? And if so, which types? And why do people join these groups?
I met up with Jayson and Waheed, two street conflict co-ordinators from the organisation Bright Outlooks. They've been community workers for over a decade in Bristol, relentlessly working to tackle gang crime and street conflict on a shoestring budget. They deal with a range of tough issues which often weave into one another, from street conflict, religious extremism, to drug dealing and gang association.
"Bristol doesn't have a gang problem," says Jayson at the start of the interview. This seems like a directive to avoid overstating the issue in the article. They're both fed up of exaggerated reports, with what they say have often racial undertones. So when pressed on the nature of street organisations today, they're understandably reluctant to talk in much detail.
Inter-gang violence, although they prefer not to use the term 'gang' for fear of inadvertently glamorising it, has according to their experience plummeted in recent years. They say this is thanks to community work such as their own. That said, there have been flare-ups recently, with a "St Pauls boy jumping an Easton boy" in what one youth worker – who asked not to be named – described as an effort to stoke tensions.
Avon and Somerset Police attribute the arrests of members of the rival Easton based 'High Street Crew' and St. Pauls 'Bristol Bloods' to the alleged decline, saying,
"the key individuals involved were convicted and jailed for various crimes, so we do not have the same sorts of problem."
Jayson and Waheed are in fact now working with one such 'key individual', a former member of the St. Pauls 'Bloods' who was arrested in 2011 for firearms offences.
Describing the attraction to gangs, Jayson spoke of them as external families for some. "You got to understand that some of these guys we work with […] their street organisation treats them better than their family does. So you can understand, this is why they identify with family names, 'fam', 'blud', 'cuz'." But as rival online gang videos from 2010 and 2011 show, this sense of family is often built in opposition – in Bristol's case- to people on different sides of the M32.
Dave Jeal outside his church in Lockleaze. Photo: The Bristol Cable
Two miles down the road in Lockleaze I met up with Vicar Dave Jeal at his church. He looks more like a friendly bloke you'd go down the pub with than your stereotypical vicar, sporting a gilet and trainers. And unlike most, Dave knows a thing or two about gang activity, all be it a particular variety. He was involved in football violence as a member of the 'Young Executives', a Bristol Rovers FC firm that he and his mates set up in the 1980s before turning to the church. He later came face-to-face with other types of gang activity during a long stint as a chaplain at a young offenders' institute.
As we sat back on the church sofas, Dave continued to talk about what draws mainly young men to gangs. While condemning the violence, Dave said,
"there are some good principles that we can take from gang life if you like, where we should watch out for one another, it's all about community, looking out for where you live, and trying to help them."
Not in the habit of airbrushing his past, he says; "I got banned from Rovers and every other ground in the country and nicked abroad […] if we could rob a shop we'd do it. But that wasn't the main thing you were there for. You were there to have a fight with whoever was about."
As I leave, Dave says that football violence isn't yet consigned to B movies.
"The media will tell you that there isn't much of a problem with football violence 'cause it doesn't happen under the cameras at football grounds. But it's still happening, I'll tell you that! It doesn't go away, it just changes. It just stays under the radar because that's what it wants to do."
Over in St. Pauls, Chris Mills is a youth mentor and former gang member. In the 1990s and early 2000s his gang made the headlines for their drug dealing and violent rivalry with the local Yardie gang. This eventually led to round the clock armed police patrols in certain parts of Bristol.
Having turned his life around, he now works for a company called 'The Bristol Life Centre' that mentors 16 to 24 year olds in Bristol, particularly from BME communities, who have been to prison, received a police caution, or who are considered likely to get into trouble with the police. Giving a brief insight into the reasons behind his life choices, Chris said that he saw gangs as a form of protection in the early 1990s.
"We didn't call ourselves a gang but rather a group that would stick together when roaming out of our community because of the racial attacks we faced by our white counterparts to and from school."
This unity, he says,
"quickly turned to an organisation by our early teens and with no hope of employment by what we saw as a racist predominantly white work force we turned to crime in order to generate money."
Wish is a local hip hop artist and music producer. His cousin, Leon Plummer, was fatally stabbed in Bristol in 2002. Some of his family owned the now closed down Black and White Café in St. Pauls, which at one point was the most raided premises in the UK, and was the scene of turf wars in the 1990s and early 2000s.  "I don't think that gang violence exists to the degree that it did," said Wish as he reflected on how things have changed since he was a kid.
"I think that Bristol's calmed down a lot, a lot of the people have got older now, so they've got different agendas in mind."

"But when you're living in deprived areas, I think that people come together in masses as a support network for people to lean on basically."
Far from being a relic of the past, child poverty rates for example stand at of over 30% in 10 wards across Bristol, and 47.9% in Lawrence Hill alone, (End Child Poverty).
"People are coming from deprived areas and using it as a mechanism of survival" said Wish.
As I left his block of flats, Wish asked,
"what about the people that are in the highest tax bracket, evading tax and not paying the people at the bottom of the chain who have to feel the wrath of it?"
What is the media's obsession with 'gangs', and as he called it "the lowest of the low in the chain?" Similarly, Chris Mills posed the question as he rounded off saying, "is the government a gang? The police? Churches? Major corporations?"
Everyone I've spoken to who's come into contact with 'gangs', attributes different meanings to the term. Jayson and Waheed in particular, treat the word with a healthy dose of reservation. From prostitution rackets, drug running, and ATM jacking, to white-collar tax evasion schemes, there are many types of organised crime in this city and beyond, with many overlapping. So what purpose does the word 'gang' serve?
Ultimately, the message coming from community workers and the police is that the inter-group street violence witnessed in this city a few years ago has decreased. It's hard to tell whether this outlook is reflective of a real turnaround, or if it's just staying "under the radar", as football violence supposedly has. The rival youtube videos between boys from St. Pauls and Easton have certainly all but stopped. But perhaps people just realised that waving a handgun on screen isn't the best way to avoid the police.
If custodial sentences were the answer to the inter-group violence, as Avon and Somerset Police suggest, then new – or perhaps old – challenges lay ahead. The 'key individuals' sent down a few years ago are back out, or their sentences are drawing to a close. Today, community workers have their work cut out as they try to offer an alternative to locking people up, while contending with the deep social issues behind the phenomenon of 'gangs'.