Making Bristol Housing Unaffordable?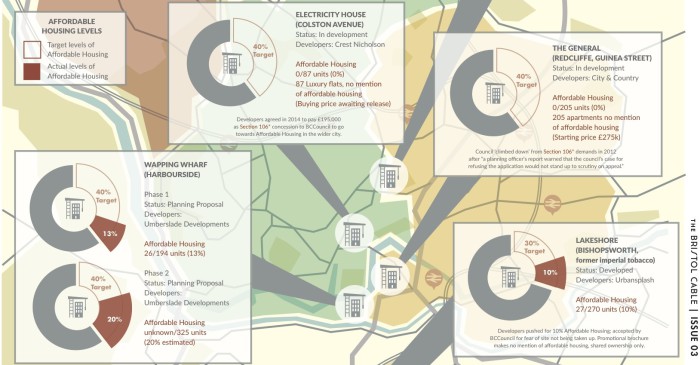 Click to enlarge.
Research: Alec Saelens
Design: Laurence Ware
Social rent
Social housing has traditionally been let at low rents, on a secure basis, to those who are most in need or struggling with their housing costs. Councils and not-for-profit organisations such as housing associations have usually provided it. Limits to rent increases set by law mean rents are kept truly affordable.
---
Affordable Rent
In 2010 the government cut grants available to social landlords for building and introduced Affordable Rent (AR) – a new 'product' by which housing providers could charge up to 80% of local market rents in order to make up the shortfall. Most new 'affordable homes' built during this parliament have been for AR, and some 16,000 socially rented homes nationally have been 'switched over' during this period.
In more expensive areas, including parts of Bristol, 80% of market rent doesn't translate to genuine affordability for people on lower incomes. Bristol council, however, states that homes for AR must also sit within Local Housing Allowance (LHA) levels – in other words, they must be able to be covered by housing benefit.
---
Shared ownership
A system by which the occupier of a dwelling buys a proportion of the property and pays rent on the remainder, typically to a local authority or housing association. Shared ownership homes are commonly lumped in with 'affordable' quotas.