My Story: Single mum facing eviction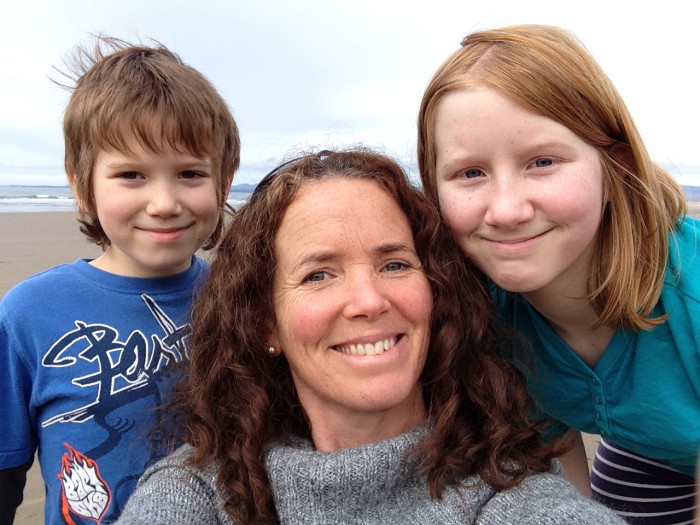 My name is Jessica McLean. I'm a single working mum with two children. My landlords are trying to evict us in order to put up the rent. 2600 people have signed a petition to say no.
*Update* 7.15pm 06.05.2015: 4,500 people have signed the petition.
My story
Nearly two years ago my two children and I moved to what I was assured by our then new landlords Jess Properties was to be a long secure let.
Even though our new house was in a terrible condition, having been assured we were secure there, I worked hard for a week cleaning and decorating the house and sorting out the junk filled garden.
I did many runs to the tip, fixed the fences, repaired the rotting decking, laid a lawn, put up a shed to replace the rotten rat infested one, planted apple trees, made flower beds, planted flowers for the bees and so much more.
Then Jess Properties our landlords said they were going to put up the rent from £700 to £750 a month! I requested many times that they fix up the disrepair before putting up the rent, as we had an on going grey water issue, and the roof above the third bedroom needed  fixing as the room is still is unsuitable to be used as a bedroom due to the damp and mold that grows in there. There is also mold in most rooms in the house.
Because of this, I've slept downstairs in the front living room since we have moved in, and my children have the two other bedrooms.
When Jess Properties finally came round to see what needed doing, they told me they had no money to do the work, but they still intended to put up the rent.
Finally, after my lawyer friend helped me to write an email, Jess Properties came round and took away the rotting decking and sorted the drains. Whilst doing the work, Jess properties totally disregarded many of my plants, herbs and flowers which are no now longer there. Then there was talk of them sending in a roofer to fix the roof, I was really pleased that the work was finally getting done.
But then out of the blue the very next day, lying on my doormat was a hand delivered notice to quit the property, asking for vacant possession in two months time. They were trying to evict me. I was flabbergasted and extremely upset, my children were too.
I sent emails to Jess Properties requesting an agreement for us to say living in their property, saying I was more than willing to pay the rent increase, but they always came back with the same answer "Regrettably the decision has been taken and we still want vacant possession by 14th April."
I'm a single mother on a low income, last year I was diagnosed with breast cancer; I then had a failed reconstruction operation that ended in a full mastectomy. Jess Properties know all of this.
I feel they have taken advantage of me, I have massively improved their property, I have always paid the rent… I have been a very good tenant.
This is our home, we are settled here, my children have friends, and various clubs in the local vicinity. We thought we were secure here, we really don't want to move.
Jess Properties have admitted in a statement to ITV News West, that they want us out so they can get and extra 20 to 25% more rent from a new tenant moving in.
I spoke again with my lawyer friend and a friend who is a landlord himself, and they both advised me that my notice to quit was invalid.
I then contacted Nick Ballard of Acorn who reiterated that yes it was definitely invalid because it does not contain specified legal text which must be included for a Section 21 notice to be legally enforceable.
Nick then wrote to Jess Properties on my behalf informing them of this, also adding that I would not be moving out. I appealed to them once again to allow us to stay but to no avail.
Then on the 28th April Jess properties hand delivered a legally valid Notice To Quit stating that my Landlady requires possession by July 3rd.
Jess Properties are willing to kick a single mother out of a sub standard house, who had major operations due to breast cancer last year, and her two young children out on the street, to enable them to squeeze an extra 20/25% rent out of someone else.
What can we do?
Legislation seems to favour the landlords. Tenants don't have the confidence to stand up for what little rights they do have.
They are held to ransom because of the constant threat of being made homeless.
Tenants need to know they have rights and that there is help for them out there with associations like Acorn, who have been a great support for us through this tough time!
Acorn have started up an Ethical Lettings Charter here in Bristol, this is what's needed across the board, but it needs to be mandatory rather than voluntary as it is now.
There seems to be no social conscience in society, for rich landlords like Jess Properties, it's all about making the most profit, often at the expense of those who are already struggling.
Rather than capping housing benefit, which I believe is going to happen after the election, the rent needs to be capped at a fair and affordable rate.
This would save the country millions in housing benefits. Money that could go to the NHS for example!
Other European countries have longer, secure and fare tenancies, this is desperately needed here in the UK.
There needs to be legislation and reform now! But more immediately please help me and my children stay in our house. Please sign and share this petition and stop Jess Properties evicting us!
Thankyou… Jessica Mclean.
---
Like what you see? Sustain the Cable co-operative by becoming an owner and member here.
---