Exclusive interactive: Bristol Uni's (not so) Ethical Investments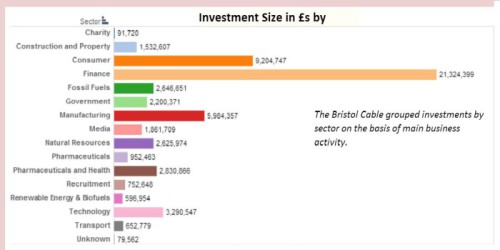 Co-ordination, words and visualisation by Adam Cantwell-Corn. Research contributions by Dean Ayotte, Alon Aviram, Alec Saelens, Fiorella Jacobson, Arvind Howarth & Maria da Silva
This exclusive investigation and analysis has found 197 documented and recent ethical violations amongst the University of Bristol's (UoB) £56 Million investment portfolio of 182 items. Despite proffering to maintain an Ethical Investment and Banking policy the University has hundreds of thousands of pounds invested in companies who made, or continue to make, multiple grievous ethical transgressions.
Admittedly, 'ethical' is a loosely defined term, but UoB's Ethical Policy (page 13) sets a pretty low bar. The policy excludes investments only where they are "contrary to the research, education, and wider aims or objectives of the University or their activities are illegal under UK law" or where the University's "ability to raise funds or obtain grants are likely to be materially harmed". No mention of human or worker's rights, or environmental destruction then.
In keeping with this low and loose interpretation of ethical, the University continues to maintain shares in companies like RBS (Finance) and BHP Billiton (Fossil Fuels), and Lloyds Bank (Finance) despite huge multi-million pound fines for corruption and fraud respectively, all within the first half of 2015. Whilst there is one notable exception in the lack of investments in military or defence companies, even UoB's investment manager, Sarasins & Partners, has business in a whole slew of tax havens.
We decided to take a meticulous look at the whole portfolio and assess it by slightly higher standards. But these are not the standards of a saint or an eco-warrior. Rather, they are standards based on a common sense understanding of the word 'ethical'. In other words, we have not slammed companies ethical records for everything and nothing.
For example, oil companies don't get counted as an environmental violator just by the nature of the business. However BP does get counted for close links with Azerbaijan, and corporate sponsorship of the 2015 European Games where, amidst a crackdown by the brutal dictatorship, international journalists have been banned and political dissidents rounded up. Same goes for Shell's 1 Billion dollar Nigerian corruption scandal in 2014. But a worker's rights violation hasn't been logged just because there is an industrial dispute, or an executive pay violation recorded just because of the general excesses in the Finance sector. Instead, we only logged violations found from independent research or where there was a government/regulator sanction or a verifiable NGO or media report identifying specific incidents. These include the massive fines and scandals that continuously engulf RBS, HSBC, Lloyds, HSBC, CitiBank and others, as well as the half dozen shady companies that set up base in the tax havens of the Channel Islands. See our full sourcing here.
In short, we only counted violations that went beyond the pale in terms of ethical behaviour, even by industry standards – where executive pay was obscene even for bankers, where corruption went way beyond a little backhander, or where fraud went beyond the usual rip offs.
Importantly, to keep records current, we only counted violations from the past five years, despite much scandalous behaviour prior to 2010. We also didn't record any ethical violations for the seven investments into Governmental institutions. We'll leave it to you to decide whether the governments of the UK, USA, Mexico, Ireland, Spain or the EU are ethical.
Even allowing for these relatively relaxed ethical standards, what the data shows would be termed 'ethical' only by the most mercenary of public relations officers. When we asked the University whether their investment policy "sets a high enough ethical standard", UoB responded that "Sarasin is a highly respected charity specialist and the University believe that they manage the funds appropriately".
Ultimately however, the data raises serious questions regarding the oversight and input of tax-payer (and fee-payer!) funded institutions, particularly those with a role in educating, researching and planning for the future. Is it time for the University of Bristol, itself built with money from slaves and tobacco, to divest from those who threaten this future.
All investments are as of March 2015 as obtained from the University of Bristol via a Freedom of Information request. See the FOI disclosure as received here: University of Bristol Endowments 31st March 2015.
A Request! This investigation took several people dozens of hours and multiple levels of painstaking work. Currently all content is created on a volunteer basis – if you like what The Bristol Cable is doing please become a member of the co-op or donate today!