A High Price? Bristol and the Global drug trade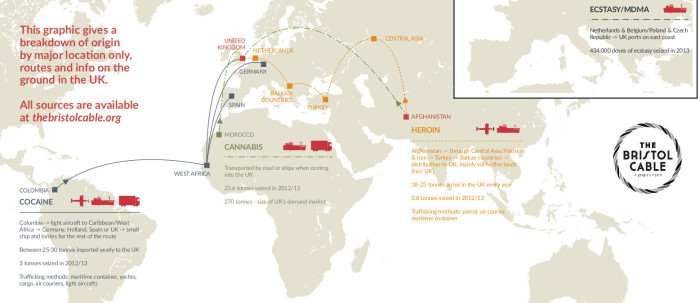 Bristol is often seen as a leader in the movement for ethical and sustainable living. At the same time, free parties, raves and recreational drug use are also marks of the city. But how do these scenes interact? Are the ethical implications of drug use considered?
Design by Adam Wilkinson.
Whether a drug user or not, and without wanting to ruin the party for those who are, by the time that spliff gets smoked in Castle Park or a line of coke gets sniffed at an upmarket dinner party, the global supply chain has left a trail of human and environmental impact.
Whether it is MDMA labs in Poland or cannabis factories in Bristol, the prohibition of drugs has categorically failed to prevent drug production and use, with the Home Office reporting 230,000 more UK drug users in 2013-14 than in 2012-13. Meanwhile production, transit and sale are firmly in the hands of criminals and corrupt officials operating below the radar of regulation and transparency. In the UK alone that is up to £8bn of the least Fairtrade, untaxed and unvetted consumer products you can imagine. From destroying Afghan farmer's fields to criminalising people in Bristol, the economic (£10.7bn annually for the UK alone, according to the National Crime Agency) and human cost of another failed war goes up. Simultaneously the profits of the major players rocket, as the crackdown increases risk and thus the value.
Whilst governments and conservatives bury their heads in 'tough on crime' rhetoric, it is more than time to have a serious debate. Whether it's the legal commercial cultivation of cannabis in Colorado and Denver, decriminalisation of drugs in Portugal or an ethical cocaine supplier in Peru, this is about whether we want to address drug use as a reality, and drugs as just another consumer good to be regulated, or continue living in a haze.

Weed, coke, mandy? Bristol's drug habits.
217 people were surveyed by Safer Bristol to determine drug use in the Bristol Drug Survey 2014.
Percentage of drug use in past 12 months (2014)
Cannabis 61% compared to 53% in 2012
Cocaine 39% compared to 37% in 2012
MDMA/ecstasy 49% compared to 45% in 2012
*Although Bristol has the second highest use of crack cocaine after Middlesborough, heroin and crack users figures were not specifically targeted because robust data about this user group has been collected by local advice services in other reports.
Busted!
"In 2012/13, 188,285 or 97% of seizures were made by police forces with the remaining 5,695 or 3% made by Border Force.
Although Border Force accounted for only 3% of seizures in 2012/13, the proportion they seized in terms of quantity was much higher. This is due to the fact that the agency is often involved in high profile operations where large quantities of drugs are seized, for example at airports or ferry ports".
Heroin (opium): Afghanistan
The country has become a frontline in global drug trafficking since the CIA backed Mujahideen used the drugs to fund the war against the USSR in the 80's. For many poor Afghans growing poppies has become the most economical cash crop. Narco-trafficking networks, organised crime, corruption and worldwide consumption continue to increase demand for this profitable trade, whilst fuelling various violent groups, governmental and non-governmental.
Between 2012 and 2014, Afghani heroin production increased by 36%. This is despite the US having spent $7.5bn in an attempt to clamp down since 2001. As of late, the US pulled out of forceful eradication methods because local producers, without other options, were more likely to become Taliban supporters out of necessity.
Ecstasy/MDMA: Netherlands, Poland and Czech Republic
The production of synthetic drugs is no small feat. It takes secretive sourcing of chemicals and ad hoc pieces of machinery set up in backyard sheds or warehouses.
Holland is one of the main producers; in part due to its large chemical industry providing the ingredients for ecstasy production. Some claim that shorter sentences for drug smuggling encourages people to set up shop in Holland, with the government treating drug use mainly as a public health matter. Organised criminals in Eastern Europe have also made the most of corruption, unemployment, cheap industrial materials and access to chemicals to produce Ecstasy/MDMA for European markets.
Cocaine: Colombia, Peru, Bolivia
Cocaine leaves are a part of Andean Latin American cultures. They are used as a gift, cooking ingredient, medical cure and chewing product in social and working environments. Cocaine growers, however, produce for more than their local market. The leaf's refined alter ego, the white powder, has long been an international drug, ending up in Western bankers' nostrils as well as the guerrilla warlords' in Rwanda.
In 1971, the US-led 'War on Drugs' was declared by Richard Nixon. Overall production has increased despite the ongoing war, with paramilitary narco-traffickers feeding global demand and wreaking havoc on communities. Today Bolivia's president Evo Morales supports the legalisation of the coca plant as a key to recognising indigenous rights internationally.
Cannabis:
Hashish – Afghanistan & Morocco
Morocco is a world-leading producer and exporter of hash or resin destined for local and European markets. Alongside tourism, whole rural areas are known for producing hash. Following failed government attempts to shut down production, there is some talk today of cannabis legalisation and regulation.
Afghanistan is the largest producer of hashish. Being a cheap plant to produce and harvest, each hectare earns producers an estimated $3,900. Like poppies, production is concentrated in the unstable regions of southern Afghanistan.
Herb – UK
Long gone are the days where most of the bushweed was smuggled in from the Caribbean and West Africa. In 2012, research by the Association of Chief Police Officers showed increased British-based production, with 80% of weed being home grown as opposed to 80% coming from North Africa and Spain in the early 2000s. UK Investigations have found links between cannabis production and human trafficking and exploitation coordinated by complex global crime groups. In 2015 Jamaica decriminalised cannabis possession. In the UK you can get up to 5 years in prison for possession.
Sources: