Bristol's summer hustlers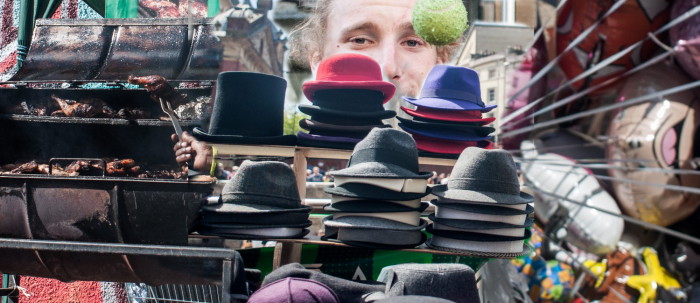 The arrival of summer means opportunity for Bristol's street traders. As people follow the sunshine onto the streets all sorts of wheeler dealers emerge, looking to sell their wares, make a living and pick up extra business.
Words & photos: Alfie Lake
Mike

From the end of City Road in Stokes Croft, the spicy smell of Mike's Jamaican jerk chicken reaches as far as the music booming out of his stereo. He wholeheartedly sings along. A trained chef, Mike prefers the street to the kitchen and works part-time on the stall. "I just like to do jerk outside.…I worked in Sainsbury's until three months ago but I got kicked out, so this is my job now. This is a freedom job for myself, I can pee when I want, tell people I'm going away for ten minutes…I'm my own boss now."
However, it emerges the freedom of outdoor trading is not complete. "I do down by the Bearpit, but the lady down there kicked me out", he laughs, "so I'm trespassing here now."
From nowhere, a queue suddenly forms and I wonder if the blazing sunshine has something to do with it. "I only trade from June to September, if the weather permits it. If it's raining…I know I've got to pay my taxes and rent but I ain't going out".
Marcel
I spot Marcel sitting on steps in Corn Street during the evening lull and stop to hear his story. Despite hailing from Germany he speaks impeccable, unaccented English, down to his English father. "I've been going from town to town since February. I'm paying for my travels by busking and juggling, but I need some new strings." His guitar is down to three strings. When I ask him to describe his musical style he says simply, "different".
The itinerant lifestyle seems to suit him. "Being a chef, living in a house, it's great, but I've never had so much fun in my life. I don't mind smelling". And will he settle down somewhere once the cold weather returns? "I've already done one British winter; I got made homeless a week before (last) Christmas, got back on my feet, then decided to go and travel. I've made it this far…"
Nicola
The Harbourside in summer provides customers aplenty and our conversation is often interrupted by people wanting to try on one of Nicola's large variety of hats. "I've done this for 15 years. We had kids quite young, so this is what we've done." How have things changed in that time? "It's easier, I know what I'm doing now. I've got my lines!" She continues "It was great as a new business, you don't have overheads." She traded here for ten years before the Harbourside market became 'official', and started charging £25 per day for her pitch. "But I don't mind paying, as long as I can be here".
The sun-fuelled atmosphere means trade is booming, but Nicola does not stop when summer is over. "I like it all year, as long as it's busy…I'm here to make money, trying to make a living". And what would she say is the best part of the job? "I like the social aspect. With our stall a broad range of society comes to us…and 99.9 percent are really nice. Only once I've had to hide under my table!".
Mark
Mark's enormous bunch of balloons stands out immediately, looming over the heads of the hordes. He describes himself as "Bristolian born, but bounced around in life a bit."
It looks like the recession has affected the balloon trade. "I've been doing this for 17 years and our prices ain't gone up, but I've just spent four quid on a hot dog…It's got much harder…we've got better at sourcing stock but gas has doubled. I'm not blaming one government, but people in all sorts of trades aren't taking what they used to."
How has he adapted to stay afloat? "I also sell Christmas trees and other bits and pieces, you try and keep yourself out of factories and offices. I'd never give it up for that kind of job…when it's like this it's beautiful."
Dealing with the public on the streets is not always a pleasant experience: "People can be rude, think of you as street furniture, like you're there to be picked on or abused…This hasn't been a bad crowd today". We are cut short by a young girl who asks for a horse balloon. "Fine choice madam, thank you for shopping at World of Balloons", Mark jokes. "I've been saying it for years, just rolls off the tongue."
All content is currently created on a volunteer basis. If you like what The Bristol Cable is doing please become a member of the co-op or donate today!