Going cold Turkey? Drugs & alcohol advice services severed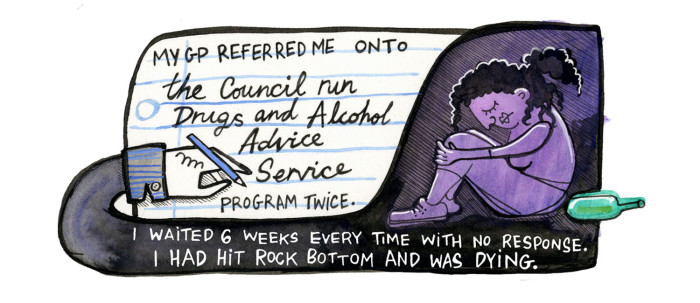 Community drug and alcohol advice services in Bristol are struggling to keep afloat and provide vital support to people facing the cutbacks of austerity.
Words: Alec Saelens
"The government is like an addict – it's 'where can I get my fix?'. They don't have a long-term perspective – 'forced recovery' won't work."
This is a loss to the community," says Pat Rose, a worker at Easton-based drug charity Nilaari. "It's a loss of expertise and knowledge around providing culturally sensitive services to people with complex needs."
For 15 years, Nilaari supported people of black and minority ethnic backgrounds, targeting those, says Rose, who
"because of institutional racism were discouraged from using mainstream services".
Recently though, the organisation has had to reduce its team by more than half. Its remaining employment expenses are consuming reserves that will run dry by the end of 2015.
£3.5bn & £488m – NHS spending on alcohol related harm and drugs misuse in 2014£150,000 – budget to run Hawkspring operations
29% – increase in number of alcohol and drugs related admissions at Southmead and Frenchay hospitals in 2014
Nilaari isn't alone in its plight. Since Bristol council recommissioned its substance misuse contracts in 2013, several community-based organisations have been scrabbling for dear life in the face of up to 90% funding reductions.
The council's move meant the number of agencies awarded contracts tumbled from 16 to 5. The remainder now operate under the Recovery Oriented Alcohol & Drugs Service (ROADS) programme, a centralised scheme to coordinate referrals of people with drug and alcohol problems.
So, what's behind the dwindling of BCC-supported providers?
The council's stated rationale was compliance with the "value for money" logic of the EU procurement regulations, which stipulate that "the best mix of quality and effectiveness for […] the goods or services bought" should be pursued.
Another reason, suggested by a service provider worker, for this reduction in contracted organisations, relates to Bristol City Council's intention to slash administrative costs in the context of £90m central government funding cuts.
While the local authority didn't cite financial restrictions as a motive for its reform, its budget for substance misuse also fell by over half a million pounds to £12m after recommissioning. This happened as Public Health England lumped health sectors funding together and transferred responsibility for its distribution to local authorities.
Despite an increase in public health funding for 2013/14, when the Department of Health ring-fenced £29.1m for the city of Bristol up until 2016, drug and alcohol recovery services have been severed.
Declining services, rising demand
Regardless of the reasoning, changes have bitten hard in a number of Bristol communities.
In Hartcliffe and Knowle West, well-established local charities Hawks and Kwads merged after losing council funding in 2013, rather than wind down two decades' work supporting people with drug/alcohol problems and their families. By basing the new organisation in Hartcliffe, some Knowle West clients have inevitably been disadvantaged by the loss of a local presence.
The transition to Bristol's new drugs and alcohol service model hasn't been seamless so far, as organisations settling into new areas require time to gain the confidence of users. The Bristol Drugs Project (BDP), one of the main service providers under ROADS, was due to open a centre in Filwood Community Centre in June 2015.
Despite the location shift, Hawkspring CEO Lorraine Bush says that over the past two years, numbers of people passing through its doors – 80% of them from south Bristol – have increased.
The government's welfare reform agenda, says Bush, has had a huge impact on the living conditions of people with addiction problems.
"They're unable to cope with demands placed on them from the benefits and housing offices", says Bush. "It appears everyone is being treated the same, regardless of their individual circumstances."
Drugscope, a centre for research and expertise on drugs, has made similar observations. It recently warned against Tory proposals to impose benefit sanctions on people with drug and alcohol issues who decline treatment, cautioning that they may cause people to disengage from services altogether.
Dave, a Hawkspring support worker, draws an analogy between the logic of the government's austerity measures and his clients' impulses. "The government is like an addict – it's 'where can I get my fix?'," he says. "They don't have a long-term perspective – 'forced recovery' won't work."
Uphill struggles
While need rises, organisations such as Nilaari and Hawkspring are battling to compensate for the funding lost with their council commission.
"Smaller charities have been badly hit by the recommissioning process," says Bush.
Hawkspring has had to reduce staff, in a context where many of its peers are competing for the same pots of money. "Staff don't feel stable," Bush continues. "We're fulfilling local need but we have to spend limited resources on constantly looking for funding." This process has become harder, with Hawkspring's legitimacy affected by the council withdrawing its support.
The council says the impact of its reforms are being assessed. But in the initial three years before a revision of the commissioning process takes place, and with service providers left out in the cold – already the last beacons of hope for some of their users – they may go under.
In the 12 months to March 2015, Hawkspring supported 120 people with addiction problems and 144 related family members and carers. Reflecting on the social value her organisation brings to the people it supports, Bush evokes the "relation of mutual trust" as being most essential.
"I'd no idea Hawkspring was here," one service user tells the Cable. "I only stumbled across it when coming out of social services in despair."
In the midst of rising needs, a contradiction is glaring: that well functioning but overstretched drugs and alcohol advice services must bear the brunt of the withdrawal of their own public funding and of public service support for their users.