Mi Casa, Su Casa: The Bristol cafe that is 'giving back' to those in need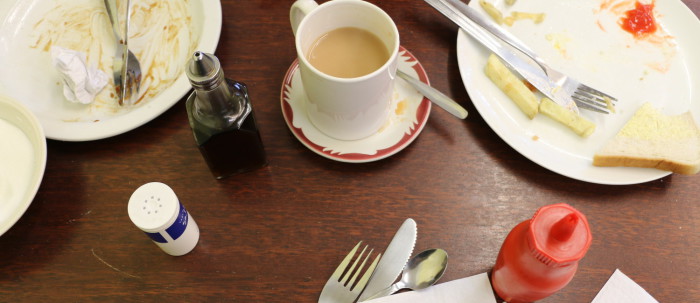 As another round of austerity begins and cuts to the most vulnerable are continued, the Bristol Cable visits the independent Café Casa during their free Sunday lunch, a weekly lifeline for homeless and vulnerably housed people in Bristol. The people had plenty to say about the significance of this support, and its tenuous future.
Words & Photos: Elizabeth Mizon
Dwarfed by neighbouring Debenhams and Primark, on the St James Barton roundabout (aka the Bear Pit) in central Bristol, sits Café Casa. The café appears to be your average British greasy spoon – big fry-ups with canteen seating, friendly staff and 17 (!) different breakfasts.
What is notable, yet largely unknown, about the café is that every Sunday for the last ten years they have been serving the homeless and vulnerably housed of Bristol a free hot meal. Around 100 people arrive each week between 1-3pm to be given food at Café Casa. The manager explains why the café is closed to paying customers during these hours:
"it's not so much the overload, but the disparity – you've got someone eating a huge breakfast next to someone eating the meal we can afford to give them; it's not right."
The staff provide three free meal options and a hot drink, waiting on each table as their customers take their seats. "I'll have the lobster, please" jokes Tom, 51.
Tom tells me he recently had the chance to speak with Kerry McCarthy, MP for Bristol East; she'd asked how he was getting on at the jobcentre.
"It's a joke – last night I slept in a doorway, the night before that in a tent, and the night before that in Castle Park. Of course, I'm not able to shower…so who's going to give me a job?"
The gulf between the lived experience of being vulnerably housed or homeless, and what others understand of it, comes up time and again in my conversations with the people on this visit.
The latest official estimate of those 'owed homelessness duty' (in need of housing assistance) in Bristol is 187, and the 'street count' is 41. Actual figures are unknown. Not everyone who comes here is sleeping rough – some are vulnerably housed or experiencing food poverty, etc. – but the number of people coming through the doors on a Sunday can easily surpass the higher figure.
'The gulf between the lived experience of being vulnerably housed or homeless, and what others understand of it, comes up time and again',
Phil, aged 37, comes to Café Casa not because he's homeless but because he simply can't afford to eat. For years he's bounced from one zero-hour contract to another.
"It's not about being homeless, it's about poverty. If I buy food, I can't afford my bills."
Unlike paying his bills, no one will come knocking on his door demanding he eat, so his choice is made.
Regulars Sharon, 42, and Gill, 57, are both currently in supported living, but have been sleeping rough in Bristol and coming to the café for years. Sharon spoke of having mental health issues and physical disabilities, and noted that the café provides them with the social support that is so lacking elsewhere. "People don't believe you have mental health difficulties because it's not a disability they can see. They honestly think you're making it up." Gill notes that as support services of all kinds are shutting down, there is a looming undercurrent of anger and desperation:
"Can you feel it? It'll explode, you watch."
During my visit, John, 25 and Mike, 27, are having their first meal at Café Casa. Both are looking for work, which is difficult when also struggling to find sustenance. "You need the calories, and hot food – this is a good meal." Mike told me. "Sometimes I'm walking ten miles a day to find food. Bristol is better than many places for it, but it's more like a sandwich here and there, not like this." When I take my camera out to take photos of their empty plates, Mike hastens to ask I don't take his picture as it could be used against him when trying to find work. John asserts that they'd better get going; they'll miss the meal at the nuns' house on Ashley Road.
Those who organise the weekly lunch asked to remain anonymous, eager that we write not about them, but about the homeless and vulnerably housed residents of the city who are about to be hit by further cuts to their already fragile support structures. The soup runs and food drives that remain operational are the result of work by individuals and faith groups, and cannot lessen or reverse the problem of poverty in our city without governmental support. As one of the Muslim organisers told me as I discussed the situation with him and his Christian cohort,
"it doesn't matter what you believe, you have to give back."
---