Protest reaps the rewards: repairs to housing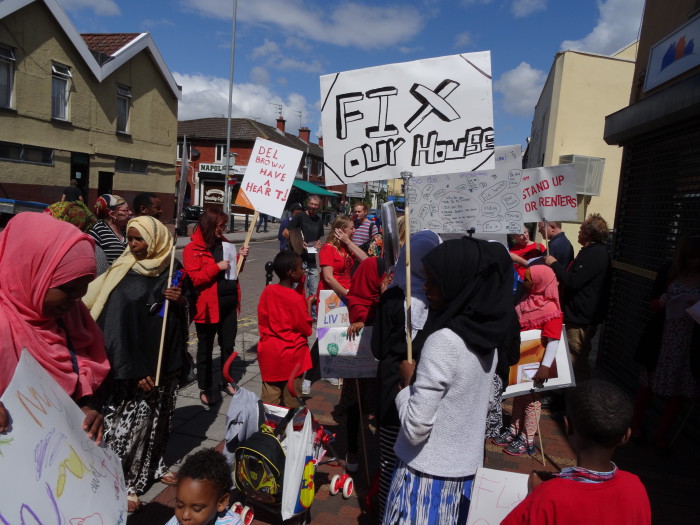 Following a demonstration against dangerous housing conditions, a Liv N Let manager attended the home of one of the three tenants and promised that repairs would begin without delay. The speed with which Liv N Let responded, after five years of inaction, is testament to the power of direct action and solidarity.
---
On Saturday 25th July, around 70 local residents, all members and supporters of ACORN community union (Association of Community Organisations for Reform now), took to the streets to protest the unethical, unprofessional and illegal practices of notorious local letting agent Liv N Let.
Dressed in red and carrying placards and flags we took advantage of the brief window of sunshine to deliver a message to multimillionaire property developer and Liv N Let owner, Del Brown, that the behaviour he's gotten away with for so long will no longer be tolerated. We had advance notice that Liv N Let had decided to close for the day rather than face their angry tenants but decided to hold the rally as planned as a celebration of our collective strength and to advertise the situation to other residents.
Headed up by a 'child's contingent' and accompanied by chants and megaphone sirens, we took over the pavement outside the office for an hour and listened to tenants share their stories of exploitation and neglect at the hands of Liv N Let. Three mothers of young families, Basra, Hawa and Nasro took the microphone and the opportunity afforded by the numbers present, to denounce the conditions their wealthy landlords subjected them to.
One working day after the demonstration, a Liv N Let manager attended the home of one of the three and promised to carry out repairs without delay. The next day our member was told that she would be booked into a hotel and then provided with an alternative flat for the duration of the works as the necessary repairs are so extensive. Needless to say, ACORN will stay vigilant to ensure proper compliance and will also push for similar responses for our other members. Previously intimidated and exploited tenants have found their voice and now have the confidence and backing to demand what is rightfully theirs.
ACORN's campaign for tenants' rights and decent standards in rented housing has gained the support of over 8,500 local people, and support for our Ethical Lettings Charter garnered the first unanimous vote from Bristol City Council in recent memory.
This city enjoys the dubious honour of being third on a national list of property hotspots for landlords, with 75% of privately-rented housing termed as 'non-decent' by the Local Authority. The importance of a united and organised tenants' movement cannot be understated. ACORN is on the move.
Nick Ballard works for Acorn
Like what you read? Please join us to support independent local media.