What links Bristol Green Capital council, Monsanto and "probably carcinogenic" chemicals?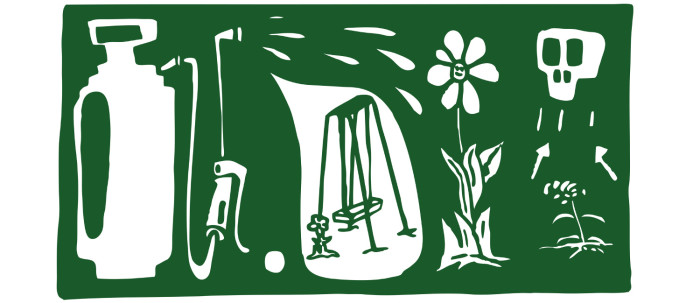 Words: Nathan Williams with research by Adam Cantwell-Corn
Illustration: Kleiner Shames
The World Health Organisation says it probably causes cancer in humans. It has been banned outright in countries as diverse as the Netherlands, Colombia and Sri Lanka. France has banned its use in parks and schools, and the EU is conducting a safety review of it. And in Bristol it is being used on your street and in your local park. "It" is glyphosate, the active ingredient in Roundup, the weed-killer developed by the US agrochemical giant Monsanto.
Glyphosate was developed by Monsanto and sold to farmers under the Roundup brand-name in the 1970s. It was first used on agricultural land to kill weeds and grasses that compete with crops, but its use has spread into streets and parks around the world, with more than 900 million kilos sprayed every year. Its growing use is a money-spinner for companies like Monsanto; in 2014 the unit at Monsanto which produces Roundup recorded global sales of $1.25bn. The market for glyphosate products is expected to reach $8.8 billion by 2019.
But now, after more than forty years of use and years of assurances by Monsanto about its safety, evidence is emerging that glyphosate is harmful to humans and insects and promotes antibiotic resistance.
Banned!
8
Number of countries (and growing) that have introduced restrictions or outright bans on Glyphosate use, including the USA, Sri Lanka, Colombia, El Salvador, Denmark, Switzerland, Germany and France.
---
4
Number of Glyphosate-based herbicides routinely used by Bristol City Council in parks, streets and recreational areas.
---
$300 million
Estimated cost to decontaminate the Spokane River following the "knowing" release of carcinogenic chemicals by Monsanto. In August 2015 the City of Spokane, Washington, launched a lawsuit against Monsanto to recover costs.
---
$600,000
Fine levied in March 2015 by the USA's Environmental Protection Agency for Monsanto's "uncontrolled releases of toxic chemicals."
---
$1,500,000
Fine paid by Monsanto in 2005 for bribery of high level Indonesian official.
Earlier this year the most damning study to date on the health impacts of glyphosate was published by the International Agency for Research on Cancer (IARC), an arm of the World Health Organisation. Seventeen scientists concluded that glyphosate "was probably carcinogenic to humans." While previous studies had found glyphosate impairs cognitive capacities in bees and damages the DNA of snails and amphibians, the news that it was probably harmful to humans prompted bans and an EU safety review. Shortly afterwards, another study found glyphosate made E.coli and salmonella less sensitive to antibiotics. Scientists, including within the World Health Organisation, see growing antibiotic resistance as a threat to the gains made by modern medicine.
How widespread glyphosate is in the human population is hard to measure given its prolific use, but in 2013 a German study detected glyphosate residues in the urine of 44 percent of people tested from 18 European countries. Roundup has also been found in the meat and milk of cows.
Considering the growing body of evidence linking glyphosate to widespread biological impacts, some may ask whether it is time Bristol, the current European Green Capital, follow the example of cities such as Chicago, Paris and Rotterdam, and ban the herbicide (Rotterdam, another contender for European Green Capital 2015, banned glyphosate two years before the IARC study).
A freedom of information request reveals that Bristol city council uses four glyphosate-based sprays: Monsanto products Roundup and Roundup Pro, and Nomix Blade and Nomix Glymark, manufactured by Frontier Agriculture. These products are used across Bristol, in parks and on residential streets, meaning people's ability to avoid coming into contact with them is limited. For those with children, glyphosate use is especially concerning. "It is worrying, especially as my two-year-old daughter picks flowers from the pavement," said Cotham resident Mike, when told about spraying witnessed on his street.
These products are used across Bristol, in parks and on residential streets, meaning people's ability to avoid coming into contact with them is limited.
"If new evidence shows that glyphosate is no longer safe, the EU Commission has the power to withdraw authorisation for its use," the Environment Agency said in response to enquiries from the Cable. But member states do not have to wait for the EU to withdraw authorisation, as the Environment Agency seems to suggest. National and local authorities have the power to decide which chemicals are used in public spaces.
Becky Pollard, Director of Public Health at Bristol City Council said that "in light of the growing concern about the use of glyphosate… the council will be reviewing the evidence about the product's safety." She said the council "is considering ways that it can reduce the use of glyphosate on a site-by-site basis and is looking at alternative options."
When asked whether it would be pushing for a ban in Bristol, the Bristol Green Party told the Cable that Green councillors asked "detailed questions" about the council's use of glyphosate at the 15th of September council meeting. The Mayor responded by citing concerns about the affordability of alternatives and that he was awaiting information on options.
Frontier Agriculture refused to comment when asked if they would reconsider the formulation or sale of their glyphosate-based products, telling the Cable to contact Monsanto. Monsanto didn't respond, but have previously said "regulatory authorities around the world…have found no evidence of carcinogency." Monsanto has labelled the IARC study "junk science" and have paid a consultancy company called Intertek, which tests the safety of chemicals for companies, to review the study. This decision will invite scepticism that any review financed by Monsanto will not be objective.
National and local authorities have the power to decide which chemicals are used in public spaces.
With companies not acting, and Bristol moving tentatively, the issue could be compounded by the proposed US-EU free trade deal known as the Transatlantic Trade and Investment Partnership (TTIP), which is intended to lower regulatory barriers between the EU and the US. Research by Brussels-based watchdog Corporate Europe Observatory shows that agribusinesses, including Monsanto, have lobbied the EU on the deal more than any other industry. One of the most contentious issues is whether TTIP will weaken Europe's rules on genetically modified crops – which, along with copyrighted seeds, is a major business for Monsanto.
As the current European Green Capital, and with fourteen Green councillors, Bristol is in a position – and should be leading the way – to take action on glyphosate. Instead, the city is lagging behind other European and US cities in its response to the evidence. It is arguable that the science isn't settled. However, multi-billion pound industries have the resources to ensure the science is never settled. Creating a climate of doubt to stifle a regulatory response is a well-worn tactic that the fossil fuel and tobacco industries have employed for years. The IARC study raises enough fresh concerns about glyphosate that it would seem sensible for Europe's Green Capital to live up to its billing and, at the very least, declare a moratorium on its use while the latest evidence is considered.