Carriageworks development in a mixed bag result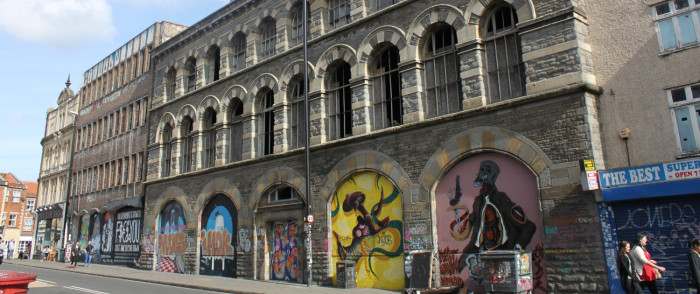 Planning permission produces claims of both community victory and council let down
(Correction: this article initially stated that both Westmoreland House and the Carriageworks will be demolished. In fact the structure of the Carriageworks will remain and be redeveloped. The article has been corrected to reflect this.)
After much anticipation, Bristol City Council and Fifth Capital have amended previously rejected plans and have now got the go ahead to demolish Westmoreland House and redevelop the Carriageworks. The revamp, turning it into 118 new homes and business units will cost an estimated £20m and although to most it will be a relief to see the site put to use after 25 years, for many concerns still remain with a contested view of how much the community was listened too.
Located in the heart of Stokes Croft, the Carriageworks was built in 1862 and has in recent years, invited an array of street artists to show their creativity, in turn making this site into a must-see for tourists. However, the buildings continued deterioration marks the torrid relationship between some members of the community, successive developers and Bristol City Council.
Security was notably stepped up since this April's last committee meeting, which saw outrage from over 300 residents and a mass petition against the initial plans that entailed scarce amounts of affordable housing and a gated-community for the wealthy. However, with a new committee since the election, an attempt to alleviate other concerns surrounding the development have been. This was reflected in a visual display as the public were shown before and after plans, showing as Marc Pennick, Director of Fifth Capital developers, claimed 'a substantially amended scheme that works for Stokes Croft and Bristol.' Changes include a reduction in overall size allowing greater privacy for residents living on Hepburn road, a removal of residential units from the ground floor so more space is given to independent businesses and more bicycle spaces for residents and the general public.  
In response, Lori Streich, chairwoman of The Carriageworks Action Group, said: 'We think that we are nearly there. Its great news but we still have many details still to be addressed.' These concerns include the assurance that developers will continue to involve CAG and the community throughout the process.
A major outstanding issue overwhelmingly raised in initial objections is that permission has been granted with just 10% 'affordable' housing despite the council's stated target of 30-40%, and the the imminent need for affordable housing in the area. There is no indication that this will be addressed.
Considering that at present, 'affordability' is determined as "80%" of the current market rate, it is hardly a genuine measurement for people on lower incomes. According to Zoopla, the average house price in the BS1 area is £312,332, with a value increase of 4.74% (£12,219) in the last 12 months. Along with a tightening rental market, these are intensifying  concerns surrounding what is feasibly affordable in Bristol.  While Fifth Capital refuse to declare the final intended market price of the houses, the story of councils bowing to developers demands to reduce 'affordable housing' is not a new one (see Cable piece here). This most recent development in the Carriageworks saga, whilst welcomed by some is adding to further unease regarding the future of affordable housing: a recent pledge by David Cameron to scrap local authority targets for future affordable  homes further limits the council's negotiating power.
After the council meeting, there was still a great deal of anxiety amongst the public that attended, with a local resident, who asked to remain anonymous, saying afterwards that the developers are in an easier position to ditch CAG and the community. With a conservative majority party that seeks to remove requirements to provide a set number of lower income housing and no current knowledge of how much the proposed new housing will cost, uncertainty still remains in a long running episode.
Councillors voted 9 to 1 in favour.