Growing your own veg, self and communities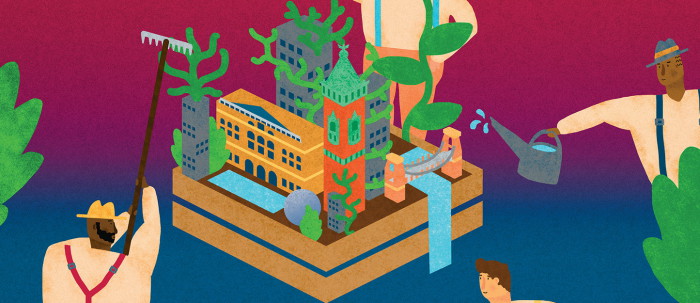 An overview of urban farming projects in Bristol
Words: Phillipa Klaiber
Illustration: Jack Wilson
The survey of Bristol food growing projects compiled in May 2015 listed 54 community growing sites in the city. They are hugely diverse and have been adapted to best suit the sites and communities they provide for. One will find 'help yourself' herb beds in parks and urban areas, community-run gardens for training course purposes or, with a free-for-all ethos, pieces of land administered in allotments for people and the larger community to cultivate as they please, orchards producing seasonal fruits and also co-operative farms growing food for their members on a larger scale.  
Community growing in urban areas is by no means a new fad. Whilst farmers markets have seen the somewhat ingenuous but mostly trivialised revival of an age old rural phenomenon, veg box schemes developed around Community Supported Agriculture have boomed over the last decade. The UK is experiencing a regenerated food culture, with people increasingly choosing to buy locally and consider the origin, treatment and health benefits of their food. In the 2013-2014 period, spending on ethical food and drink increased by 8% on the previous year.
Although there is debate about the consistency of the smaller carbon footprint of local food versus imported food, one of the most important benefits of community agriculture and urban gardens is that locally sourced food increases awareness of food origins and healthiness. This often extends to education, skill-shares, wellbeing and many urban food growing schemes building inclusive communities within disparate neighbourhoods.
"…extends to education, skill-shares, wellbeing and many urban food growing schemes building inclusive communities within disparate neighbourhoods."
The Barton Hill Walled Garden is a community project on the edge of Easton. Its purpose is to foster social inclusion, wellbeing and environmental awareness of livelihoods. Barton Hill is a heavily built up area with many tower blocks and limited green spaces. As a result of immigration the demography of the ward has changed substantially. Addressing this shift, the Walled Garden project 'encourages participation from the local, longer standing residents of Barton Hill as well as the newer Somali and Eastern European communities. Everyone is welcome…to produce food and create a strong mixed social and cultural environment that has fostered common ground'. 
In addition to community cohesion and wellbeing, urban food growing schemes have an essential focus on ethical food production. These include biodiversity and permaculture practices, which, according to Patrick Whitfield, "many ideas and skills are not unique; some are traditional farming practices, others involve modern science and technology".
The Easton community garden is a prime example of a thriving permaculture garden. Since the derelict land was cleared in 2001, the people behind this urban garden have worked to keep their footprint as small as possible. They have done this by making compost and fertiliser and understanding the relationship between different plants, consequently encouraging biodiversity and healthier crops without the use of pesticides.
In Bristol, biodiversity and permaculture principles extend to larger agricultural groups. The Sims Hill Shared Harvest is a Community Supported Agriculture co-operative in Frenchay. They have farmed just over six acres of land for the past four and a half years and currently provide for about 100 households, with the capacity to expand to about 160.
"Sims Hill is set up as a member-owned co-operative, which means that members can get directly involved in the business decisions at whatever level they wish," says farm representative Kristin Sponsler. "Our members can see where their veg is coming from and meet the people who grow it. This model allows people to feel empowered and connected".
Community food growing is thriving in Bristol and numerous projects are contributing to social inclusion within neighbourhoods, awareness of food origins and healthiness, as well as physical and spiritual well being. Strengthening relationships between growers and consumers, or doing away with it by empowering people to be both, mainly through co-operative schemes, is giving people an opportunity to reconnect with farming practices that remain elusive to many city dwellers.