Is your pension funding climate collapse?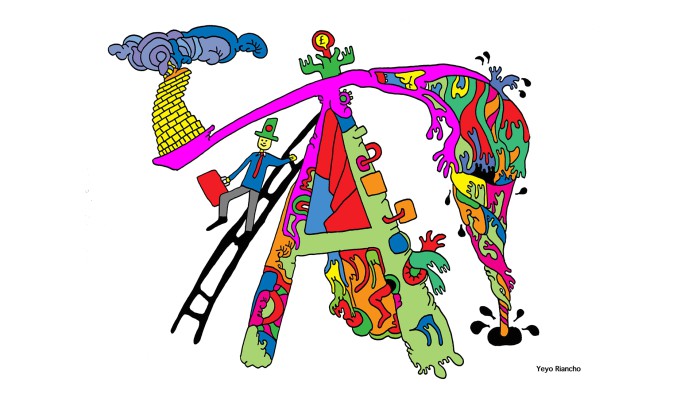 Avon Pension Fund's investments threaten your retirement, and world
Words: Adam Cantwell-Corn
Illustration: Yeyo Riancho
For those approaching retirement (or looking forward to it!) a healthy pension is a necessity for a secure and independent future in an increasingly uncertain world. However for the 90,000 employees enrolled in the Avon Pension Fund their nest egg is feeding a future not deserved by their hard work.
For Avon Pension Fund (APF), the pension administrator in the former Avon area (now Bath and North East Somerset, City of Bristol, North Somerset and South Gloucestershire councils) is heavily invested in the fossil fuel industry. Information obtained by the Bristol Cable shows that of the £3.6 Billion fund, over £36 Million is invested directly in oil, coal and gas. Some calculations put that figure as high as £171 Million for indirect investments. That's £1,800 per pensioner.
These include pin up villains of Big Oil (Royal Dutch Shell – £6.2 Mill) as well as gas giant BG Group (£13.1 Mill) and lesser known operators in the field of so-called 'extreme energy' (i.e Fracking and tar sands) such as Schlumberger (£4.1 Mill). Schlumberger, usually publicity shy, was recently in the headlines when Prime Minister Cameron appointed a former senior consultant to a top environmental post ahead of COP21 climate talks in Paris this December.
Company: Investment
Cabot Oil & Gas Corp: £2,538,461
Climarex Energy Co: £2,647,664
Statoil ASA: £3,950,087
BG Group Plc: £13,125,934
Schlumberger Ltd: £4,111,158
Royal Dutch Shell Plc: £6,210,529
BHP Billiton Plc: £3,767,248
£2,538,461
Obtained through a Freedom of Information Request by the Bristol Cable. Figures as of June 2015.
In light of dire warnings about impending climate doom it seems (depressingly) ironic that a scheme set up ensure a comfortable future for hardworking public servants is threatening the very existence of the planet for the retirees' grandchildren. That's not an exaggeration. As the highly regarded Intergovernmental Panel on Climate Change reported in 2014, the world must reduce greenhouse gas emissions by a huge 40-70% by 2050 or risk irreversible climate change caused by a 2 degree rise in global temperatures. Investing tens of millions in fossil fuels is only powering this runaway coal train.
But! It doesn't have to be that way says Richard Lawrence. Richard is a pensioner enrolled with the APF and a member of Fossil Free Bristol (FFB). FFB is campaigning to persuade the APF to divest (cease investing in) the fossil fuel sector, and to switch at least some of its £3.6 Billion to eco friendly 'low carbon' investments.
However, the fund is not governed by environmental or moral concerns, but understandably, focuses on ensuring a solid financial return for those enrolled in the scheme. As such, Richard and FFB are finding themselves fighting a campaign on financial terms rather than political terms. "We haven't focused on the fact that in 50 or 100 years time we may not have a planet in the way we have now, because that is not something they are obliged to listen to, which is a big frustration really".
Money talks
However, very recent developments are giving credence to the questions FFB are asking the fund. On September 22nd analysis by an American private investment company found that the Massachusetts public sector pension fund had lost more than half a billion dollars due to fossil fuel industry devaluations. A potential international agreement restricting fossil fuel use will also have major effect on the value of the industry, as well as the slowdown in demand due to the persistence effects of the financial crisis. On the other hand, low carbon options are proving to be credible investment choices.
61
Number of pension funds, and growing, who have fully or partially divested from fossil fuels globally.
Source: gofossilfree.org
---
But how best to convince the APF? Richard is firmly of the opinion that being around the table is better than being "outside with placards", and whilst progress is painfully slow there are positive developments. APF have acknowledged the need to conduct a carbon footprint assessment,  and an upcoming review of their responsible investment policy  is being launched that will hopefully acknowledge and mitigate the risks posed by climate change, from a perspective of financial stability.
Taking on the cartels
Yet the scale of investment in the industry is huge, with campaigning group 350.org recently finding that across the UK 14 Billion is invested in fossil fuels by local government pension funds alone. However, the movement for general divestment has notched up some serious victories internationally. Moral and political backing has also come from the General Secretary of the UN, the Pope, Desmond Tutu and the Islamic Declaration on Climate Change as well as campaigners and academics.
The question is whether this pressure can be brought to bear quickly enough against one of the most powerful industries in the world and squabbling global leaders. "I'm really optimistic " Richard states, pointing to the already unfolding effects of global climate change that will prove impossible to ignore. Acknowledging that any transition will have to be carefully handled he adds, "we're not naive that there is a quick fix". However, Richard becomes animated emphasising the power of individuals and institutions, "this is our money, the fossil fuel industry can only be an industry if we invest in it!"
Like what you've read? Consider joining… Find Out More