Subsidies on board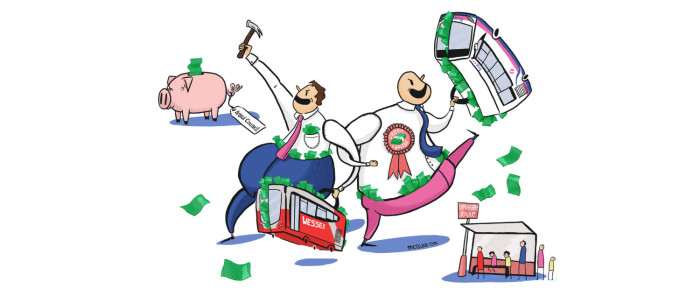 With private companies in charge of operating Bristol's essential network of bus services, corporate welfare means taxpayers pay twice
Words by Alec Saelens
Illustration by Paul McQuay
Bristol's most conspicuous multinational company and sponsor of Green Capital, First Bus, and a somewhat smaller private company, Wessex Bus, have received millions from the City Council to run parts of the local bus network.
Bristol City Council's total subsidies paid to the two bus operators in 2014/15 increased by 52% on the previous year, to reach a total of £3.8m. First Bus and Wessex Bus were handed out £1.6m and £2.2m, respectively.
As well as profitable routes, both companies run individual routes deemed unviable due to the small amounts of passengers. Competition law prevents bus companies from running routes at a loss to prevent monopolisation, so privately managed services are funded by public money.
Councillor Simon Cook, Assistant to the Mayor for Place, which includes Transport affairs, says,
"The council can absolutely justify its subsidies to the city's bus operators as the money provides services which, without our support, simply would not run, at the great detriment to the people who rely on them".
Yet whilst companies pay lip service to the value of running socially needed services, recognition for local authorities' support is a well-guarded admission. In First Group's 180 pages long Annual Report for 2015, the notion of 'subsidy' is given only six mentions; with those relating to buses only in footnotes. That is despite First Group having set up at least 20 subsidiaries running bus services in counties and cities up and down the country.
The model for a commercially driven local transport system began with its de-regulation in the 1980s, when the majority of services were privatised. Today 50% of the local bus services market is operated by three major companies, with First Group being one of them.
The running of 'unprofitable' routes by First Bus subsidiaries across the UK is shouldered by local authorities through tenders of up to £44.6m (p.7). Covering the costs of non-commercially viable routes would still leave First with a substantive £7.4m profit within their UK bus provision division. Last year, shareholders were granted £21.3m in dividends. Profits are kept private and losses are absorbed by the public purse. Is this just corporate welfare?
Meanwhile, Wessex and First Bus are keen to highlight the 'Park & Ride' lines they run generate proceeds that go back directly to the Council. That would indeed be a demonstration of goodwill towards public services, if only the small print didn't reveal they were contracted to provide them with public money. The 903 bus is fuelled with over £700,000; almost half the overall sum First receives from the Council. This comes aside from the revenue the company already makes from running 85% of commercial routes in Bristol.
That said First Group is keen to appreciate the efforts local governments make to increase the 'connectivity and efficiency of transport networks'. Without purpose-built infrastructure and smooth asphalting, driving home £900m in national revenue would get stuck in a jam (p.7). In the past year Bristol City Council has spent £15.4m on highway maintenance to improve local transport provision.
In the heat of Green Capital 2015, First Bus is hailed for making a step towards more sustainable transport. Though currently still a prototype, it has inaugurated the use of the Bio Bus or 'poo bus' that will significantly reduce carbon emissions and also changed engines on a fleet of buses to increase fuel efficiency.
But is the shift towards sustainability just a savvy marketing strategy? Time will tell as the legacy of Green Capital becomes clear. What's certain is that off the back of Green Capital, First has had its logo plastered across the city, gaining plenty of publicity.
The struggle against fare rises is a concern to communities in Bristol and beyond. To First's own admittance, a consultation which thousands participated in in Bristol and the West of England has led to a reduction in prices and then triggered an increase in passenger use of 19%. This suggests that keeping a public service of basic necessity affordable for the people of Bristol is key. This hasn't prevented fares rising by 12.5% on some of the long distance routes in early September, which Josh Kility, Co-Founder of Bristol Bus Users says is "never welcome".
As First stands in the spotlight as a sponsor of Green Capital we should not forget that, while they enjoy healthy profits as a company, the taxpayers subsidise them.