Super (Waste) markets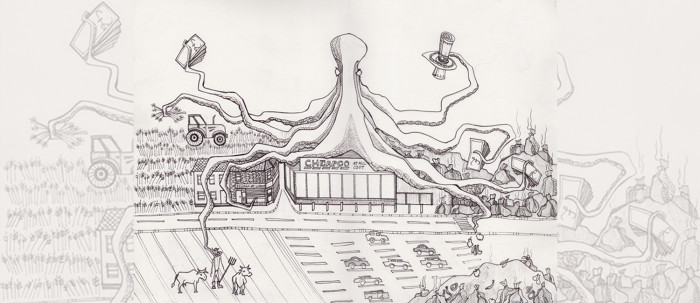 Words: Catie Jarman, Marianna Musset and Sam Joseph
Illustration: Mari Westeng Sorensen
Whilst donating to charities is seen as a positive solution to food waste, it does very little to tackle the causes of excess production.
Several organisations in Bristol work to recycle food waste. A job that should be the responsibility of the supermarkets creating the surplus in the first place. Food banks and homeless charities, the usual recipients of supermarket surplus, lack the capacity to distribute it fast enough to those in need. This includes FareShare, the UK's biggest supermarket food waste redistribution charity, who redistribute 1-3% of this waste nationally.
Bristol-based Skipchen estimates it regularly picked up nearly 1 tonne of surplus fruit and veg a week from a Brislington homeless charity that houses 60 people. A worker at the charity, who wishes to remain anonymous, says the supermarket makes them take all its surplus food or none.
The charity is effectively made to operate as a supermarket waste manager, and is then left to deal with most of the excess waste it can't use.
"I personally witnessed the walk-in fridge full daily, whilst excess food was stored in a parked van outside. During the Christmas period there were up to 50 crates full piled outside on the ground too. It was destructive to hope for any change", said Rachel Haig, co-Director of Skipchen.
This second hand redistribution, disguised as a freebie and a resourceful solution to food poverty, is the source of many new problems.
Over the past eleven months, Skipchen intercepted over 25 tonnes of food before it reached the landfill. With five full time volunteers this equates to 14,600 hours per year. Staff costs on living wage would have be £109, 500 alone. This does not include the costs of buying and running a refrigerated van, insurance, storage, fuel and cooking facilities. This shows the levels of time and resource investment required if the current scale of food waste is to be dealt with effectively.
Food Waste Reduction Bill 2015
Supermarkets and manufacturers to reduce their food waste 30% by 2025
---
Reinforcement of the food waste pyramid so that edible food waste feeds people first, followed by livestock, before being sent to anaerobic digestion
---
Greater upstream accountability by requiring supermarkets to transparently publish & report their food waste across all sections of the supply chain
---
Supermarkets, manufacturers & distributors to enter into formal agreements with food waste redistribution organisations
Frontline
The scale of waste in the early stages of supermarkets food sourcing is core to the issue. In the UK alone nearly 30% of our vegetable crop is never harvested. In our industrial agricultural system, farmers bear the brunt of supermarkets competing against one another, forcing farmers to overproduce. Meanwhile, they have no guarantee their stock will be bought as supermarkets can refuse to re-enter into contracts. They can also change, at a whim, specifications such as quality, quantity and packaging. Due to these exploitative practices, it is estimated that worldwide up to 50% of food loss occurs before it reaches the consumer. It rots in the fields post-harvest or in poor transportation systems directed towards markets and consumers.
Supermarkets are the largest public facing part of our food distribution system, taking over 80% of the UK grocery market sales. They have a key role to play in waste reduction from farm to fork, even before households enter the supply chain. Spin tactics of supermarkets blaming households for their food waste highlights a lack of accountability for a problem they create. A key to this problem is that there is no transparency regarding supermarkets' food waste output. Publication of audited data by companies would provide a baseline from which governments can assess the situation and set reductions targets.
Food waste legislation
In May, France made headline news for taking the lead in the battle against food waste. With a piece of legislation intended to ban supermarkets from deliberately spoiling unsold edible food with chemicals or sending it to the landfill. The new law restored public faith that large companies could do the 'right' thing by redirecting excess back into the human food chain through donations to local charities or compost it. Many celebrated a historic turning point.
However, despite being unanimously passed by both parliamentary houses, the French Food Waste Bill was ultimately rejected by the Constitutional Council for 'procedural' reasons. Instead of mandatory legislation, the alternative is now a voluntary and non legally binding agreement between government and supermarkets.
With no power to enforce penalties, there will be no real challenge for firms that refuse to reduce waste.
In the UK, Kerry McCarthy, MP for Bristol East and recently appointed Shadow Secretary of State for Environment, Food and Rural Affairs, relaunched her Food Waste Reduction Bill in the House of Commons on September 8th (see box out). By tabling the issue in Parliament, McCarthy's Bill is calling for an overhaul of food waste management practices, including the early stages of food production.
The Bill proposes practical steps to address the fundamental causes of food waste. Meanwhile, as public awareness and the potential for government to stand up to supermarkets' increases, charities will carry on dealing with the burden of excess food production.
Catie, Marianna and Sam are Co-Directors at Bristol Skipchen