Dead space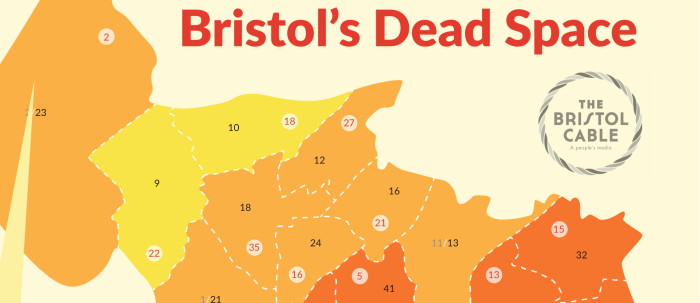 We hear a lot about empty homes, but where exactly are Bristol's disused properties? Alex Turner takes a look, and finds as many questions as answers
Words: Alex Turner
Empty homes have been big news for years. Under New Labour's Pathfinder initiative, swathes of them across the North and Midlands were torn down in the name of urban renewal – in some cases leaving wildflower-strewn wasteland that persists to this day. Since the coalition came to power the wholesale destruction has ceased and new narratives have emerged.
On a positive note, long-derelict homes in places like Liverpool and Stoke have been sold for one pound to owners hopefully willing to put down roots. But we've also seen the growing scandal, especially in London, of grand old houses left vacant to moulder – while their values rise inexorably – and new flats bought up to sit as unoccupied baubles that light up only balance sheets. Of course, squatting in residential properties also became illegal under the Tory-Lib Dem government, even as UK homelessness figures began to mushroom.
In Bristol, 892 private homes are known to have sat empty for six months or more. I can't tell you exactly where they are, because case law enables councils to keep whole addresses – and even whole postcodes – confidential on the unlikely basis that revealing the information sparks break-ins and vandalism. But Bristol Cable research has located Bristol's empty properties by ward, and discovered how long they have stayed empty.
More than two-thirds of Bristol's private properties (635) have only lain empty since 2013. The council cannot take action against landlords until properties are two years unoccupied – it used to be six months, but this was overturned by the Conservatives on the grounds of its "heavy-handedness" in 2011. To start with, Bristol council ramps up its council tax by 50 percent on all homes empty for more than two years. But, it admits, this in itself acts as an incentive for some owners to simply not declare their property has no one living in it – meaning the true numbers of empty places may be significantly higher.
Seven of the ten wards with highest overall concentrations of privately owned empties could be described as either high-end or gentrifying neighbourhoods, with house prices to match. Cabot has 69, Clifton 55, Windmill Hill 45, Bishopston 41, Southville 41, Cotham 36 and Ashley 34 (See infographic). Between them they make up 321 empty homes, or more than one-third of the total. We can't say for certain that Clifton mansions or luxury city-centre apartments are being bought in order to sit empty. But it's puzzling that some of Bristol's most desirable postcodes have the most unoccupied property.
By comparison, Bristol council has just 78 homes citywide that have been vacant more than six months. Of these, 26 are to be repaired, and 10 to be demolished. Meanwhile 16 properties, mostly likely to be isolated older houses such as the one controversially purchased by Green councillor Gus Hoyt, are to be sold as 'uneconomic to repair'.
The council, to its credit, returned 744 privately owned empty residences to use during 2013/14, during which time its own waiting list continued to rise. As Shelter has pointed out, repopulating empty housing isn't a silver bullet for the UK's housing crisis – new, genuinely affordable ones must be built too, in locations that will likely require planning reforms to be made. Still, the hundreds of homes sitting idle across Bristol are, whichever way you slice it, a massive and harmful waste of space in a town where many people are finding it increasingly tricky to put a roof over their heads.
View as a jpg
 Sources:
FOI – Council House Long Term Voids, as at 11.05.2015
---
Check out thebristolcable.org for free events & member benefits