Healthcare at risk: the flight of junior doctors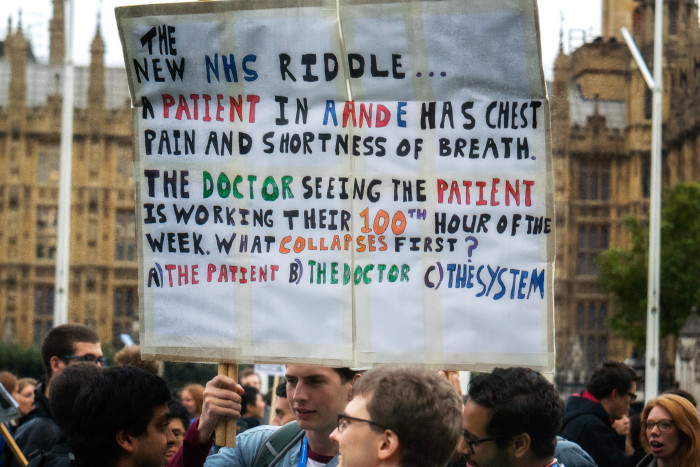 Words: Jack Collins
A Bristol based junior doctor mitigates the risk of the strike, and raises concern about wider consequences'
This winter will be an extremely tough period for hospitals up and down the country. Bristol hospitals will sadly be no different. In fact great institutions like the Bristol Royal Infirmary and Southmead Hospital may suffer more than most.
As things stand the Severn area is one of the most popular and competitive places for Doctors to work in, yet many fear hundreds of medics will leave Bristol hospitals to take the short trip over the Severn to work in Wales. Plenty of my colleagues have applied to work in Wales, with the new round of annual GP recruitment opening this November.
Realising their resources are limited and what strain it would put on healthcare provision, NHS Scotland and NHS Wales have decided against implementing a seven day routine and both rejected the new junior doctor contract.
Following the ballot by the BMA on November 18th, 98% of junior doctors in England voted to take strike action in December for three days, which is well over half of the 55,000 junior doctors in England. It is the first time doctors have felt the need to strike since the 1970's and pressure is mounting on the Health Secretary Jeremy Hunt to take stock and relent on his attempts to steamroller through a deal which health professionals are telling him is unsafe.
We are still unsure about how the public will react to us striking. Doctors are often self-reflective and critical individuals and readily accept that plenty of people work tremendously gruelling and unsociable hours in the public sector. I do not count myself as saintly or with special dispensation, or think that I work harder than my dad for instance, who works 6 days a week as a labourer in the city. But the decisions we make are mentally draining.
Whilst dealing with the very sick and dying is a privilege, it does not make me immune to burnout and increases risks for patients. This is the real risk we face under the new contract.
My colleagues and I are already at breaking point. We are not romanticising about how much we earn, or wanting more. We are running around wards all day (a friend of mine clocked 15km on her podometer last week), and often don't break for the toilet or have time to eat. Often we leave the hospital tired, dishevelled and with minds racing about what went right and almost invariably, what could have gone differently. We do all this for patients. As it stands, hospitals get fined if they push us any harder, and rightly so. But this will change if the new contract is ratified.
Importantly, doctor's do not want to scaremonger patients into avoiding hospitals on strike days, and urge anyone who feels the need to attend hospital to do so. An internal poll by the Local Negotiating Committee showed that 99% of consultants, or specialists, in my hospital (over 150 respondents) backed their juniors in taking industrial action. This not only tells us that they support our plight, but that they are willing to step in and keep patients safe on those days.
Like a normal weekend when patients are kept safe, if your relative is sick in hospital and needs treating they will be reviewed by a consultant, or specialist, rather than a junior. This strike will mostly disrupt routine services like clinics and elective operations which consultants will have to miss, but I truly believe that the hospitals will remain safe.
The strike itself will consist of three days; December 1st will be 'emergency care only' and feel for patients like it would being admitted on a Bank Holiday. The two 'full walk-out' days that will take place on the 8th and 16th of December from 8am to 5pm.