Will Bristol Vote Against TTIP?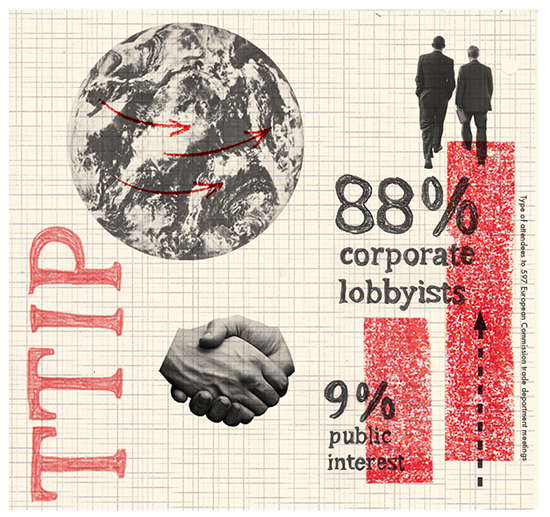 Words: Fred Fulford
Councillors faced with demand for a TTIP-free zone
When Bristol City Councillors meet on Tuesday 10th November, their agenda will include two motions expressing opposition to the proposed Transatlantic Trading and Investment Partnership (TTIP) – one raised by Labour's Sue Milestone, the other by Green Party Councillor Anna McMullen. Campaigners and politicians fear that the bilateral agreement between the EU and the USA will erode Britain's safety standards, environmental protections and workers rights, whilst handing big business the power to hold governments to ransom through an arbitration instrument known as Investor State Dispute Settlement (ISDS).
Explaining the importance of her motion, Councillor Milestone said "All parties back giving more power to local authorities, but TTIP will do the opposite – taking decision making away from us and the people we represent." Green Councillor McMullen explained in a press release that TTIP "threatens to undermine labour standards across Europe" and "prevent local authorities from choosing to allow environmental and social considerations"
Local authorities are increasingly concerned that TTIP will hinder their ability to govern in the public interest, and will harm local businesses. The motions propose that "TTIP could have a detrimental impact on local services, employment, suppliers and decision-making" and note that similar treaties have been '"used by corporations to overturn democratic decisions by all levels of governments."
Crucially, the motion calls on Bristol Mayor George Ferguson to politically oppose TTIP, joining cities from Exeter to Edinburgh in effectively declaring the city a 'TTIP free zone'. As both items are low on the meeting's agenda they are unlikely to be debated – Conservative leader Mark Weston told me that the councillors "will not get to the fourth placed motion which deals with TTIP." Liberal Democrat leader Gary Hopkins agreed, adding "Labour chose not to bring this motion even though they have the golden motion and the Greens could have brought this previously and chose differently."
The council meeting takes place at 18:00 on Tuesday 10th November, at the Bristol County cricket ground. Local campaigners will submit statements to the council on TTIP, and have organised a public demonstration to push this important issue higher up the council's agenda, and make sure that the motions are debated and passed in either this council meeting or the next. Martin Powell, from campaign group Global Justice Bristol, asserts that "if councillors care about being able to represent the interests of local people and local businesses they must back this motion"
The public demonstration in support of the anti-TTIP motions will take place at 16:45 10th November, at Bristol County Ground, Neville Road, BS7 9EJ.