Muslim man thrown off bus: full inquiry demanded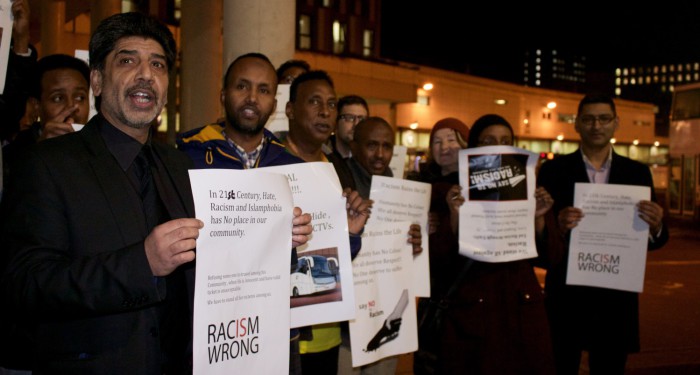 Words & Photo: Alon Aviram
 Two weeks ago Ibrahim Mohamed Ismail was thrown off a National Express Bus after another passenger said they felt "uncomfortable" because he looked "shifty". Mr Ismail claims he was thrown off the coach because he was Muslim.
Demonstrators gathered this Thursday evening (17th December) at Bristol Coach station demanding that National Express hold a full inquiry into the incident.
Speaking to the Cable, Abdul Mohammed from Bristol Somali Forum said "We came here to protest the removal of the Somali Muslim man from the national express coach. We want the incident to be investigated because I believe there are cctv cameras inside the bus and I think National Express should disclose all the available cctv."
National Express have strongly denied claims of discrimination, instead saying that mr. Ismail was asked to get off because of his 'bulky luggage'. But fellow passengers say that he was clearly discriminated against – claiming that Mr Ismail was asked to leave because a group of passengers didn't want a Muslim man on their coach.

Speaking to the Bristol Post, Mr Ismail said: "Clearly the driver didn't have an issue with my luggage when I got on the coach, because we had a conversation about it and he allowed me on despite having the bags that I had….I believe I was asked to leave because of the way I was dressed, and the fact I've got a beard.
With a growing public campaign, the pressure only seems to be mounting for National Express to open a full inquiry.  The Bristol Cable will be following this story.