Thousands march for climate action. But what next?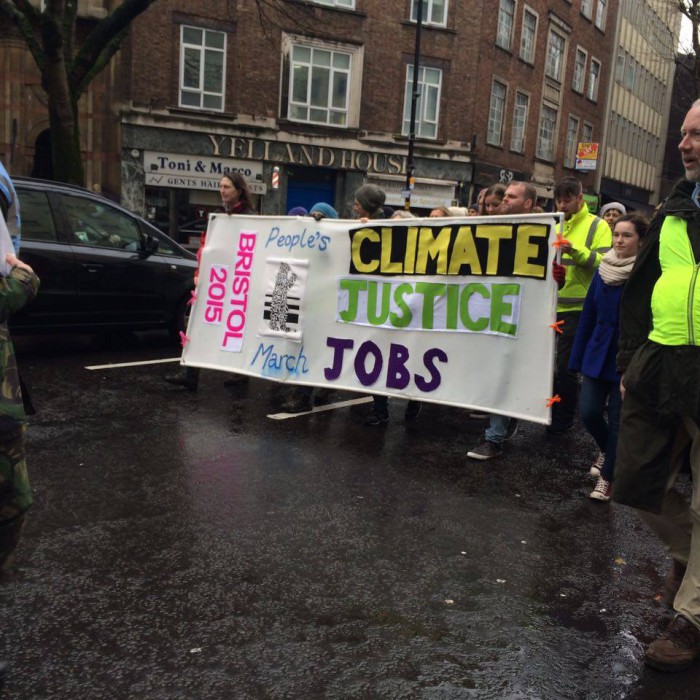 Bristolians march in solidarity with thousands across the world. World leaders talk
Words and photos: Ella Wilks-Harper
Despite the rain, thousands of people gathered on Sunday to demand real action on climate change, in the run up to the  COP21 Climate Summit in Paris. The COP21 conference, now taking place, will see world leaders (and interested parties) meet to discuss what action, if any, to take on the urgent question of the climate. Eyes will be on David Cameron as hundreds of thousands marched around the country to demonstrate that more must be done to tackle climate change.
Cameron has recently pledged to invest nearly six billion in tackling climate change in poorer countries, but in the wake of potential bombings in Syria and massive cuts to green energy subsidies, the question of the Government's commitment is at the forefront of many people's minds.
The march aimed to demand change in three key and related areas: Climate, Justice and Jobs. I went out to investigate what some Bristolian's on the march though.
Local Green Councillor for Easton, Anna McMullen said, 'Climate change causes the future problems that we are already trying to fight against. People acting erratically against migration, getting angry about housing shortages, energy going wrong, resource shortages and people will be effected by that, starting with the poorest around the world. Cameron has cut all the subsidiariesand completely undermined the renewable movement. Climate change is going to cause more "Syria's" [with regards to its current drought] around the world and so we have to bare in mind our causes our linked.'
Johnny Buckland, equipped with an umbrella and an inflatable Earth hanging on a thread said, 'Cameron is doing a terrible job and is in the hands of all the big industries that have the power of lobbyists and government. I feel like the only true way to change this is to relocalise, community action and community power – land ownership, community land trusts, communities taking ownership of their energy consumption.'
Lisa Stone, dressed in an artic owl suit, and member Green Peace said, 'Climate change has effected many people such as the Middle East, pushing people into cities, creating strife. Climate change is the fundamental starter of poverty that is going on. Bristol East Greenpeace is trying to promote the idea of actually using greener fuel."
There was a sense of frustration amongst people I spoke to regarding Bristol's efforts to tackle climate change. Some remarking that more needed to be done with regards to keeping roads safer and resistance to the introduction of a Bristol metro bus, whilst others applauded George Ferguson's green initiatives.
Yet, in the rain and cold, people also held out for the hope of a legally binding agreement on carbon reductions. Will the politicians pass the buck or not? We'll see.
COP21 concludes on the 11 December.