A crucial year for our city.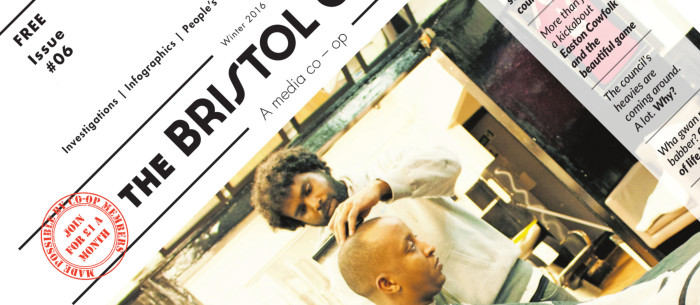 A few words from the editorial collective…
As voted by members, this edition is taking a hard, though not always serious look at the work/life balance of Bristol people. The rise of call centres. Historical struggles for free time. Links between work, benefits and depression. Oh, and Bristolians' most inventive skiving methods.
It's not all work, work, work, mind – we're also reporting on the local football scene, and on Bristol council's growing use of bailiffs; hearing about worrying threats to freedom of information laws and digging deeper into the offshore companies buying up chunks of our city.
Because it is our city – and 2016, with mayoral elections on the horizon, will be a big year. Will Bristol be a place of innovation and originality for the few, or for the many? Will it become a brand co-opted by property developers, greenwashing institutions and wealthy individuals?
Or will Bristol be a place that pioneers answers to bread-and-butter issues, while chucking in some flavoursome toppings. The question is how.
One key to work/life balance and healthy communities will be the affordability of our homes. With rents rocketing and the government seemingly keen to dismantle a century's worth of social housing, are there steps our often lacklustre council can take? How can people do socially valuable, low-paid jobs if the cost of living's too high? How will artists and creators, campaigners and volunteers stay active if earning a crust consumes all their energy?
Many thousands of people work for a better Bristol. We hope to continue contributing to this. Importantly, we've taken big steps to safeguard our future, the major part of which is down to you. We've reached 540 members, paying an average £2.50 monthly to keep us having an impact. Hit 1,000 by spring and we're heading towards long-term sustainability. And forging a new model for media – replicable around the UK and world.
If you haven't heard though, we had a vital shot in the arm during November courtesy of a £40,000 grant from the Reva & David Logan Foundation, a global funder of investigative journalism and social justice initiatives. We'll be using the money to bridge the gap to sustainability, by investing in a large-scale membership growth strategy – including educational and training opportunities – and by paying contributors for the long hours they put into the project. The Cable co-op has reached this point run on an entirely voluntary basis, but can't, and shouldn't do so forever.
Now you've got this far, we'd recommend you down your tools and have a proper read and, if you haven't already, consider investing £1 a month (or more, if you like) to become part of and own a new model for media; created by and for people in the city.
 2016 is a year to know what's going on. Good, bad and ugly.