A place to shoot up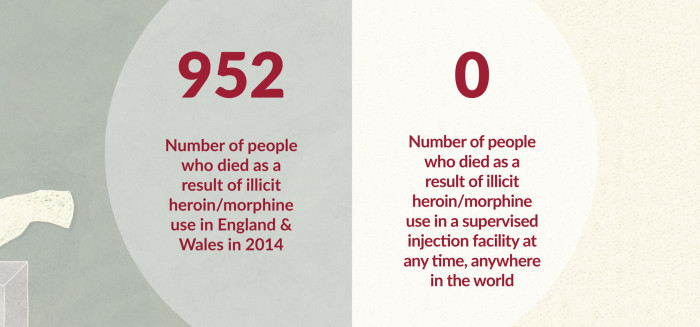 Words: Ian Sherwood
How the UK's drug policy is lagging behind other countries'
"Injection rooms for addicts to open next year in drug law change," says minister
Sadly the quote above is from the Irish health minister, not the UK secretary of state Jeremy Hunt. Politics aside though, it's not obvious to us at Transform, a campaign group for better drugs policy, why this isn't happening in Bristol.
Transform has been campaigning for 20 years to end global drugs prohibition and replace it with legal regulation. While it's been a long haul, the end is in sight as the UN shifts position and more countries decriminalise drug users.
The first drug consumption room (DCR) opened in Berne, Switzerland in 1986. There are now around 90 supervised injection facilities worldwide, including in the Netherlands, Norway, Portugal and Canada. These countries subscribe to the same UN conventions on narcotics as the UK, but here DCRs aren't on the agenda. Appealing for them too vigorously can get you sacked, according to one activist who contacted Transform.
DCRs are also a route into treatment and social support. After almost 30 years, there is strong, peer-reviewed evidence for DCRs' effectiveness. They considerably reduce overdose rates and increase the uptake of treatment.
952
Number of people who died as a result of illicit heroin/morphine use in Eng & Wales in 2014
---
0
Number of people who died as a result of illicit heroin/morphine use in a supervised injection facility at any time, anywhere in the world
DCRs are venues where people can use illegal drugs, sourced from elsewhere, in a medically supervised environment. Staff are trained and equipped to deal with issues such as overdoses, to supply clean needles to eliminate the risk of infection, and to provide routes into health and social support.
Currently, operating a drug consumption room is against the law, which raises anxieties among property managers. Under the Misuse of Drugs Act 1971 it's an offence to allow premises to be used for the consumption of certain controlled drugs (cannabis and opium) and for the preparation and supply of any controlled drug.
An experienced lawyer could argue that the legislation ignores the consumption of cocaine and injected heroin so, if the smoking of cannabis and opium were banned from DCRs, the manager of the premises is in the clear. But unless the police agree with the operation of a DCR they could make its effective delivery impossible.
"I think it's a really good idea. I'm an ex-user of 15 years. You won't have people in parks injecting, you won't have needles lying about. It will save lives and might even help people get off the stuff, because they'll have someone to talk to." Paddy, Bristol

"I'm an injector, but I'm clean at the moment. Someone's just died next door to us. That was to do with valium and strong heroin. People have to lie about banging up. So they throw it in places like the cemetery and there are kids around. Drug consumption rooms would reduce the crime rate, and disease will come down because people won't be sharing needles. I totally agree with it."

James, Bristol
Perversely, needle exchanges, which were set up in the late 1980s in the Bristol and Bath area, also technically commit offences under the Misuse of Drugs Act, but the police were far-sighted enough then to issue services with a 'letter of comfort'. This approach recognises police officers' discretion in exercising their powers – in this case not to obstruct needle exchange services – in the interest of public safety.
A growing number of police and crime commissioners – not including Avon and Somerset's Sue Mountstevens – are trying new approaches to drugs; for instance by ceasing to arrest people for the possession or cultivation of cannabis for personal use. However, when Brighton and Hove council considered setting up a DCR, the scheme met a dead end. Much was made of the legal difficulties, but in the end it came down to money: the council costed for a 24-hour service and concluded it too expensive. Most European services open eight hours a day – wouldn't this have been better than nothing?
Bristol has had a serious drug problem for years. It's one of the few places in the South West with heroin and cocaine available on the street and, worryingly, rough sleeping is exploding in the city.
It's time Bristol remembered its pioneering tradition of harm reduction and set up a pilot DCR for two to three years. It will need key players, including the police, to get around the table and work out the practicalities. But it's no longer 1986 and, as you can see from a YouTube search, it isn't taking a step into the unknown.
Ian is a volunteer at Transform, www.tdpf.org.uk. He worked in drug treatment from the mid 1980s in voluntary and statutory sectors, as a clinician, manager and commissioner, and served three terms on the Government's Advisory Council on the Misuse of Drugs (ACMD). He would love to hear from you at ian@tdpf.org.uk