The council's heavies are coming round…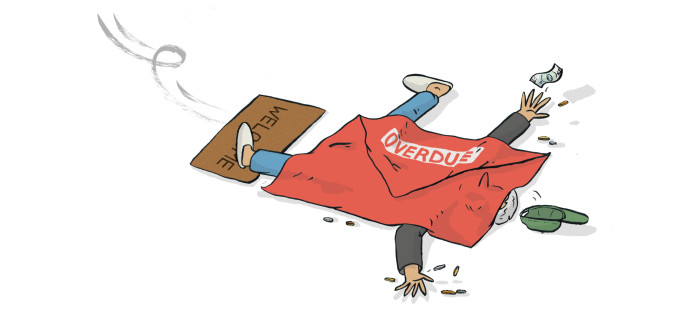 Bailiff use is rising in Bristol, but why?
"Ten red letters in my name but I doesn't mind, if they phone up I'll tell them that I'm colourblind" -Sway, 'Flo Fashion'.
It's like a scene from a gritty British drama: heavies in bomber jackets knocking at a door to demand unpaid debts. But in 2014/15, for over 35,000 individuals and businesses in Bristol, that visit from the bailiffs was very real.
According to Stop the Knock, a campaign run by the Money Advice Trust charity, Bristol council has increased bailiff use by 162% in the past two years. The council finds itself 25th, out of 326 local authorities, for using debt collection muscle.
Stop the Knock's data says that almost half (48%) of those Bristol council-instructed bailiff visits were to collect unpaid council tax. Information obtained by the Cable shows that unpaid council tax stands at £12 million. But why is it seemingly so difficult to pay?
The trouble with council tax
162%
Increase in use of bailiffs by Bristol City Council since 2013.
---
8%
Proportion of income paid in council tax by poorest households
---
2%
Proportion of income paid in council tax by richest households
As taxes go, council tax is a pretty regressive one – mainly in terms of how it's raised. Unlike
income tax, where the percentage you pay increases with earnings, council tax sees the poorest households paying 8% of their income while the richest pay just 2%, according to the Equality Trust.
"It's a fairly blunt instrument in terms of raising taxes,"
according to Tamra Mannin, service manager at Old Market-based financial advice charity Talking Money*.
"It's based on historical rates levels of house prices, rather than the incomes of households."
Charges are based on bands of property valuations carried out in 1991 and don't change depending on how many people live in a home (provided it's more than one). Think on how the housing market has expanded and distorted across different UK regions since then and it's easy to imagine why respected think-tank the Institute for Fiscal Studies has described the charges as "outdated and inequitable". Twenty-five years ago, the highest band was set on properties worth £320,000 or more. Get beyond a certain property value, and you can move onwards and upwards without your tax increasing, whereas people in more modest homes must pay more if they move between bands.
The negative effects of council tax were amplified under the Conservative/Lib-Dem coalition when benefits for lower-income residents were cut in 2013. In a period of economic downturn (for most of us at least), council tax became the most common debt issue dealt with by the Citizens Advice Bureau.
Bristol council maintains a limited council tax reduction scheme. But, facing a £12 million council tax-shaped income gap, still resorted to sending the boys round 17,149 times in one year. Debtors are billed for the pleasure of bailiffs' visits too!
Stuck between a rock and hard place
Councils are being forced by government to make 40% cuts to annual budgets and are being left dangerously short on cash. 'Recognising' the impact of cuts, the chancellor George Osborne has 'offered' councils the option to raise council tax by 2% to cover the hole in adult social care provision.
Worth 17 times more, but just £550 extra.
---
£2,767
Annual council tax for 3 bedroom terraced house in Knowle worth £164,950
---
£3,320
Annual council tax for 10 bedroom mansion in Leigh Woods, worth £2.7 Million
With budgets being savaged, the temptation for authorities to increase council tax is great. Bristol did so by just under the 2% maximum in 2014 and 2015. Mirroring the national picture, Talking Money has seen a substantial increase in council tax-related debt problems since 2013; they're now the most common concern, followed by water bills (see Cable #2) and rent arrears.
The council assured us there's adequate provision of
"advice and guidance to citizens on failure to meet council tax payment at all stages of billing, enforcement and collection".
But if council tax continues increasing, alongside other cuts and squeezes, bailiffs will have more reason to knock. Talking Money reports a decrease in bailiff-related complaints since video cameras were introduced on enforcement visits, but Mannin remains concerned about bailiffs
"misrepresenting their powers, particularly in relation to the threat of prison, over the telephone as conversations are not routinely recorded".
According to a national Children's Society report, 35% of people considered bailiffs threatening, and two-thirds who fell behind with council tax payments reported feeling anxiety, stress or depression as a result. Worryingly almost 10% turned to payday lenders to pay off council tax debt.
Bristol council presented the Cable with a 15-point response on how debt-collection distress is minimised. But with the cost of the debt collection process passing on to the debtor, the incentive for squeezed councils to use bailiffs remains high.
A Bristol council report details plans to raise an extra £8.8 million in council tax by 2017/18 from 2014/15 levels, to make up for some of the £50 million lost from government funding in the same period. But surely this attempt to pay for public services with an unfair tax will only cause further problems in our city, and visits from the bailiffs will become sadly even more common.
Talking Money provides specialist free, independent advice on debt, benefits and energy and is part of the wider Advice Centres for Avon (ACFA) network of organisations that provide advice, information and support to residents in Bristol and surrounding areas. For advice call Talking Money 0800 1214511 or email: mail@talkingmoney.org.uk or visit during our open hours Monday to Fridays 9.30am to 5pm (Wednesdays late opening 1pm).
For more information on ACFA please go to acfa.org.uk