Desde Barcelona a Bristol / From Barcelona to Bristol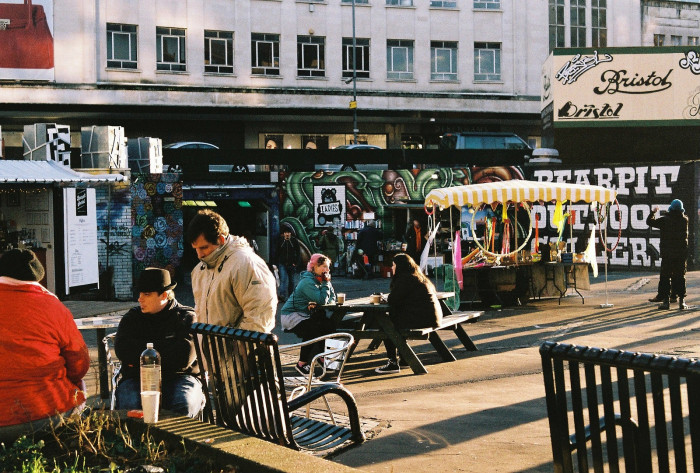 Photo: Tom Eddington
Desde Barcelona a Bristol
Decidí irme de España porque me encontré en una situación un tanto complicada; acababa de acabar mi licenciatura, había estado buscando un trabajo decente y establedurante un año y me había encontrado con un panorama horrible; encontré un trabajocomo chofer durante unos meses, más tarde en una estación de RENFE donde mepagaban menos de 4 euros la hora y otros trabajos basura, los salarios de los cuales nosuperaban los 600 euros al mes. Nadie estaba ofreciendo trabajos y no había intención decontratar.El 15M había fracasado y la gente se había vuelto a sus casas y habían parado dequejarse sobre toda la mierda que se nos estaba viniendo encima. Para más inri, el PPganó las elecciones el 2011. También fue la primera vez que me detuvieron porpertenecer a la CNT.
En resumen, tienes 23 años y estas viviendo en casa de tus padres, no puedes gastartedinero en ti, no tienes un curro donde puedas desarrollarte, no puedes crecer comopersona, etc. Con el paso del tiempo, te deprimes. Tus amigos están en la mismasituación. Sabes que los vas a echar de menos pero hacer las maletas y te largas,esperando que ellos hagan lo mismo.
Creo que los españoles vienen aquí porque se han dado cuenta de que Londres no valela pena (es caro y se malvive), Manchester es muy deprimente, Glasgow está muy lejos ylas otras ciudades tienen un nombre difícil de pronunciar o son más adecuadas para lavida del estudiante. Bristol es una ciudad guay, con un tamaño perfecto, con mejor climaque otras ciudades del país, tiene curro, es fácil encontrar a otros españoles.
Cuando mi bus llegó y llegué al Berapit y vi los edificios que lo rodeaban lloré de verdad.Era lo más feo que había visto en mi vida. Con el paso del tiempo fui viendo y entrando ensus calles y en sus rincones, de verdad, amo Bristol. Es una ciudad de puta madre. Es tanúnica y especial, he conocido a tantas personas y comunidades geniales e interesantes.Hydra Books es un espacio maravilloso, Kebele [Centro Social] es algo fuera de serie. Ytambién los pubs, salas y parques y las personas que beben, bailan y se apalancan ahí.Bristol mola un huevo, toda la magia pasa aquí!
El reto supongo que siempre suele ser el mismo; el idioma. Es muy difícil elaborar yentregar un mensaje que esta muy claro en tu cabeza en un segundo idioma. La otra cosaque me resulta desafiante es entender a la cultura y a la gente que me rodea. Losingleses son raros, de verdad, dicen "sorry" demasiadas veces, tienen dientes malos,beben demasiado y son demasiado tranquilos. Algunas veces echo de menos los gritos,pasión y la energía de los españoles pero supongo que los ingleses lo expresan demanera distinta.
From Barcelona to Bristol
I left Spain because I found myself in complicated circumstances. I had finished my bachelor's degree, had been looking for a decent job for over a year – and the situation was horrible. I found a job as a driver for some months, I found a job in a train station which paid me less than €4 per hour, and other rubbish work, the salaries being no more than €600 a month. No one was hiring; no one intended to hire.Spain's grassroots 15­M anti­ austerity movement had failed, and people had just gone back to their homes and stopped complaining about the obvious struggle that we all were in. To make matters worse our Spanish right-­wing party, PP, won the elections in 2011. It was also the first time I got detained because I was a member of the CNT (a radical trade union). Finding yourself being 23 and stuck at home with your parents, unable to spend any money on yourself, having a low­ paid job, unable to show your working skills or find a job where you can develop yourself, you eventually get depressed. Your friends are in the same situation. You know you're going to miss them but you pack your bags and go,hoping they will do the same.
I think Spanish people come here because people have been finding out that London sucks, that Manchester is very depressing, Glasgow is too far away and other cities have a very difficult name to pronounce or are more for student life. Bristol is a nice city: it's the perfect size, with 'nice' weather, it's got jobs, and it's easy to find other Spanish people.
"When I arrived on the coach and saw the buildings around the Bearpit I cried – no joke – because I thought it was the most ugly city in the world"
When I arrived on the coach and saw the buildings around the Bearpit I cried because I thought it was the most ugly city in the world (I'm not joking!). But time went by, things happened and man, I just love Bristol – it's a great city. It is so unique and special; I've come across such wonderful, interesting people and different communities. Hydra Books is a great place, Kebele [Social Centre] is another. So are all the pubs, venues and parks and the people that drink, dance and chill in them. All the magic happens here!
The challenge is always the language – it's sometimes hard to deliver a message that's very clear in your head when expressing yourself in a second language. The second challenging thing for me has been understanding the culture. English people are weird.They say 'sorry' lots, have crazy teeth, drink too much and are very peaceful. I sometimes miss the Spanish shouting and the passion and the energy, but English folk just express it differently I guess.