"Doctors have united against the government to protect patients."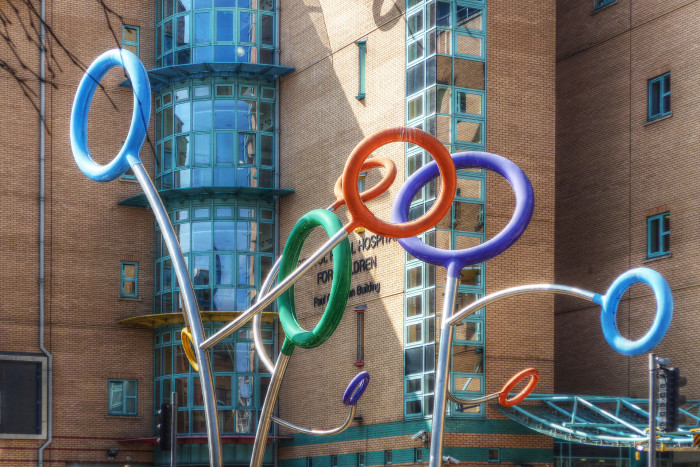 Bristol doctor Tom Walker explains why junior doctors are striking across England today'
Words: Tom Walker
Photo: Bristol Children's Hospital. Andrew Gustar Flikr (CC)
I used to work in the Accident Emergency Department of St Thomas' Hospital in London. Sitting across the river from all the splendour of Westminster Palace, it took a good beating from the Luftwaffe in September 1940. Only three of the original pavilions that made up the hospital remain. Parliament took a similar amount of damage during the Blitz, but was completely restored.
During my shifts in the department, I was hit by the juxtaposition of the two buildings either side of the Thames – parliament returned to former glory, the hospital only partially. I think it's symbolic of the government's attitude to spending and the NHS today.
Junior doctors are striking today (Tuesday 12th January) in response to the government's plans to change their contracts. The changes centre on the start of a 'seven day' working week for NHS staff. The associated changes to out-of-hours pay rates amount to a significant pay cut for already overworked junior doctors.
A&E and Emergency services will be open today. Clinic appointments and organised operations and procedures will be cancelled. Should there be a major incident or terrorist attack, all doctors will report for duty. There are two other strikes planned: on 26th January another "emergency cover only" strike is planned for 48 hours. On Wednesday 10th February another "walk-out" strike will take place, when no junior doctors will be on duty. Despite the strikes, if you are feeling unwell, the advice is always, always, go and see your GP or attend A&E. Consultants and other staff will still be at work on all strike days.
"The reality is that there is already a seven-day NHS"
I am not sure about you, but I have never seen any 'opening hours' for major acute hospitals. I've never worked in an Accident & Emergency department that closes on a Wednesday afternoon. The reality is there is already a seven-day NHS. Twenty-four hours a day, seven days a week, there are multiple teams of doctors at work in hospitals, including consultants. There are also a team of senior doctors and consultants with decades of experience at home, on call, ready to come in should they need to.
People have avoided hospitals recently at the weekend as they have thought services were not open, or that hospitals are more dangerous at the weekend. Doctors have called this "The Hunt Effect". According to a study by the BMJ, in 14 days last October, 40 patients came to harm due to this misrepresentation.
Jeremy Hunt, the Secretary of State for Health, has been saying that patients admitted to hospital at the weekend are more likely to die. He is correct: the research does show that patients admitted to hospitals on Sunday, compared to Wednesday, have a 16% higher chance of dying over the following 30 days. The difference? On a Wednesday the majority of hospital admissions are not for emergencies – across the country there are thousands admitted for elective surgery for wisdom teeth, ingrown toenails and cataracts all of which go smoothly. On Sundays, people only really go for emergencies – which often by their nature put life at risk.
The government wants you to be able to see the GP, attend a hospital out-patient appointment, have a scan or even a non-urgent operation at the weekend. All this seven-day routine service will do is spread the Monday to Friday routine services of all staff more thinly.
"This will see a drop in our pay – for some, who work in A&E, paediatrics and intensive care, by as much as 30%."
It's the corresponding changes to what are considered normal working hours that bites our pay packets. The government has offered an 11% pay rise, but they also want to make Saturday (7am to 10pm) count as normal working hours. They are also extending the normal working week from 7am – 7pm, Monday to Friday, to 10pm. This will see a drop in our pay – for some, who work in A&E, paediatrics and intensive care, by as much as 30%. So the 11% pay rise isn't a pay rise at all.
The NHS is a monopoly employer: junior doctors have to work for the NHS to get our training. Even with 30% less, we realise we are paid enough to live. However, we would not be paid enough to go on training courses, do compulsory exams, pay for professional registration, attend conferences to learn and gain more skill. These courses are expensive and are required to keep up-to-date. Doctors all over the UK pay for further education and training out of their own pockets.
By reducing the portion of our salary we earn through out-of-hours work, it puts more pressure on doctors – and many will seek to move abroad seeking better conditions. Indeed in one week in October over 1,300 doctors registered to transfer their professional registration abroad. It is doctors in A&E, Intensive Care and Paediatrics who stand to lose the most, and who we rely on the most when we are ill. It will be those who move abroad first. It is also these areas where the greatest number of vacancies exist already.
"When all work associated tasks are included our salary works out to be around £12 per hour."
Junior doctors on average give ten free hours of work each week. I am paid from 8.30am to 5.30pm, but I am in work seeing patients and reviewing results from 7.30am, and am normally there until 6.30pm. That's an extra normal working day across a week. This goodwill is so important to the running of the NHS.
We also have a large amount of reading, paper work and exams that are required for career progression, but also so that we are up-to-date with the most advanced knowledge and skills. There is no time for this to happen during the day, so it happens when we are at home, at the weekend or evenings.
When all work-associated tasks are included our salary works out to be around £12 per hour – about the same as a porter in the hospital is on. It is for this reason, a pay cut, of any sort, touches a nerve with junior doctors.
Strike action has not been taken lightly. The British Medical Association (BMA), the trade union that represents doctors in the UK, balloted its junior doctor membership from England on industrial action in November 2015 (the changes are not being introduced by the devolved governments of Wales, Scotland and Northern Ireland).
There was a turnout of 76%, with 99% voting for an emergency cover only strike and 98% for a full walk-out. Junior doctors, and the BMA, walked away from the negotiations with the government when it became clear that the government was planning on introducing the contract in August 2016, no matter what the outcome, and they were only willing to discuss one point. The previous strikes were called off as ACAS – an independent arbitration service – was brought in. These further talks have not yielded the results that either side are after.
The government is pursuing a contract that will result in doctors being made to work unsafe hours, and for less pay. Doctors have united against the government, to protect patients – that's you, my mum, your gran, the person sitting next to you. Join us on the picket line when we strike. Go to your local hospital – the BRI and Children's Hospital or Southmead. Help us defend a safe and free health care system.
Tom Walker is a junior doctor living in Bristol. He runs and works for a charity that operates in the Philippines www.thefacecharity.org
#juniordoctors #juniordoctorsstrike