More than just a kickabout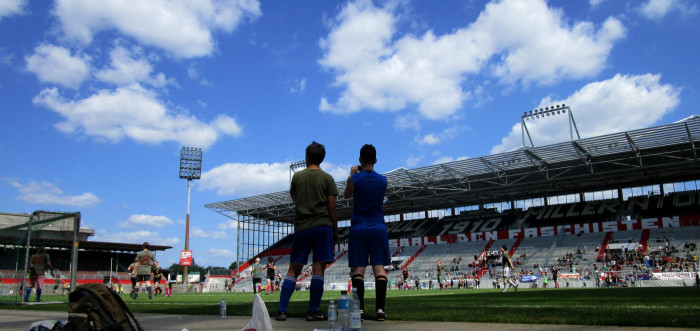 Photos: Easton Cowfolk
From Easton to the West Bank – how Bristol football team the Easton Cowboys use the power of the game to champion social inclusion and international solidarity
Football isn't a sport commonly associated with libertarian or progressive thinking. When headlines feature stories of overpaid players, corrupt officials and racist and sexist fans, it's easy to forget football is a game with a global dominance that should grant the power to unite, not divide. The Easton Cowboys, a sport and social club based at the Plough Inn on Kilburn Street, want to use this power.
Will Simpson, a Cowboy since the club's 1992 beginnings, recently co­-authored a book, Freedom Through Football, telling the club's story from their first games on a St Pauls playing field up to the present. At last count the club had several men's and a women's football team (known as the Cowgirls), alongside cricket, netball and basketball teams.
A motley crew
With the original Cowboys drawn from a motley crew of anarchists, punks, activists and a couple of Iraqi refugees, this was never going to be a run­ of ­the­ mill football team. Although many saw football as a release from political activities, before long the Cowboys had become part of a loose network of European teams united by anti-
racist, anti-­homophobic, anti-­oppression ideologies and – of course – by a love of football.
"We're basically a pub team, with add­ons."
Today, the network is going strong, with teams regularly meeting at tournaments such as the 'Anti-­Racist World Cup' hosted by the St. Pauli club in Hamburg.Whereas many teams have explicit political ideals, such as socialism or anti-­fascism,the Cowboys' politics remain harder to pin down. Peace Handovsky, who's been involved for around nine years, describes it as "basically a pub team, with add­ons".
But it's these add­ons that make the team unique. In 1999, 25 Cowboys took a trip to Chiapas in Mexico, on the suggestion of two activists outside the club, to meet communities of Zapatistas, the revolutionary leftist political group. There was a ban on foreigners visiting the area, but the Cowboys travelled under the cover of darkness, meeting locals and doing what they knew best – playing football.Afterwards the Cowboys helped form 'KIPTIK', a group aiming to provide practical support to the Zapatistas' struggle. Beginning with a fundraiser night in Bristol's harbourside Thekla venue, over the past 15 years KIPTIK has raised more than £100,000 to help provide clean water, stoves and healthcare.
Galvanising support
The trip's success fuelled the idea that the Cowboys could galvanise support and raise awareness of certain situations through football. In 2007, they travelled to the Palestinian West Bank for the first time. The Palestinian link has stayed strong, the Cowboys recently returning from a third tour. With the trip coming at a time of escalating violence between Palestine and Israel, it would be easy to question the worth of travelling all the way there, just for a game of football. But Handovsky believes it's that simple shared joy that's important. "You can't underestimate how isolated Palestinians feel; how un-cared about," he says. "It's good for them to feel as if like ­minded people care – if you go over there to do stuff, volunteering… anything, it's almost seen as political, but we're just a bunch of footballers. It's showing support at a different level."
This sentiment is echoed by Harriet ('Harry') Hoare, who travelled to the West Bank in 2014. This Cowgirls trip was made after an invitation from Honey Thiejeh, star of Women in the Stadium, a film documenting the story of the Palestinian women's football team. After the trip Hoare made her own film, Balls, Barriers and Bulldozers, exploring the physical and cultural boundaries to women playing football in the West Bank.
"We knew we weren't going to be able to just pick up the ball and play like the men did."
For the Cowgirls, the issues related to football are more complex. Whereas the men rely on the international currency of football wherever they go, female footballers are much less common. From the start, Hoare says, the women knew "we weren't going to be able to just pick up the ball and play like the men did". This perhaps allowed more time for witnessing and understanding the reality of life under occupation. Furthermore, the tenacity of the women footballers they did meet was even more striking. A memorable match was played in Hebron against a university team who'd never played football together. Because of the traditional Muslim values of the area, the match took place in a 'closed stadium' where no one was allowed to watch or record it.Towards the end of Harry's film, Tal Abu Eid, a defiant young Palestinian footballer tells the camera:
"I wanted to do this for me… and for Palestine, to show the whole world we deserve to live and we are people, like any in the world. We play football, we do what we want and we want to live in peace… so yes, football can reach out and tell this message to the whole world."
---
"Balls, Barriers and Bulldozers: A journey into women's football in Palestine" follows the Easton Cowgirls and Republica (from Leeds) as they play football across the West Bank.
The film is being screened at the Cube,  February 21st at 18.00.
Tickets available advance for £5, or on the door.
https://billetto.co.uk/en/events/balls-barriers-and-bulldozers-film-screening
Profits go to Hebron International Resource Network (HIRN ).