On (not) joining the Clifton Club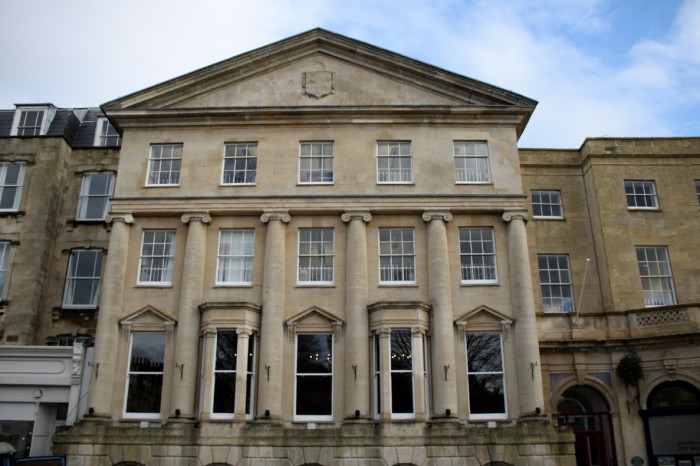 What does it take to enjoy a life of leisure at one of Bristol's most exclusive institutions? We're not entirely sure…
The buzzer sounds. "Yes, welcome sir, we were expecting you."
I'm standing in the heart of Clifton Village, surrounded by some of Bristol's most expensive properties, on the porch of the yellow-stone Clifton Club. I'm here with a friend to discuss my application to this private members' institution, founded in 1818 to provide "an exclusive club where people of means and leisure could converse and convene".
As many of this Cable's pages scrutinise our work-life balance through a prism of stress, harassment and precarity, we thought a peek at the leisure enjoyed by members of the Clifton Club might provide an enlightening contrast. Pursuing the formal application process, we decided, could give an insider's perspective on the place and help understand what it takes to be a member. Why do people sign up? Why do members seek privacy? Who goes there, and can anyone join?
"We notice an extensive painting collection celebrating hunting practices, which sits oddly with a fundraiser dinner for the Game and Wildlife Conservation Trust"
To get a foot in the door, I trim and shave enough to take a passable ID photo and fill out the application form. No undercover alias, just me: degree in social science, youth work experience, an interest in journalism and, yes, waiter by profession. Unsure whether these credentials match those of any previous aspiring member, I tick boxes indicating interests in chess, walking and reading.
Inside, our host is a fashionable young person who uses 'one' as a pronoun in conversation. A bow-tied waiter offers us drinks. The Front Bar is empty, other than a few people talking business around a coffee table.
An awkward process
This is the first screening phase of the application process, and conversation soon gets awkward. My plans to be direct – cheeky, even – flounder in the face of an upper-crust stare. I mumble a bizarre answer to the simple question, "Why do you want to join?", at once admitting my plans to write about the club and providing a garbled assurance that we really do want to learn about the place. "I've never heard such an answer!" is the reply.
Our perplexed host appears to let the journalist angle slide, and we're given the grand tour, shuffling through dining, games and meeting/pilates rooms. Our queries are answered as prospective members, though we're warned several times that this is
"no place to network… one comes to be connected by your club."
One "doesn't have to be a 'Sir' or a 'Lady'" to join, our guide insists. As the average member age is 61, we learn there's a drive to recruit young people. (The club previously modernised in 2006, when women were allowed to join.)  But we struggle to fathom why people would fork out up to £550 annually for the pleasure. The most convincing response: simply that people do so because friends do, and "it's round the corner… so why not?"
The Club operates as a double-barrelled business that also involves managing large properties in the vicinity. Its directors include Charles Lucas, Clifton's Conservative councillor – and a candidate for the next mayoral election – who has a declared interest in the club. Revenue from property assets worth almost £3m provides a safety net for expensive leisure pursuits that 400 members' fees won't cover.
As racy as it gets
Activities include annual dinners with representatives of the global network of private members clubs, with "authentic belly dancers" or cancan music – "the raciest it'll get", apparently – and film nights. Walking the hallways we notice an extensive painting collection celebrating hunting practices, which sits oddly with a fundraiser dinner for the Game and Wildlife Conservation Trust… serving a menu of "smoked salmon, smoked venison, local pheasant and Wemmergill grouse" – of course!
While it's interesting to know such enclaves of preserved elitism persist, flirting with Clifton's exclusive leisure club doesn't lead to firm conclusions. There's no groundbreaking discovery about the colonial origins of a chandelier, no eavesdropping into an outrageous comment on the pleb, but neither do we leave with a good grasp of what the institution's appeal is all about.
"We want to ensure people are happy. We have at heart members' long-term interests," says our host, relief washing over her face as she politely shows us the exit. The application decision, she adds, takes into account the considerations of "people who don't think someone will fit".
"For your benefit as much as ours," she concludes, "we don't want to take your money if we don't think you'll get on here." A letter declining my application arrives a few days later.