"People galvanised their resolve to stand up against bigotry"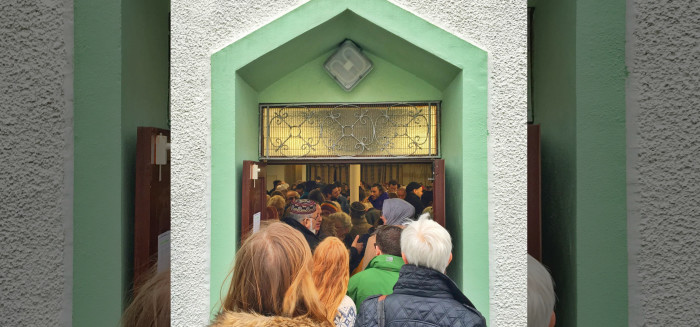 Photos: Colin Moody
On 17th January, bacon was thrown at the windows of Jamia Mosque, Totterdown. A St George flag – mostly associated with nationalist groups – was draped over its railings. Although this crime received coverage in the local and national press, most such crimes don't get that kind of recognition. As the Cable recently reported, religiously-motivated hate crimes in Bristol rose by almost 16% in 2016.
The response from both the mosque and the wider Totterdown community was one of peaceful solidarity rather than fear or anger. After receiving cross-community support letters and well wishing, last Sunday (24th) Jamia Mosque opened up and invited the community in for tea, cake and conversation.
Colin Moody: "People galvanised their resolve to stand up against bigotry"
I read about the hate crimes against the mosque over a morning coffee in my home and it upset me. A few days later I noticed a series of posts on my Facebook timeline. The Mosque, together with Zaheer Shabir from the cross community project Building the Bridge, had posted positive letters from local Totterdown well-wishers. This was followed by the announcement of the open afternoon for the community.
Already at 1pm you could sense that this was going to be a special day. The front doors to the Jamia Mosque were wide open, the biggest teapot in the west was on standby and as it turned out later, a seemingly endless supply of pakoras and samosas.
There were so many people from the community to show their support that they were queueing round the block. All around, people from many faiths and all ages, local groups like the Palestinian Museum, SARI (Stand Against Racism and Inequality), and the Mayor all mingled.
During the welcoming speeches, one of the teachers there told us that "there were a few concerned parents and lots of scared children" after the events of last week. However without hesitation she told us that being able to "reassure them than our fantastic team of police officers patrolling our streets" had been so reassuring. Mayor George Ferguson said that an attack on any one Bristolian is an "attack on us all".
There were no satellite outside broadcast units parked outside to relay the events. I couldn't help but think that it was good that big national news weren't here. This was a local story that had caused distress and it was being fixed locally. People had galvanised their resolve to stand up against bigotry and hatred with positive action.
There are open days planned for this mosque in a few weeks time. I for one would encourage you to go. This local story of cooperation and community action is just the beginning.
Yasmin Aston-Patel: "It was a wonderfully powerful afternoon"
Those who visited Jamia Mosque yesterday in Totterdown will have felt the wonderful atmosphere and the passion of people standing shoulder to shoulder with the victims of hate crime.
People of the mosque held a tea and coffee afternoon giving visitors a chance to look around the beautiful building. Downstairs there was a gathering hall where samosas were made, along with potato bhajias, fruit salads and various cakes and sweets sat on the table ready to be eaten. They were wonderful and generous hosts.
Visitors were welcomed upstairs in the prayer halls where they could ask questions about Islam and Muslims. The carpet was tiled with prayer mats and one could imagine the strength of the Muslim community when they stood shoulder to shoulder in prayer.
Islam is always said to be a peaceful religion and it is, with every greeting. 'Assalaam 'alaykum' means 'peace be upon you'. 'Wa'alaykum salaam' – and to you be peace.
Muslims are often faced with the question of why terrorists are always Muslim if Islam is such a peaceful religion. It is a sigh-worthy question as most Muslims are aware people are only deemed 'terrorists' by other media organisations if the perpetrator is a Muslim. If it wasn't a Muslim perpetrator, they wouldn't use the word.
Also, Muslims are often made to feel apologetic for the brutal crimes carried out by ISIS and their ilk. These people are created not from religion – which they use to justify their actions – but through social, political and emotional difficulties. It is primarily the conscious actions of a person that defines them and not a belief system they agree to.
It was a wonderfully powerful afternoon of drinks and food, where people traveled from all over Bristol to show appreciation and welcome for this valuable part of our community.